Local Exterior Painters in Deer Creek, OK
There are five keys that every homeowner should know before hiring any exterior painter in Deer Creek.
If you ask someone who just hired a painting contractor if they are happy, it could be too early to tell. 
Yes, it's possible the contractor utilized the correct primer and paint. The lines may have been precise, and they were considerate of your property… But none of it tells you whether the paint will hold up over time.
Premature failure of paint is caused by five main variables, which I hope you consider the next time you need to have your house painted. The truth of the matter is, I don't believe most painting contractors really practice these.
Since the early 1990s, Klappenberger & Son has been painting the exteriors of houses in Deer Creek, so we've seen a lot of what succeeds long term and more importantly, what doesn't.
The 5 Principles to a 5 Year Warranty: 
Power washing properly
Using a moisture meter
Choosing the right primer
The right amount of topcoats
Working in cooperation with Mother Nature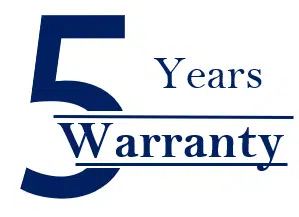 Klappenberger & Son Is Your #1 Exterior Painter in Deer Creek
Consider Klappenberger & Son as your Deer Creek exterior painting contractor whether you have a ranch, a condo, a large house or anything in between.
We have 30 years of knowledge and expertise to help you beautify your home and protect it from the elements.
We're not only a painting company; we can also help you with carpentry and other handyman tasks around the house.
Replace decks and handrail
Because of this, we're the perfect one-stop shop for your most cherished possession, your home.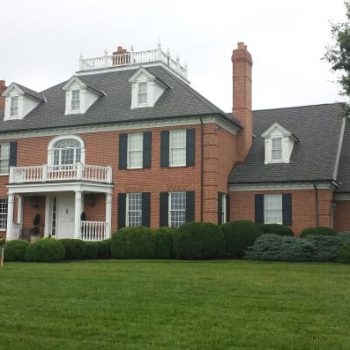 Exterior Painting in Deer Creek: Why Are We Unique?​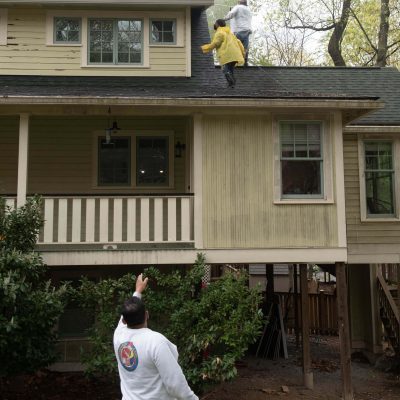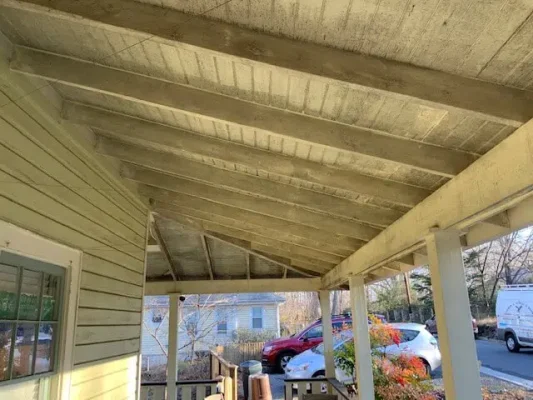 #1. Proper Power Washing Techniques
Rather than using high pressure washers, we use chemicals to power wash or pressure wash your home's exterior. high-pressure to the Time Share reps.
A minimum amount of chemicals is used to eliminate mildew and clean the house of any dirt or pollen that has accumulated.
It is safe to use our cleaning solutions around your plants and flowers.  They should not be affected at all.
Note: We need fifteen minutes of exposure time for this chemical.
Why?
Fifteen minutes is the amount of time necessary to kill the mold spores, or they will grow through the paint.
Check out ours FAQs about power washing here.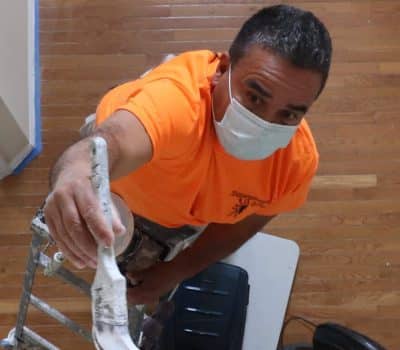 GET YOUR FREE HOUSE PAINTING ESTIMATE NOW!
Enter your name, email and phone number below.  One of our friendly staff members will get back to you within 60 minutes to schedule your free exterior painting estimate.  We can't wait to meet you!
#2. The Moisture Meter
It is difficult to feel any wood and determine whether or not the moisture level is low enough to allow for painting to take place. And, believe it or not, the majority of painters do not have access to a moisture meter.
I'm baffled as to why this isn't considered as vital as a paint can opener.
Note: water is the most common cause of paint peeling.
Almost all paint requires the moisture content to be below 16%.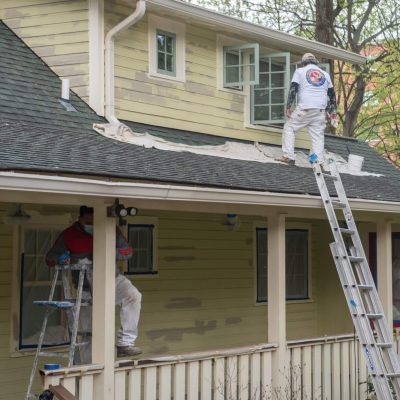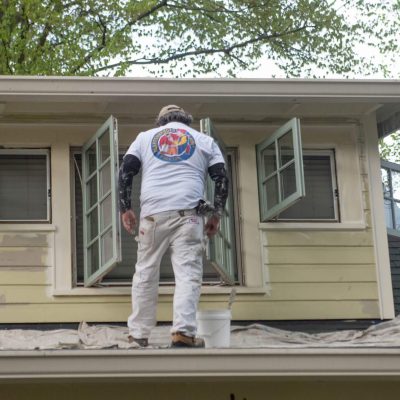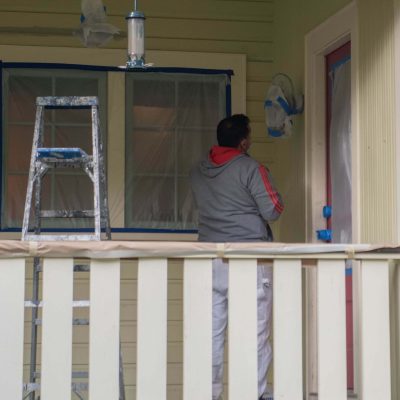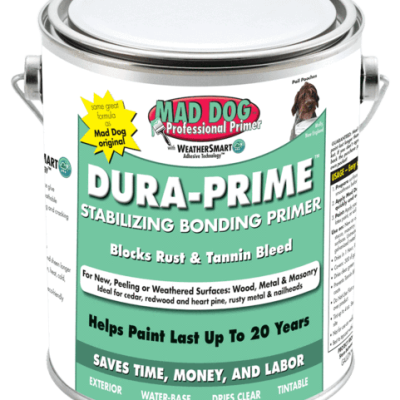 #3. Choosing the Right Primer
When it comes to exterior primers, there is no "one size fits all." It doesn't matter whether you're painting Georgia Pine or Canadian Pine; not all primers are created equal.
What happens if you make the incorrect primer selections? The paint will begin to peel.
Why?
Because the wood, primer, and top coat of paint are not expanding and contracting at the same pace, the wood will warp and crack.
Because of the abrupt changes in Deer Creek's seasons, it is critical that all three surfaces expand and shrink at the same pace.
As a customer of Klappenberger & Son, you will get expert advice on which primer would work best with your particular surface.
#4. Exterior Painting in Deer Creek:  Should You Choose One Coat or Two?
In addition to ensuring that the guarantee is met, adding two coats will increase the life of the paint work by many years.
Example: The photo on the right clearly reveals where someone brushed the borders and seams before painting the outer wall with a roller after completing the inside painting.
The sections that got two coats of paint had much more paint remaining than the other locations.
According to industry standards, applying a second coat of paint adds around 30-35 percent to the overall cost of the project. When you consider that it has the potential to increase the life of the paint job by 5 years, it is a prudent investment.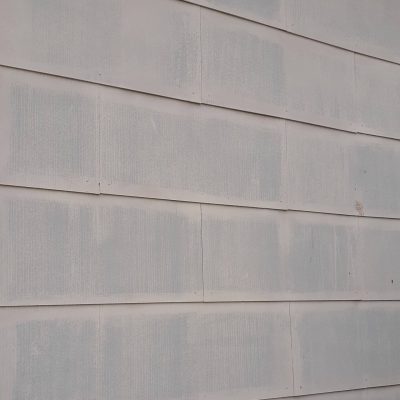 #5. Proper Weather Conditions
We are often asked what season is the most suitable for outside painting.
It is determined by the temperature.
Most paint manufacturers prefer that the temperature be lower than 90 degrees and higher than the mid-'30s for at least 24 hours before a project is started. If paint freezes before it has had a chance to dry completely, it may lose its capacity to cure completely.
It is also possible that if it rains soon after the surface has been painted, the moisture will soak through the paint, causing bubbles to appear.
Due to this, it is preferable not to paint when the likelihood of rain is more than 30-40 percent for the next 24 hours.
Unfortunately, many painting contractors do not adhere to this tenet of professionalism. Instead, they aim to accomplish the work as soon as possible and then move on to the next task at hand.
Given the fact that we provide guarantees for our outside painting work, we adhere to a number of best practices, one of which is paying close attention to weather conditions.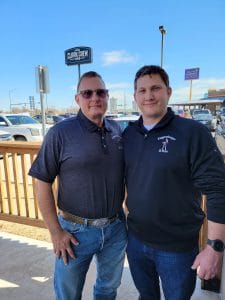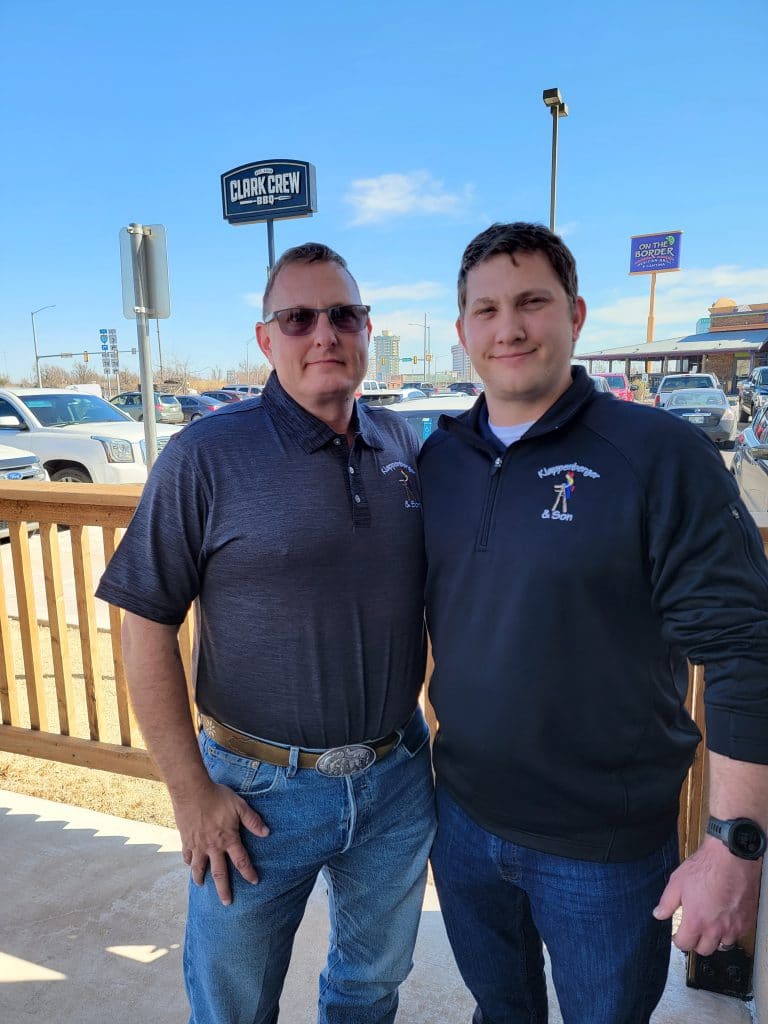 Whether your exterior siding cement board, vinyl, aluminum, brick or stucco we have additional information ready for you!
Typically we can get a detailed estimate to you within a couple of days.
CALL TODAY
We Are Your #1 Exterior Painting Company in Deer Creek
Not only do we have a thorough understanding of painting, but we also have some excellent carpenters on staff.
Whether you have rotting wood trim boards, a sagging railing, or any other exterior repair jobs, we have you covered. Contact us now!
Other services include the following: