Before you drop $75.00 on a gallon of premium paint, shouldn't you know if Ben Moore Aura is worth it?
Let's take a look at seven critical factors.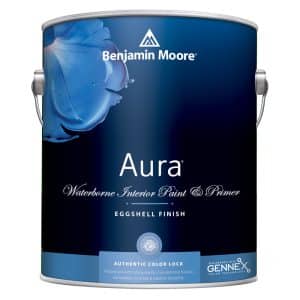 Is it:
Zero VOC
Low Splatter
Water Clean-up
Can it be matched to any color?
Mildew resistant
It uses Genex colors that resist fading with extra UV protection.
Beautiful finish
At $75.00 a gallon, is Ben Moore Aura worth it?
Evaluation # 1.  Coverage
Ben Moore Aura is known for its coverage.  It is probably its most significant selling point.  It is thick and has great first coverage capabilities.   
I have used Aura for at least 15 years and have always found it to cover better than any other latex semi-gloss. With that said, most time, it will still need a second coat. 
However, if the new color is close, and you don't mind a couple of holidays (light spots), one coat might work. 
My rule of thumb is to give a 10 out of 10 if the paint covers in 2 coats.  The Aura semi-gloss does that and more!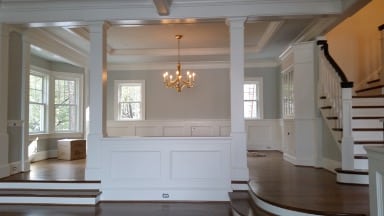 Grade: Coverage 10 out of 10
Evaluation #2. Workability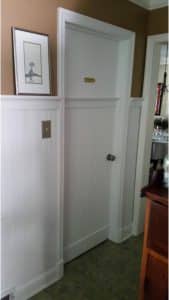 You will have little problems working with BM Aura semi.  It glides on very easily, and I can get around 36-40″ out of one dip of the brush. Which is exceptionally good. 
If the paint can spread 28-32″, I give it a 10 out of 10. 
This exceeds that that by plenty.
Grade: Workability 10 out of 10
Evaluation #3. Touch-up Ability
I did not paint Aura Semi-gloss on the walls where the light shines in such a way to expose the faintest touch-up spots.  But I could not find that applying an additional coat changed the sheen of the paint.  I touched up numerous places and found the sheen uniform throughout.
Painting walls with a semi-gloss has gone out of style.  When it is done, it is mostly to get maximum washability. 
Grade: Touch-up 10 out of 10
Evaluation #4 of Is Ben Moore Aura Worth It? Washability
The washability of the Aura did not do very well compared to other premium paints.  We applied:
catsup
mustard
pencil
crayon
red wine  (Merlot)
coffee (dark roast)
and allowed the stains to dry for 24 hours.  
The soiled areas were cleaned with;
Krud Kutter
Spray Nine
Simple Green
Orange Cleaner
Bleach and water solution
All of the stains came off after a couple of minutes using a micro-fiber cloth.  There were just two problems.  First, the paint got very soft and sticky. Second, the paint scratched off with my fingernail.  
I do the same test with all the 21 other paints, and only three other products have this issue.
My guess is when you make a paint zero VOC; you take some of the necessary ingredients out to make a paint washable and durable.  I prefer to see low VOC on a paint can unless the customer is pregnant or has special health circumstances.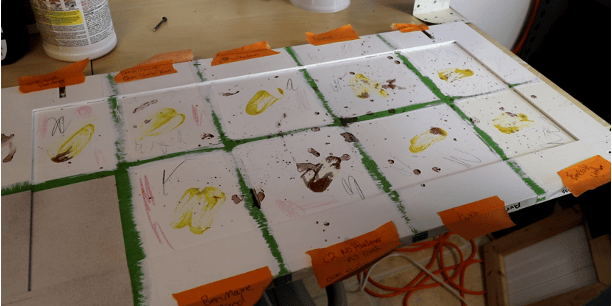 Washability Grade: 8 out of 10
Evaluation #5. Durability
The durability of the paint does soften with the cleaning.  The stickiness was not subtle. However, if I did not purposely scratch the paint, it would not have come off.  Also, once the cleaning surfaces dried, the paint went back to its hard, smooth finish. 
When cleaners are not applied, the finish is hard, smooth durable.  I had no problem wiping off stains with mild dishwasher detergent.  However, the house cleaners did soften up the paint if the chemical were left on for a couple of minutes.
Durability Grade 9 out of 10
To answer the question, "Is Ben Moore Aura worth it?"
My answer may surprise you. Because Aura semi-gloss best quality is its coverage, I would use if:
I was selling the house and wanted to try and change the trim color in one coat.
I had smooth-finished wood doors (not Masonite wood grain doors).
Interior columns and pillars
Smooth woodwork surfaces
Walls – only if you were trying to get away with one coat. It would have to be a slight color change.
When you want the paint to self-level.
Where I would NOT recommend using Aura Semi-gloss
Kitchen cabinets – due to its weakness in the washability
Bookcases – Ben Moore Advance, C2 Cabinet Grade Paint would be better choices
Walls – if you are planning on applying two coats.