Painting and Handyman Services By Klappenberger & Son
Schedule Your Free Quote Today for Your Painting and Handyman Projects!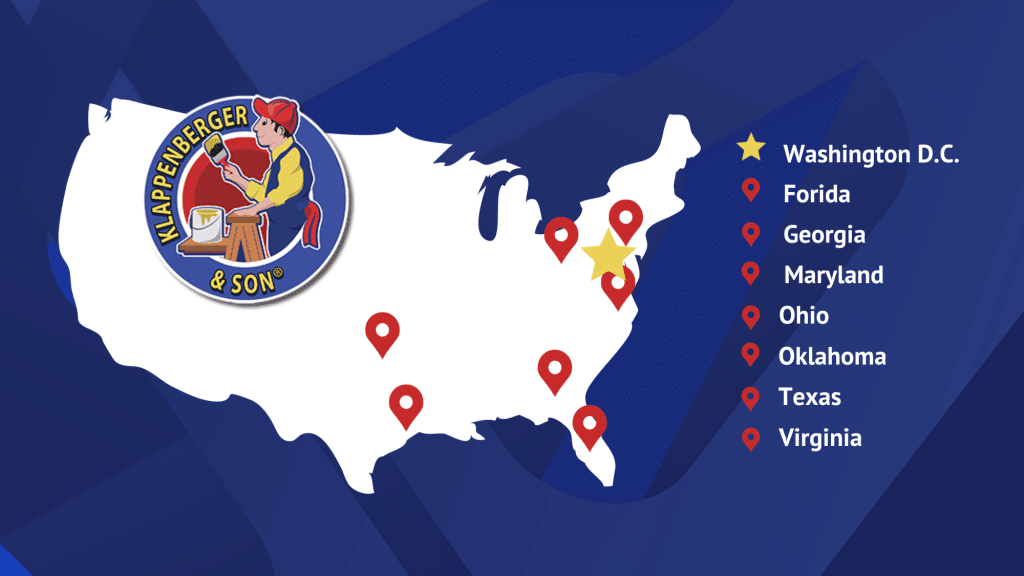 Klappenberger & Son operates locations across a significant portion of the Mid Atlantic, in addition to those in Ohio, Oklahoma, Texas, Georgia and Southern Florida.
Klappenberger & Son is a family-owned business that provides a comprehensive selection of high-quality painting and handyman services. In addition to residential and commercial painting (both interior and exterior), we also provide house repairs, custom woodwork, and even preservation work for historic structures.
Superior Customer Service For All Your Painting and Handyman Jobs
Once you finish work for the day, tackling the painting and handyman projects around the home may seem daunting.  Now the question is, who can you call?  At Klappenberger & Son, we have had over 33 years to craft our best practices and incorporate them into Superior Customer Services. 
     We can offer estimates remotely from pictures if you prefer or a scheduled personal visit.   
We have been listed in Best Picks as a top painting contractor since 2013.                                      
 Klappenberger & Son offers a full range of professional
painting and handyman services, but that's not what makes us unique.   Our dedication is to make your experience as smooth as possible with long-lasting enjoyment.  Depending on your project, we offer warranties from 5-10 years! 
Saving You Time and Money Without Sacrificing Quality
We offer various services to make completing your project as easy as possible.  No need for multiple bids on multiple projects Klappenberger & Son is your one-stop shop for handypersons and painting.  We do it all!
Hiring multiple trades to make home repairs and improvements can be a very frustrating experience.  The labor shortage in these skills is very real.  That means many trade companies stay busy and are not interested in small remodeling or painting and handyman projects.  
Klappenberger & Son was founded in 1989 and have painted in thousands of homes and buildings, including government painting projects at the Pentagon, Smithsonian, and even the Whitehouse.
We certainly would be just as honored to paint at your house just as much as the Whitehouse!  
Find Your Local Klappenberger & Son painting &  handyman company by entering your zip code below.
We Have Painting and Handyman Locations Near You
With locations up and down the east coast, we have a locally owned company near you!
We Deliver Extraordinary Results
No matter if we are providing interior painting services, exterior painting services, handyman tasks or creating the perfect outdoor getaway for your family, customer satisfaction and a quality product are our number one priorities.  Take a look at some of our work and see for yourself.
Positive:

 Professionalism,

 Punctuality,

 Quality,

 Responsiveness,

 Value
I seldom find the time to write a review, but this is an exception. My wife and I heard about this company during a trip to Baltimore, where I heard really good reviews about the quality of services provided by this company. We are planning to remodel our house for selling, and it was surprising to find the same company in the Katy area in Texas. I immediately contacted them, and it was quite refreshing to find this level of customer service and straight-to-the-point conversation. As soon as I met the owner, Luis, it was evident that he knew what he was doing. We are starting my project with them in a couple of weeks.
-Luis Rico
Services:
 Interior painting, Drywall repair, Door painting, Exterior painting
Why Choose Klappenberger & Son for Your Professional House Painting and Handyman Needs?

Positive:

 Professionalism,

 Punctuality,

 Quality,

 Responsiveness,

 Value
As a Residential Property Manager for the greater Houston area I'm always on the look out for contractors that I have enough trust and confidence in to do the job without having to constantly check on them. An insured contractor with fair pricing and good quality work is a must, we have found that in Luis Camacho at Klappenberger & Son.
-John Pugh
Imagine what we can do to make your home repair or property management woes a thing of the past! Take a look at our Pricing Guide, or give us a call to get an exact quote on any repairs, painting or other services you may need.
Submit your information and receive a call back within 1 HOUR!
Klappenberger & Son has reviewed over 60 paints from the largest manufacturers in the US.