Interior Painting in Leesburg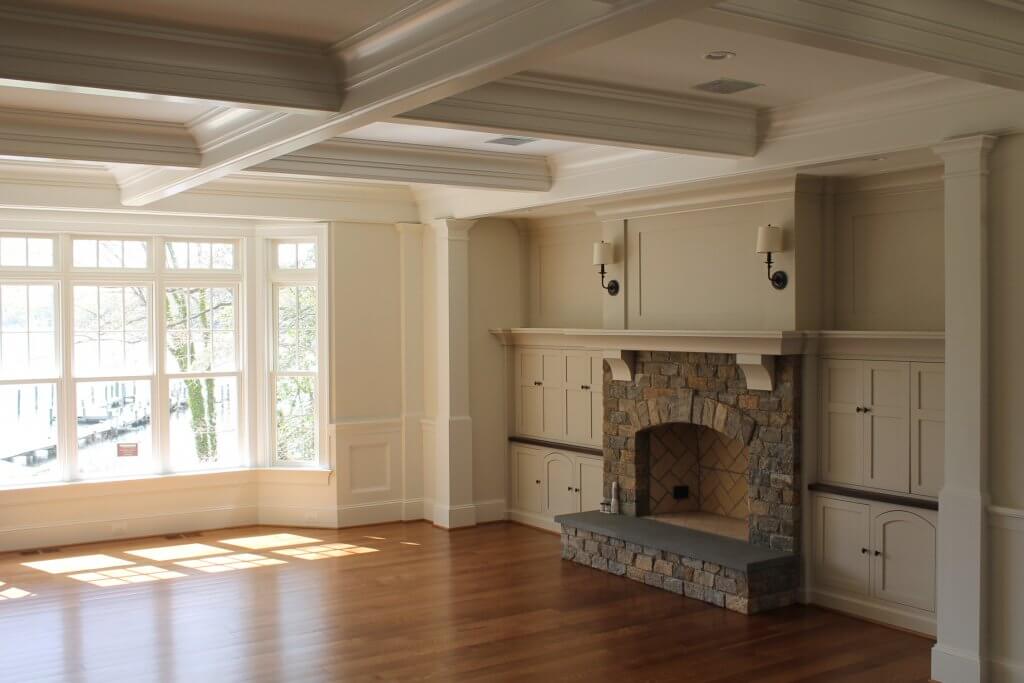 The Difficulty in Finding a Quality Interior Painting Contractor in Leesburg
You are not alone; finding a good contractor for your interior painting in Leesburg is not easy.  Wouldn't it be nice if getting 3 estimates was as easy as ordering 3 pizzas from 3 different restaurants?  If you are not familiar with Angie's List and Home Advisor, they don't check to make sure the contractors are licensed and insured. 
Reviews?
Definitely!  Reviews are a great way to gauge the reputation of a painting contractor.  
Why is there such a great variation in interior painting prices?    
If you are getting estimates to paint your first floor, prices might vary between $2,000 – $8,000 to paint a 1500 square ft home.
Reasons why the interior painting price is so low:
Inexperienced.
The company is not licensed, insured, and does not pay taxes.
Scammer; they collect deposits and never come back.
Unscrupulous contractors will find reasons to raise the price after the first day or two.
They are in financial hardship.
Reasons why the interior painting price is so high:
They are very busy and just fishing for customers who will pay high prices.
Little experience in painting.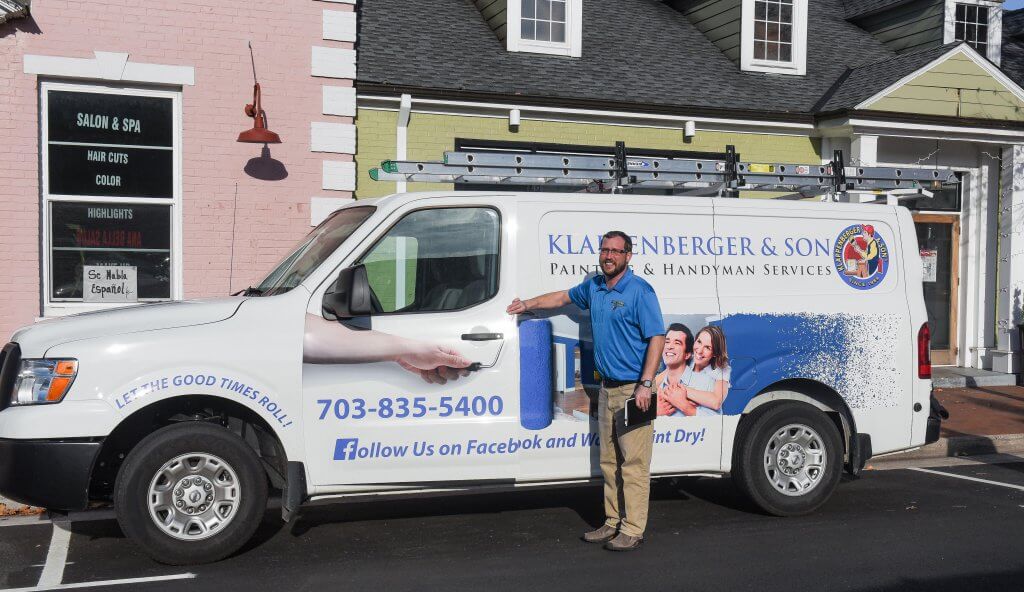 Our Pricing
Klappenberger & Son tracks the amount of time it takes to paint homes, and has arrived at accurate formulas when including our best practices.  In other words, our prices are an accurate reflection on how long the job will actually take and not WAGS (wild-ass guesses). 
Interior Painting Company in Leesburg: The Differentiator
First, before opening up a can of paint, we protect the floors and contents of your home using quality plastic (not that flimsy plastic that can easily be torn or moved about).
Secondly, we apply the paint colors to the right rooms to make sure everything is right.  
Also, if we are going to be working in your home for more than a day, we will discuss  where would you like us to leave our tools and drop cloths, or whether you would prefer we take everything with us at the end of the day.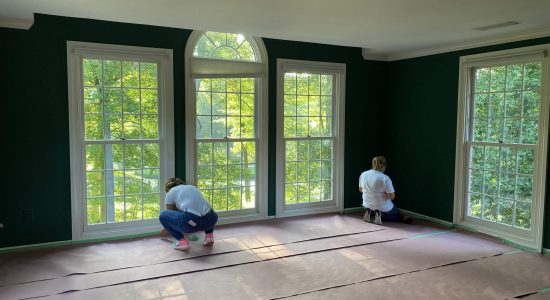 Right From the Start You Will Notice a Difference
We answer the phone, and we show up promptly for the estimate.
In addition, we promise that in most cases, we can have an estimate in your hands in 24-48 hours.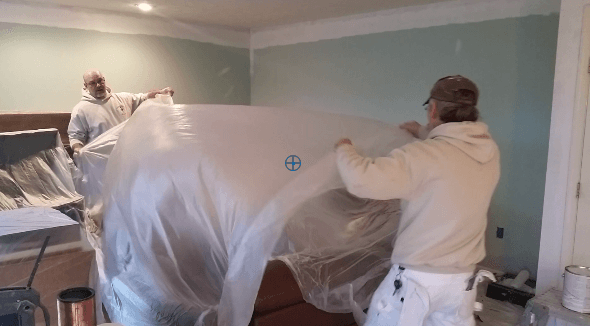 Do You Like Painting Warranties?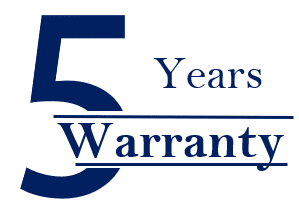 Of course you do.  Peace of mind is a good thing.  We offer interior and exterior painting warranties for almost everything we do.   
Kitchen cabinets come with a 5-year warranty.
Painting over wallpaper comes with a 10-year warranty. 
Interior painting comes with a 10-year warranty. 
Exterior painting comes with a 5- or 7-year warranty.
All warranties cover chipping, blistering, peeling and any adhesion problem.  Our warranties also include all labor and materials when two coats of premium paint are applied.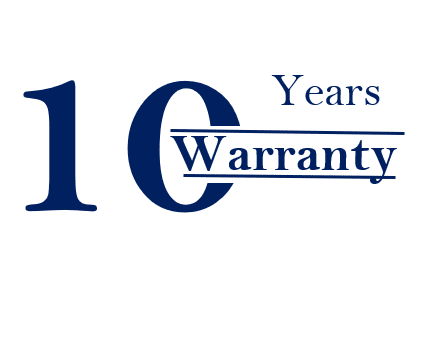 Interior Painting in Leesburg: The Difference Is in the Details
There is more to being a premier interior painting contractor in Leesburg than painting straight lines.  Our process starts when we arrive at your home – promptly.   
From the moment we arrive, we listen and then advise the best path to take for your specific interior painting project in Leesburg.
How long will you be living here?  Is washability important?  Do you need our assistance with colors? 
To best serve you for your interior painting project – we need to listen.
Communication Is Everything
On all of our jobs, the estimator, likely the owner, will also be the project manager on the job.  Having the same person who gave you the estimate and understood the nuances of the job leads to fewer delays, mistakes, and frustration.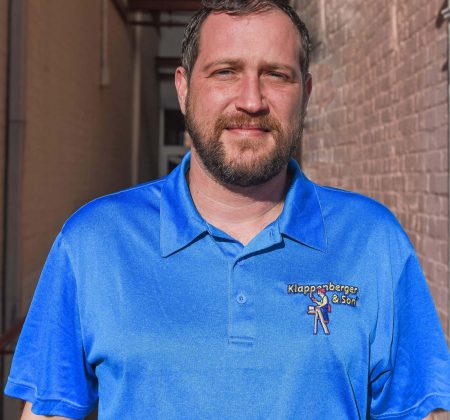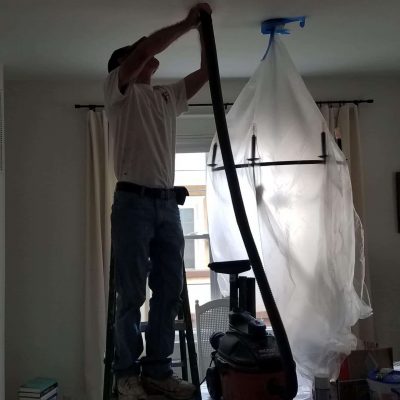 Interior Painting in Leesburg:  the Prep Work
Prep work is vitally important to have a beautiful interior paint job, and spackling is part of the process.  Unfortunately, when sanding the spackle, if it is done without a vacuum attachment, the spackle dust carries. 
It is astonishing how few interior painting contractors sand spackle areas with vacuum attachments.  Spackle dust is very light and can carry all throughout a house, even making its way into closets.
We avoid this problem by sanding with vacuum attachments on our sanders, and it collects 95% of the dust before it has a chance to land where no one wants it. 
Out interior painting best practices not only include using a vacuum attachment when sanding, but also using the most flexible spackles so those cracks don't come back.
What's the Best Paint for Your Home?
Picking the right paint for your project can be tricky.  However, we have an advantage over other interior painting companies.  We have taken the time to test over 40 different interior paints!  
We test and compare the following:
Coverage
Workability
Washability
Durability
Self-priming
Ability to touch-up
2021 Interior Painting Color Trends
For about 6 years or so we, were stuck in the light gray spectrum for the most popular interior painting colors.  Fortunately, we are stretching our palettes.
Tips For Picking The Right Colors For Interior Painting
Color adds interest to a room.  But the color doesn't have to come from the paint. 
The picture on the right has its walls painted with neutral color from PPG Transcend.  There needs to be a splash of color added, and the throw pillows provide that beautifully.