Klappenberger & Son - Professional Brick Painting
Schedule Your Free Quote Today
Klappenberger & Son - Professional Brick Painting
Schedule Your Free Quote Today
Painting Brick and Stucco in MD, VA, D.C, and FL
At Klappenberger & Son, we love painting brick.  The transformations of painting brick dramatic.  Brick from the 60′-90's might have lost its luster and painting the brick might just be the right answer.  
Klappenberger & Son is a full-service exterior painting and handyman contractor.  Our exterior painting extends all through Maryland, Virginia, D.C., and Miami Dade.
Painting brick has become increasingly popular over the last few years.  There are two dominant reasons.  First, it can bring uniformity to the home.  When a home has a mixture of different siding, painting everything one color can make the house look bigger.   Another reason is that much of the brick from the '60-the '90s just looks dated.
Fortunately, Klappenberger & Son can help you through all the necessary steps. First, we can do any necessary repairs to brick or concrete.  Secondly, we can help with color consultation and apply samples for your approval.  And finally, we can prep and paint your home to give you years of enjoyment.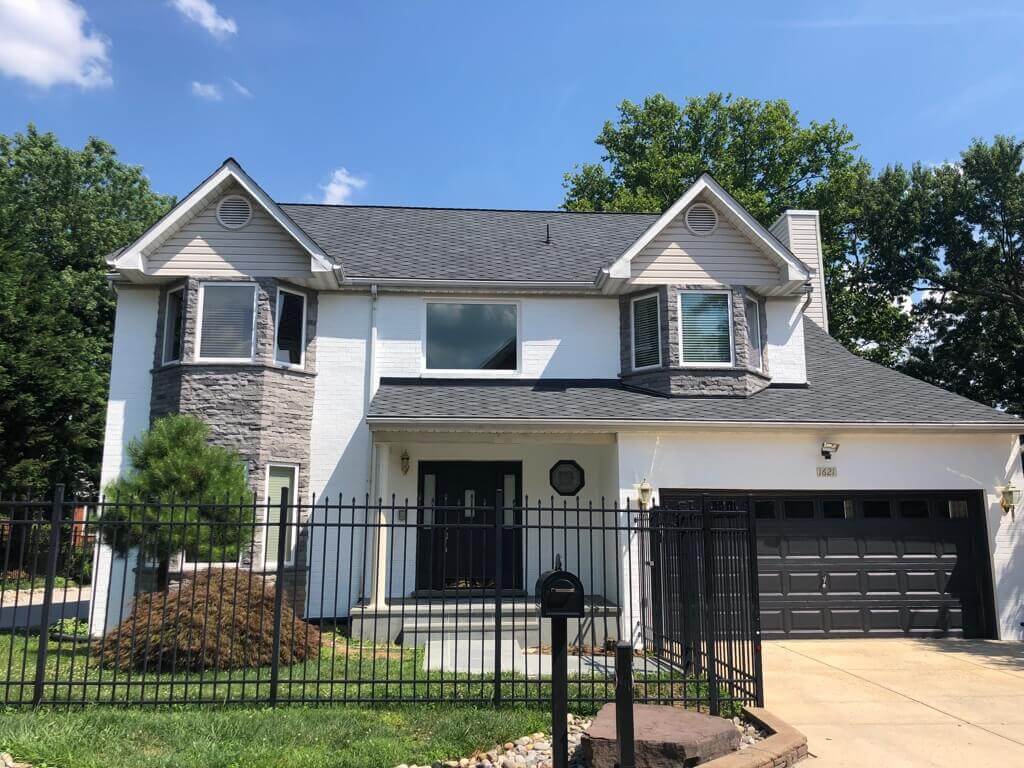 Our Professional Brick Painting Services
Your residential or commercial property is a significant investment, and the exterior plays an important role in determining the value of your property. If your building has severely damaged brick, was previously painted, or you prefer the look of painted brick, trust Klappenberger & Son for the highest quality brick painting. We specialize in a variety of residential and commercial brick painting jobs, including multi-family and new construction homes, historic properties, retail centers, industrial sites, hospitality venues, schools and universities, and more.
Klappenberger & Son is committed to delivering only the finest exterior brick painting in Virginia, Maryland, DC, and Florida.    To do this, we use only the best industry products and highly experienced painters.  That is why with an array of different tools and equipment, we can handle nearly any type of project.
Many people are requesting a high-end brick paint called Romabio.  It comes in a Classico Limewash.
Ramabio is an excellent product because it does NOT seal the brick but allows minerals and moisture to pass through. This keeps the paint from peeling.
                                    The Process
To ensure we always meet your expectations, we follow an exact process for consistent results:
Perform consultation and brick inspection
Conduct surface preparation, power washing, and cleaning
Perform brick repairs
Apply primer coating, paint application, and specialty coatings
Conduct final inspection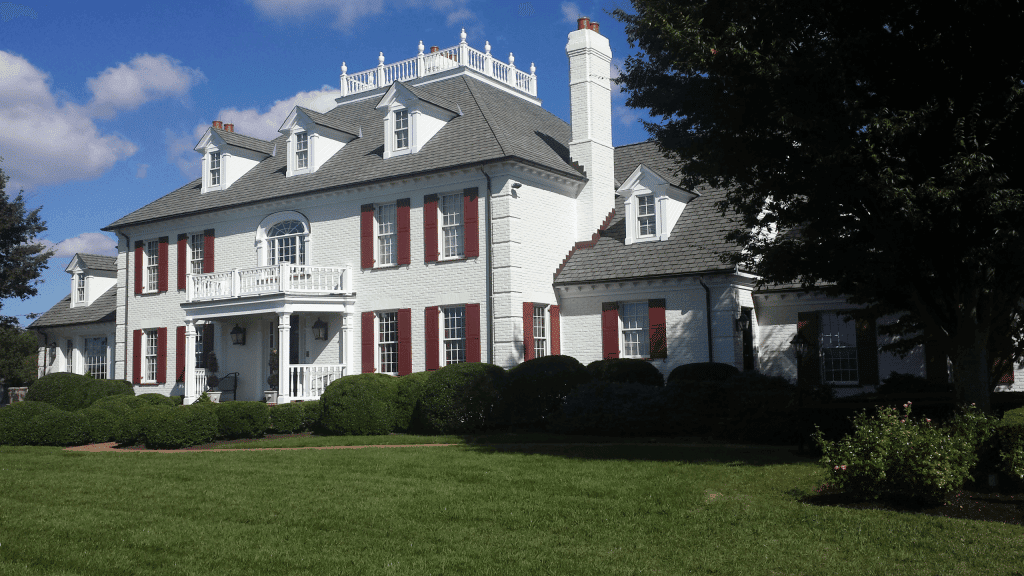 Before the Paint — Our Masonry Repair Services
Before applying paint, it's important to inspect the brick and mortar and perform any necessary repairs.  While inspecting the condition of your exterior brick, our team will look for efflorescence and brick deterioration.  As needed, we can replace any missing or damaged mortar and replace deteriorated bricks.  In addition, we will determine the appropriate coating solutions to preserve the materials in the future.
What Is the Best Paint to Use on Brick?
If you have ever accidentally gotten a drop of paint on the brick you know how hard it is to remove.   That is because brick is porous.  With that said, there are masonry primers such as Loxon and Perma-Crete that are ideal for priming brick.  The topcoat can be any premium paint.  In the photograph above we used White PPG Timeless Exterior Eggshell. 
If you would like to give the brick a less solid look you can apply a lime wash by Rombabio.  It is called Romabio Classico Limewash Interior / Exterior paint. 
Rombabio is also a two-coat system, meaning one primer coat and one topcoat are applied.
Rombabio is different from paint in several ways.  First, it has natural minerals that are similar to masonry surfaces.  This allows protection for the bricks, and masonry surfaces but still allows the substrate to breathe.  Furthermore,  It also has no harmful VOCs and is can be matched to any color.  
Painting Stucco
Painting Stucco is similar to painting bricks.  First,  the surface needs to be free of mildew, brake dust, and other pollutants that can interfere with adhesion.   
Stucco is easy to paint.  It can be brushed, rolled, or sprayed.  
7-Year Warranty
We have found that we can offer 7-year warranties in Florida even when we use moderately priced paint such as Exterior SuperPaint Flat or Low-Luster.  The 7-year warranty covers chipping and peeling.  Unfortunately cleaning or fading are not included under this warranty. 
10-Year Warranty
We also offer a 10-year warranty when we apply Resilience Flat or Satin on stucco surfaces for slightly more cost.  This paint costs a little bit more, but more than pays for itself with the additional 3-year warranty.  The 10-year warranty covers chipping and peeling. However, it does not warranty cleaning or fading.
15-Year Warranty
This warranty is for those who want absolutely the best protection for their stucco and other types of surfaces.  However, the product is costly, but it does not fade, chip, or peel for 15 years.  The is called NeverFade and is ideal for people who want the perfect color retention and durability.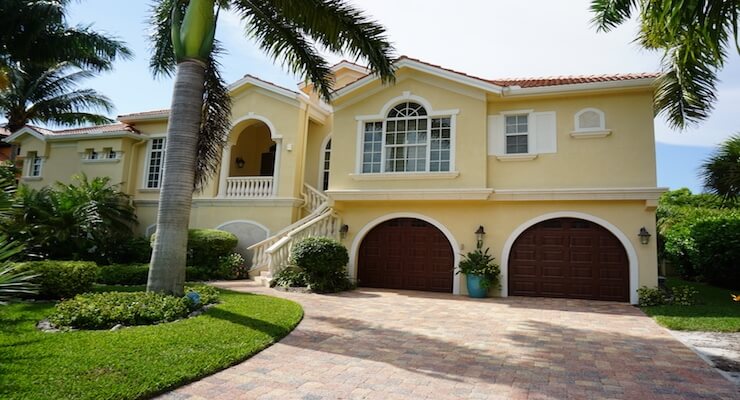 This product is often used for: 
deep colors 
bright colors
avoiding stucco repair costs
avoiding having to paint
waterfront properties
commercial space
customers who want the best product
The product is costly but is used on everything from the Goodyear Blimp, Mercades Dome, Trump Towers, and Disneyland.  
Customer Reviews for Our Painting Franchises
Want to know what it's like to work with us on your professional exterior painting project? Just ask our happy clients!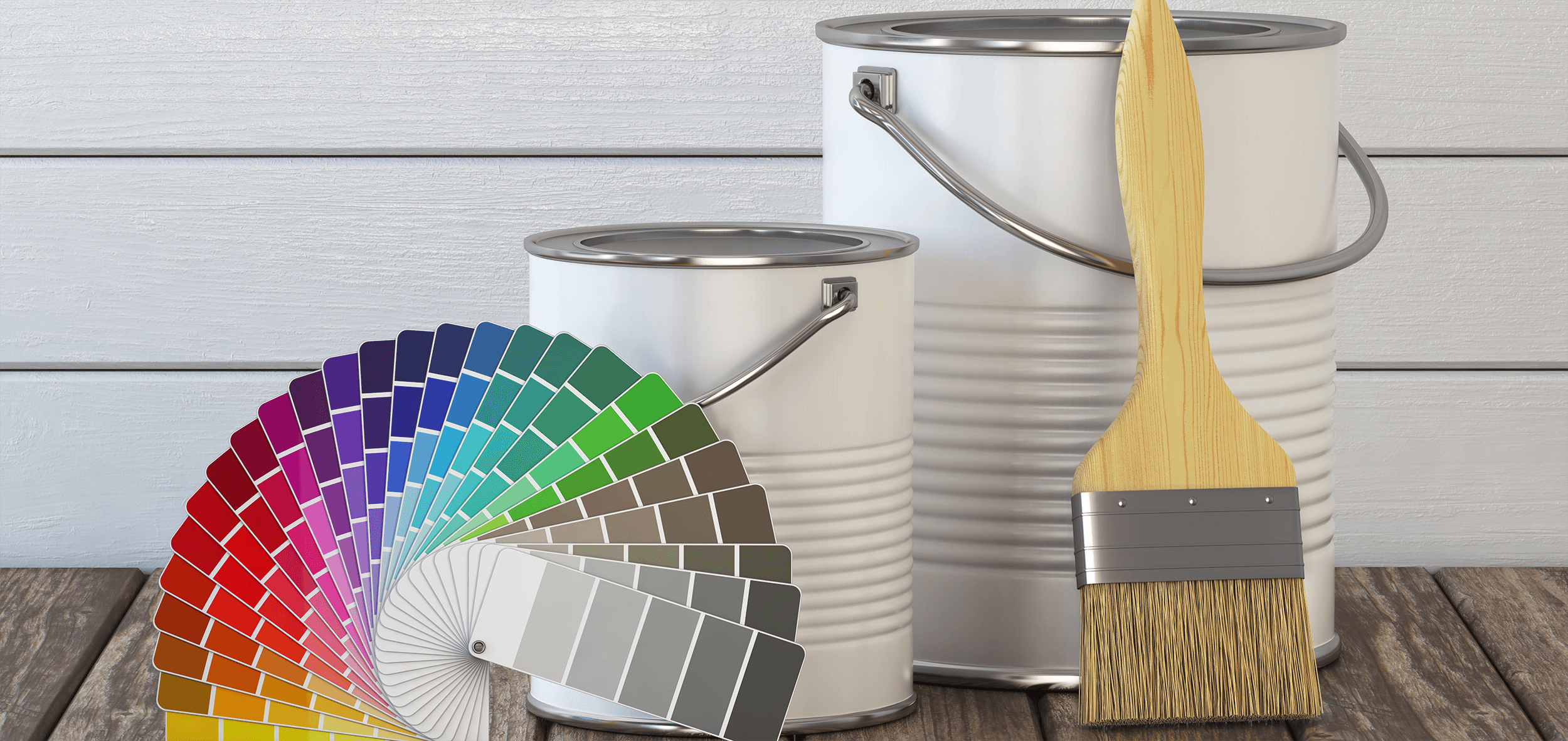 Scott Fitzgerald
Google Reviewer
Our experience with Klappenberger & Son was terrific. The carpentry we had done looks wonderful and the exterior painting does also. All work was done quickly, efficiently, and they cleaned up afterwards. Thank you very much for great work!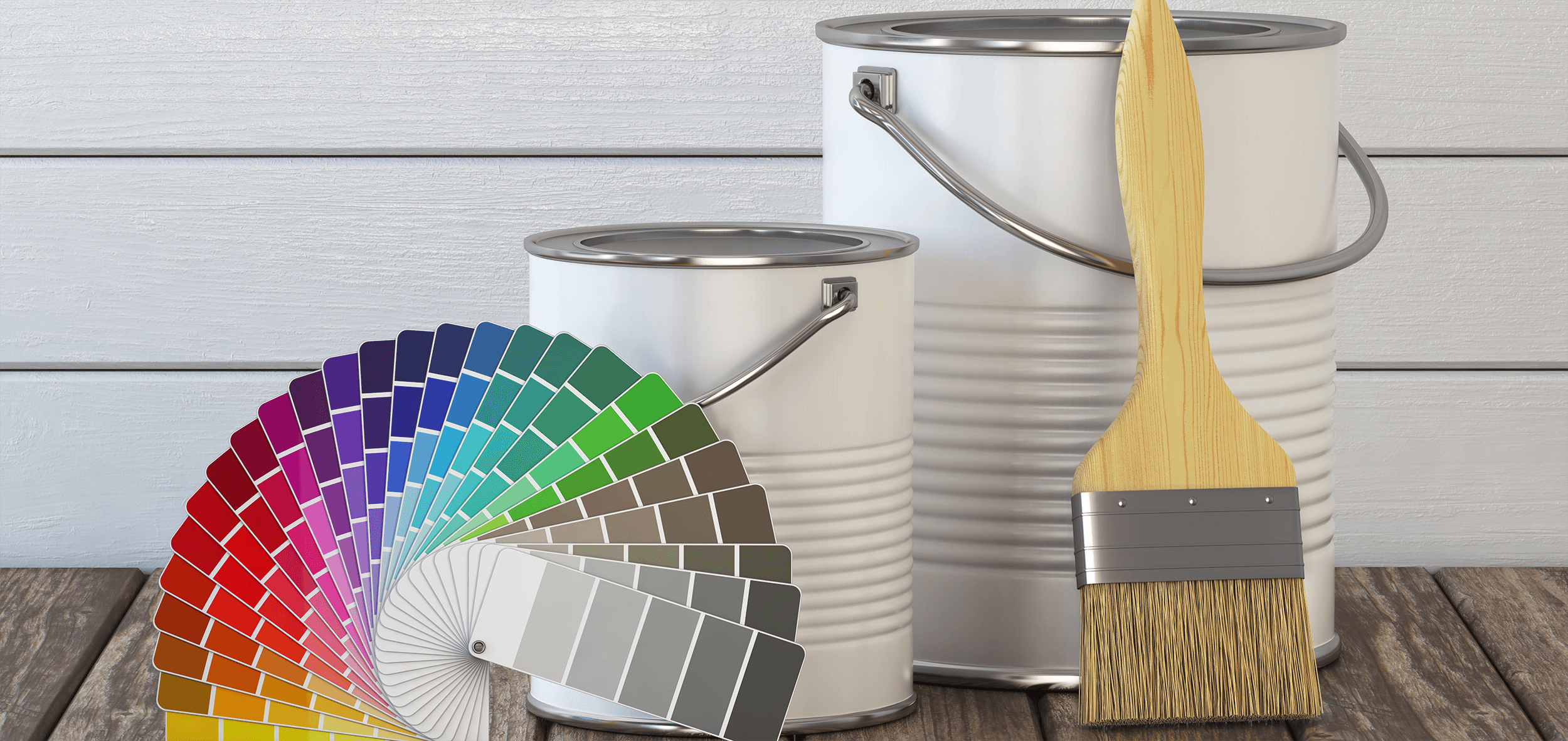 Nathan Fry
Google Reviewer
Klappenberger & Son repainted the exterior of our new home in Washington DC and also power washed & refinished our deck. Could not be more pleased with the result & at an excellent price as well! We will be hiring them again for interior projects.
Why Choose Klappenberger & Son for Your Professional Brick Painting?