Montgomery County, MD Painting Services
Your Local Painters in Montgomery County are Klappenberger & Son!
If you are looking for painters in Montgomery County, look no further. 
We are Proudly Serving…
Barnesville, Brookeville, Chevy Chase, Gaithersburg, Garrett Park, Glen Echo, Kensington, Laytonsville, Martin's Additions, Poolesville, Rockville, Somerset, Takoma Park, as well as Washington Grove.
Whether your needs are residential, Commercial, or Government in nature, we provide the best Interior and Exterior painting services, as well as world-class Deck and Fence Staining, Custom Carpentry, Power Washing, Wallpaper Removal, and Historic Preservation services.  If you are a first-time customer, then welcome!  I think you will find that we are a different kind of painting company.  If you are one of our returning satisfied 20,000 customers, then I truly appreciate your continued loyalty and support.  We won't take you for granted!
If you'd like a free quote, please click the button below or give us a call.  Klappenberger & Son is your hometown choice for painters in Montgomery County.  Give us a call today for a free quote.  Messages received before 2 PM will be responded to on the same business day.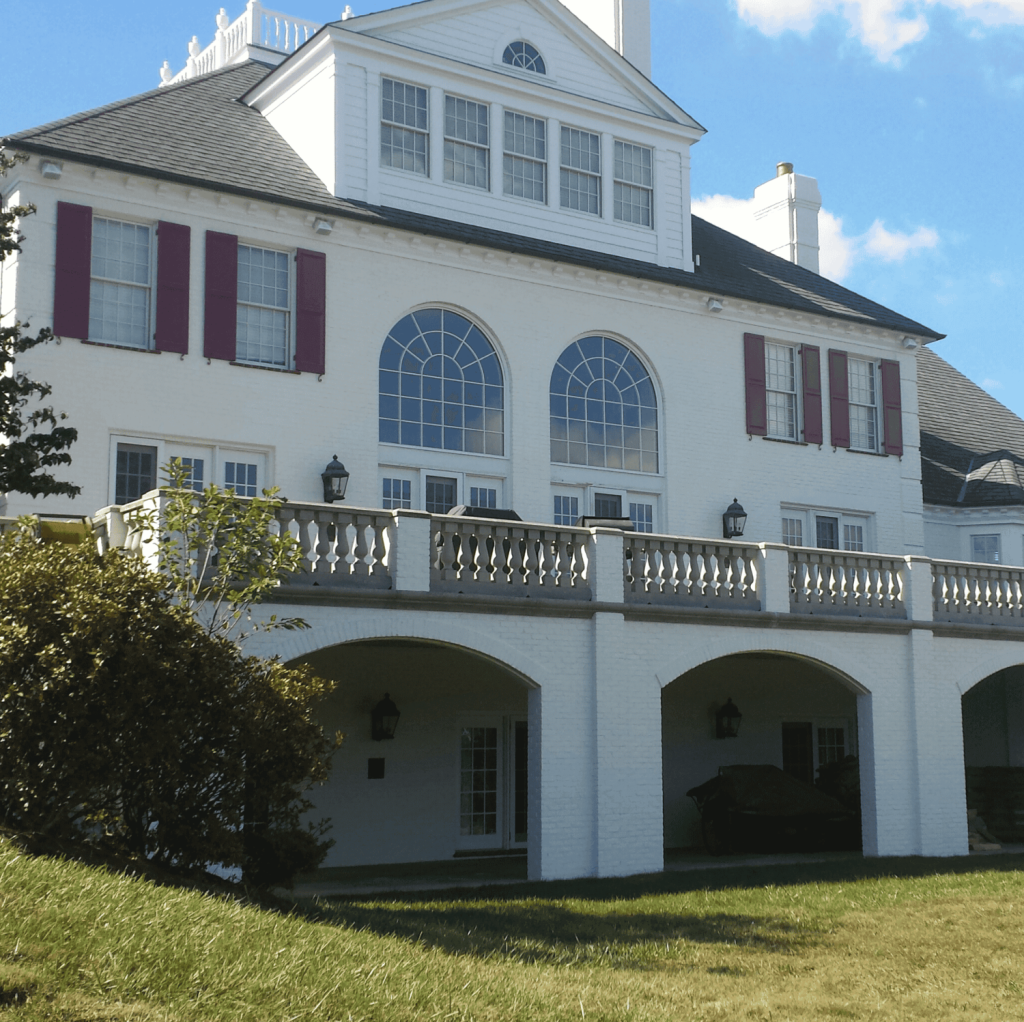 Alex Mironov is your point of contact for all of your Montgomery County painting and project needs.
Klappenberger & Son of Montgomery County
451 Hungerford Drive, Suite 119-316
Rockville, MD 20850
About Us - Your #1 Painters in Montgomery County
Klappenberger & Son is a painting company with a few good handymen who have been serving Montgomery County Since 1989.
Who we are – Everyone on our staff has at least 5 years of field experience!  Most of our staff have been painting for over ten years, and have all gone through our training process.
Reliability – If we say we are going to be there, then we are.
Prompt – Being on time every day is critically important, and it's the respectful thing to do.
Respectful – Cleaning up and treating your property with respect is ingrained in our company's culture.
Communication – Poor communication is 99% of how all problems occur.  We will keep you informed of any changes and will be in daily contact if needed on your job until it is completed.  A final walkthrough will be done to make sure you are completely satisfied with our painting and handyman services.
But don't take our word for it.  We have been in Best Picks since 2013- 2020!  To be awarded Best Picks,  we must get reviewed by all of our customers every year!  If we don't score at least a 93% favorability score, we would not be eligible for Best Picks. 
Customer Reviews for Our Montgomery County Painting Franchise
Want to know what it's like to work with us on your professional painting project?  Just ask our happy clients!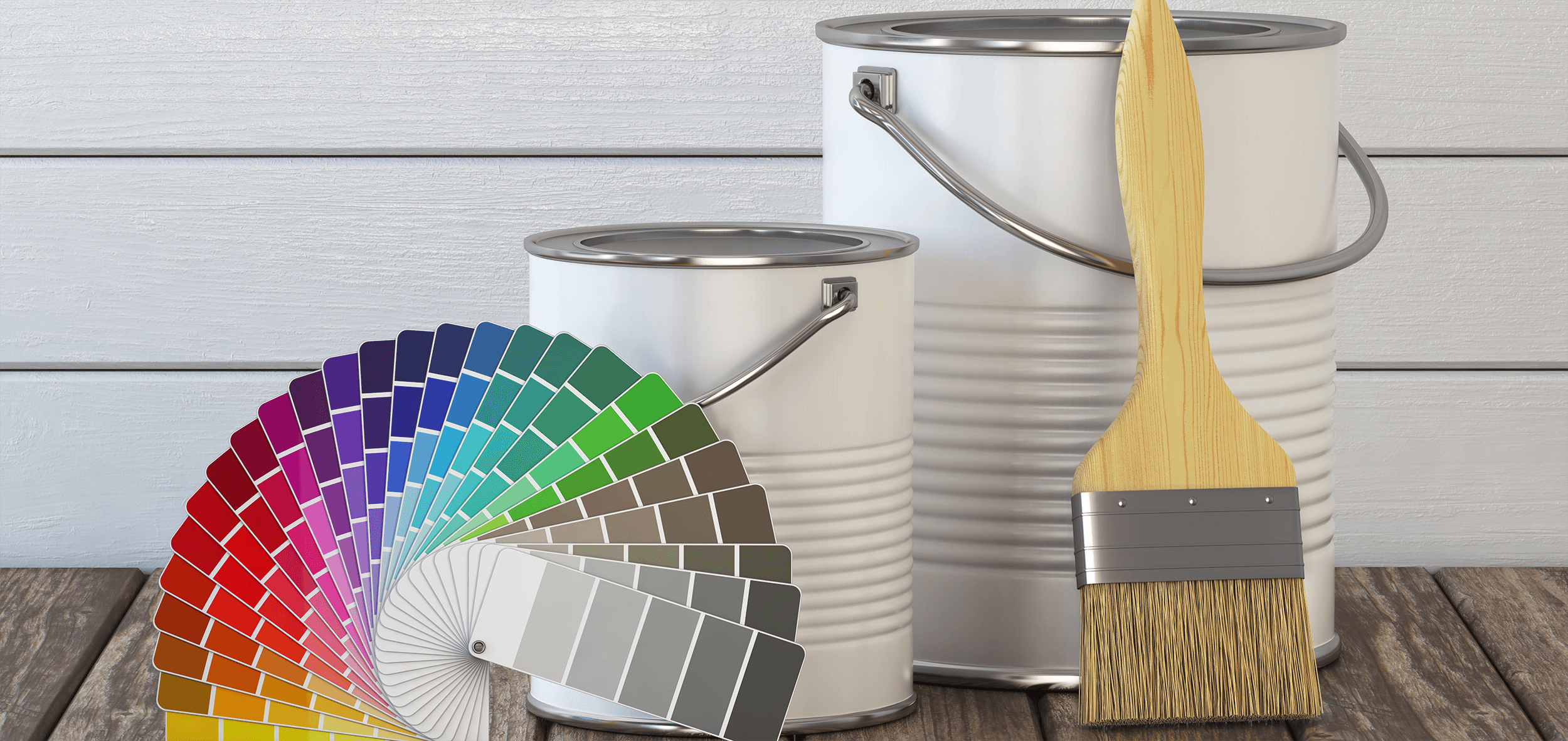 Karen Quinn
Google Reviewer
Klappenberger & Son did a great job on our home office remodeling project which included a tricky carpentry project and removal of old wallpaper and installation of new wallpaper. I highly recommend Klappenberger & Son! The proposal was detailed and accurate. The team was friendly and knowledgeable.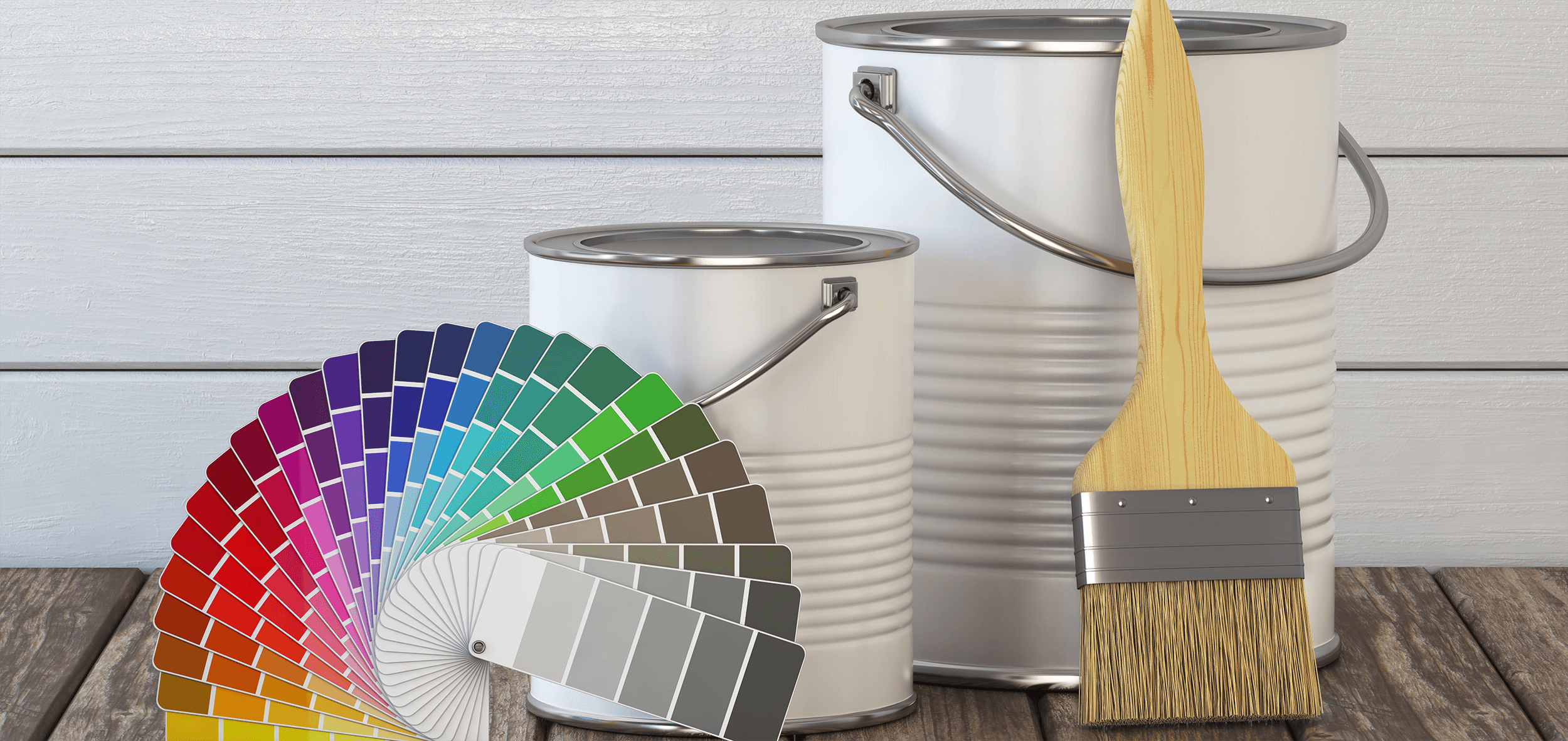 Allison Rosen
Google Reviewer
This is the second time we've used Klappenberger & Son, and both times we were provided with exceptional customer service and a superior result. Besides being professional and courteous, Jon Anderson was efficient in planning and supervising our project. We are very happy customers. Meriliee C.
@username
Most importantly, they do a quality painting. Wilson and his crew are real pros. Also, they showed up on time and worked to complete the job with a high level of detail. Would recommend.
Interior Painters in Montgomery County
Money-Saving Tips
Are you looking to paint your home's interior while sticking to a budget?  One budget-saving option will be not to paint the ceilings if they are in good shape. 
A second way to reduce costs is not to change the color of the trim.  Why?  Because changing colors generally requires two coats instead of one to have complete coverage.  Most premium grade paints can cover 100% so long as you are not changing color.  Using a top-of-the-line product like Sherwin Cashmere Medium Luster can cover in one coat.  As a bonus, premium grades like Cashmere have excellent wash-ability, bond better, and are much more resistant to scuffing.
Are You Selling Your Home?
Are you moving?  We can take care of the painting and handyman projects that need to be completed to get the house sold.  If your home's interior needs to be painted, we can advise you on the most important areas that need to be painted so you get the biggest bang for your buck.
Is it time to take down wallpaper?  We have the patience and skill to get it down in a timely fashion.  We understand your two most important factors of getting your house ready are cost and time.  Having the painting and handyman done under one company saves you both time and money.  Below is a home we painted in Silver Spring.
Buying a Home?
Congratulations!  We would be happy to advise you on the most washable paints and proper sheens to fit your lifestyle.  If you need your house painted on a stringent timeline, I am sure we can accommodate your schedule.  Whether it's handyman projects or painting applications, we can work weekends if needed to get the projects done before the moving van shows up!
Are the Colors on the Walls Having You Feel Uninspired?
Colors on walls really do affect our moods.  If you feel a little tired of the colors on the walls and would like to try something new, Klappenberger & Son can help with free color consultation, and of course, we can do the painting as well.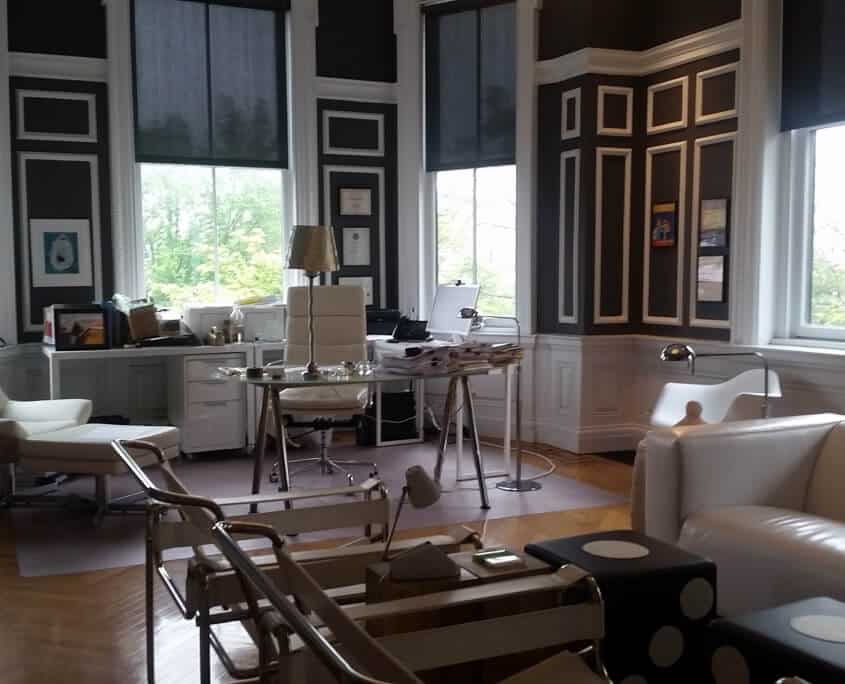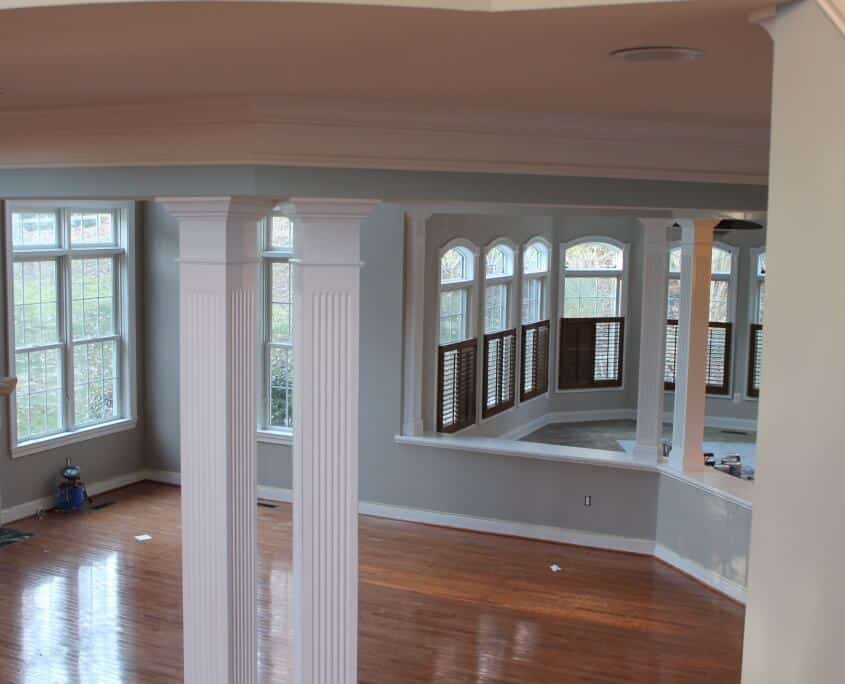 Dependable, Skilled Exterior Painters in Montgomery County
Whether your painting and handyman projects are government, residential, or commercial, we provide expert exterior handypersons and painters in Montgomery County and beyond.  During your free consultation, we'll visit your location to determine which types of exterior paint options will suit your needs.  We advise you on what types of products and processes will give you the longevity you demand on your home or building.  In other words, we will educate you on: (don't worry, there are no tests or quizzes).
What is the best primer for your substrate?
Who has the best top-coat for your substrate?
Before painting, what is the proper moisture content of the substrate?
With over 30 years in the business, we know what has worked and what has failed.  Let our expertise guide you on the proper process and products to have your home painted properly.
Painting Vinyl and Aluminum Siding
To the surprise of many homeowners, aluminum and vinyl siding can be painted.  The truth is both aluminum and vinyl make very compatible surfaces for the paint to adhere to.
Whether you live in Rockville or  Silver Spring, the vinyl and aluminum siding homes we paint last about 15 years before they need to be painted again.  With the proper prep and paint, we can transform your home with a completely new look for a fraction of the replacement cost.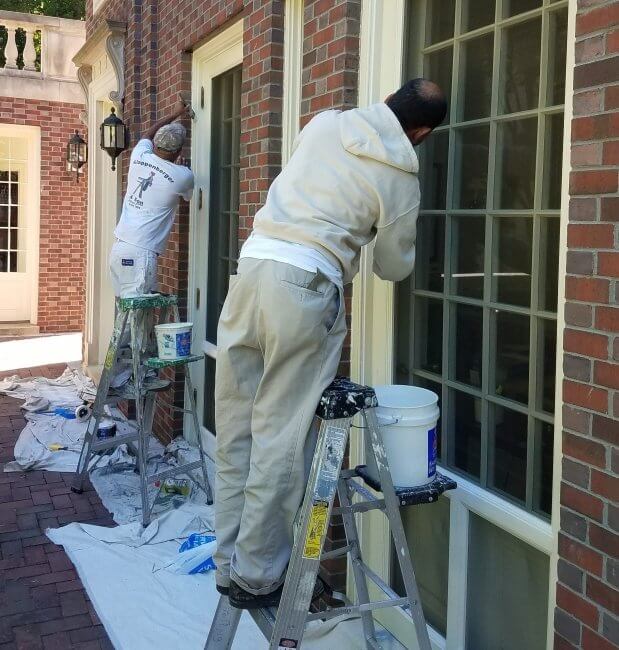 Over the last 5 years or so we have seen a real increase in the number of customers who want their exterior brick painted.  If your brick and siding (wood, vinyl, etc.) are two different colors, it can make the house look "choppy" and "cut-up."  Having the brick and siding the same color can actually make the house look bigger with a more continuous flow.  Knowing the proper masonry primers and topcoats to use, you can expect the paint job to last at least 15 years or more.  The home of the picture below never looked small or choppy, but it does look vastly different.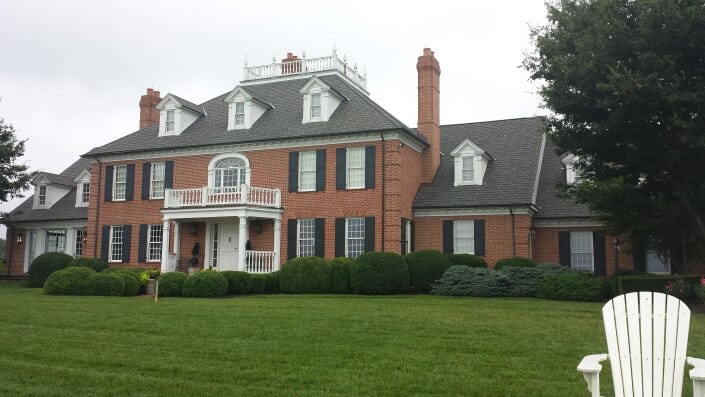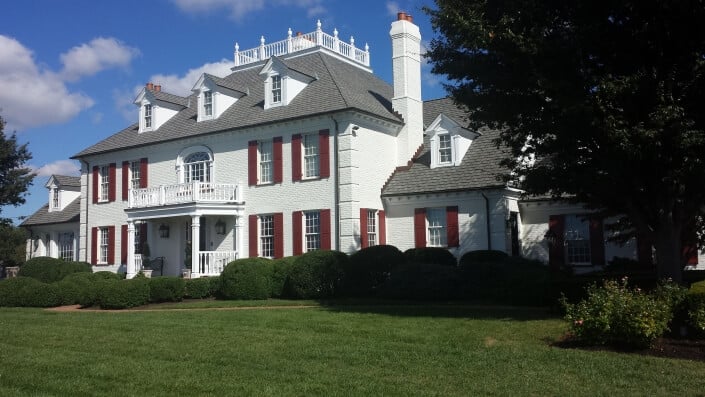 Choosing the best product for your deck or fence's longevity is not a one-size-fits-all answer.  The truth is, the best product to apply will need to be determined by what was on the deck previously, and its current condition.  Also, how old is the deck?  If the deck is older than 15 years, a solid stain might be the best solution.  If the deck is less than 7 years old, perhaps a wood preservative would be the best product.  We would be happy to give you a free evaluation of your deck and give you professional guidance on which product would best serve your deck and your lifestyle.
Whether you need your deck or fence power washed in Gaithersburg, or your entire house power washed in Potomac, MD, we know the proper environmentally safe chemicals that will adequately clean the surfaces without causing damage to your plants or the environment.  Aggressive power washing techniques can cause real damage to the surface you are ultimately trying to protect.  Our best practice is to allow environmentally friendly chemicals to do the work – not aggressive power washing!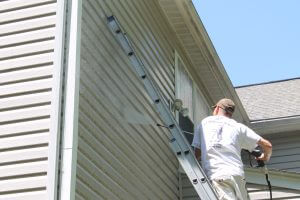 Klappenberger & Son can not only replace your rotten wood with new composites that will never rot, but with new products that will hold the paint for up to 15 years without chipping or peeling.  Below are photos of a recent handyman and painting project completed in Rockville.
Commercial Painting Services Offered
Klappenberger & Son has extensive experience in painting existing commercial spaces.  If your painting/handyman projects need to be done during closing hours, then we can certainly accommodate.  Our knowledge and expertise in recommending the correct paints for your specific needs separate us from the competition.  Whether you need paint that kills germs and bacteria on contact or paint that absorbs odors, we know the correct paints and the best methods of application.  Here is a video of us cleaning a wall that was painted at a school with low odor epoxy paint.  The washability is very impressive!
Here is a shortlist of businesses we regularly paint and remodel for.
Retail Centers (J Crew, H&M, Crate & Barrel, Verizon)
Restaurants (Fudruckers, Red Lobster)
Hospitals (over 30 Medstars)
Schools – AACC, Bowie State, Mount Mary, Coppin State
We have a small army of about 25 painters in Montgomery county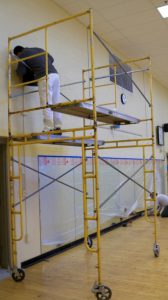 School Gymnasium painted in Rockville, MD
Painting Services for Local and Federal Government Serving Montgomery County
We have proudly worked in some of the most treasured landmarks including:
White House
Smithsonian
Pentagon
US Court of Appeals
NIH
USDA
Scope of work included:
Drywall repair & installation
All phases of painting
Stripping and refinishing doors
Historical restoration projects interior painting
Historical restoration projects exterior glazing and painting
Installing new flooring
At Klappenberger & Son, we can handle any of your painting projects on any federal or local government buildings you have in Montgomery County.  We have decades of industry experience and understand your needs. Whether you need the hallways painted with a highly washable epoxy coating or historical restoration work, we have the experience and knowledge to get the job done right the first time.
Our experts specialize in working in a variety of government locations, including:
Administration buildings
City halls
Courthouses
Historic properties
Public safety
Health buildings
Public utility spaces
Public works locations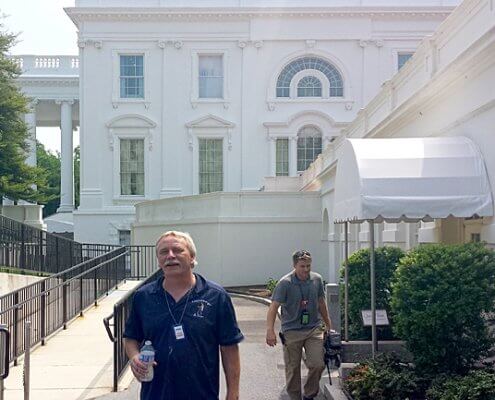 Property Management Handyman Services by Klappenberger & Son
Klappenberger & Son has developed long-standing relationships with property managers because frankly, we understand your needs:
Quick estimate
Quick turn around
Good work
Excellent communication
Discounted pricing
Detailed invoices including before and after pictures
Klappenberger & Son is your one-stop company for handyman and painting projects.  Whether you need trash removed or gutters cleaned in Bethesda, or complete custom bathroom remodels in Potomac, we have the right people to get the projects completed in a timely fashion.  If you are frustrated with unreliable painting and handyman contractors then please give us a call.
Click for a complete list of handyman services throughout all of Montgomery County.
Call Us Today to Learn More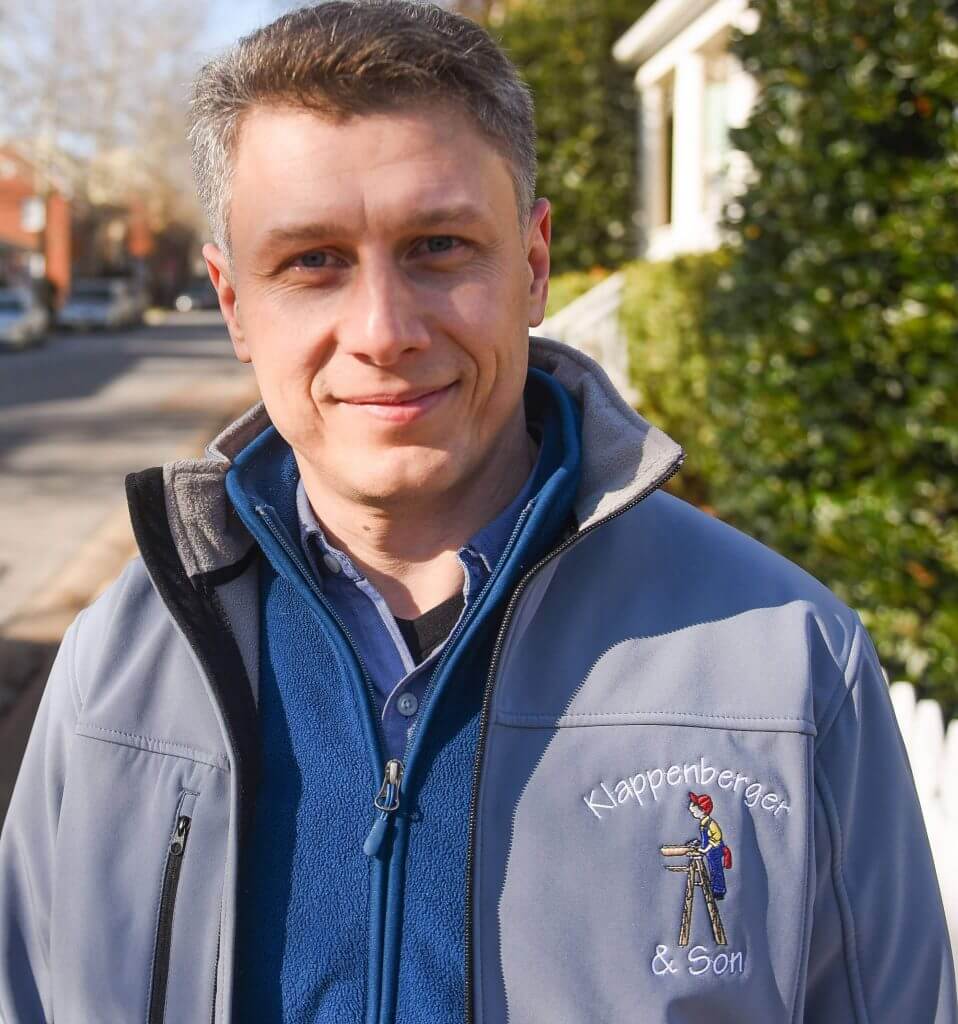 We would love to earn your trust and be your go-to painting and handyman company.  If you have been searching for painters in Montgomery County, look no further and give us a call today.
Call Owner Operator Alex Mironov – 301-690-8983 or by completing our online contact form.