Interior Painting in Baltimore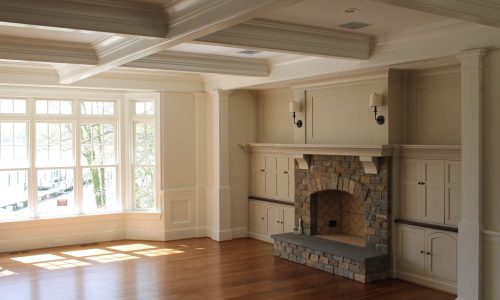 If you were searching for a contractor who can perform interior painting in Baltimore City or County, you are at the right site.
I'd love to hear about your interior painting project and see if we can assist.
Whether you need to get your house painted because you are selling or it's time for a real makeover, we are ready to serve.  
It doesn't matter if you want to have the entire house painted or just a few rooms; our estimates are always free.
Superior Customer Service is not lip service!
From our initial meeting, you will notice a difference.  First, we have a portfolio we bring with us that might inspire you.  Check out some of our beautiful jobs that might get the creative juices flowing.  We also have 2022 trending colors picked by national designers at Sherwin Williams.  
Once we start your project, we apply paint samples on the surfaces to be painted for your approval.  Our crews wear name tags because most of us have trouble remembering names.  
And We Treat The House With Respect Too!
We treat you and your house with respect.  For example, we protect the floors and cover the furniture upon entering your home.  We will discuss where we can have a temporary workstation.
In addition, if spackle spots need sanding, we always use a vacuum attachment to capture 95% of the dust.
Our best practices have allowed us to paint at the White House, and we know you will be satisfied with our interior painting at your house.
Interior Painting in Baltimore: The Difference Is in the Details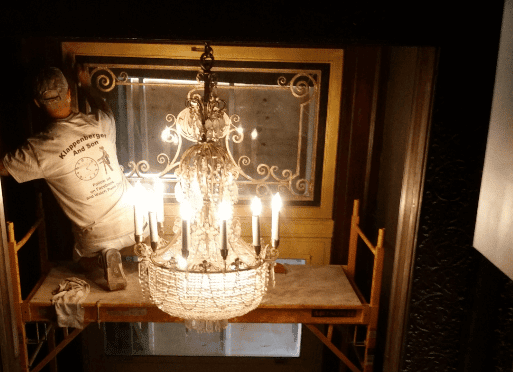 Professional painting companies do more than just paint straight lines.  
For 30 years, we have developed and refined our best practices, and they start long before we begin painting.
For example, when you call us, you get a live voice, and often it's either myself, Mo, or my cousin and business partner, Rob Muferah.
In addition, we can usually schedule an appointment for the next day and have an estimate emailed to you in 24 hours.
Promptness – showing up on time to do the work is very important to us.  You have a schedule and you don't need to be waiting around for the painters to show up.  
Also, when we start a job, we don't leave to start another until yours is finished and you are 100% satisfied.  So many painting contractors start jobs only to collect the deposit check, and move to the next job.  We don't play that game.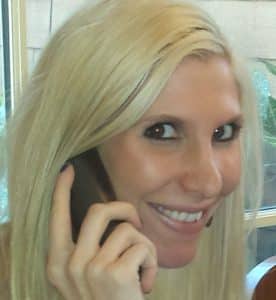 To best serve you for your interior painting project – we need to listen.
Communication Is Everything
On all of our jobs, the estimator, likely the owner, will also be the project manager on the job.  Having the same person who gave you the estimate and understood the nuances of the job leads to fewer delays, mistakes, and frustration.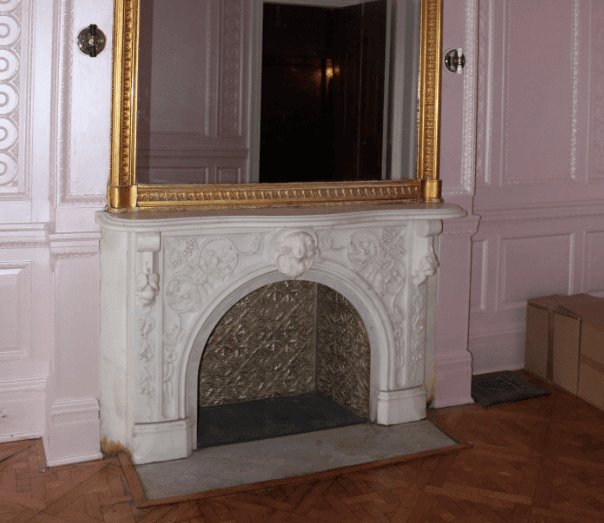 Interior Painting in Baltimore:  The Prep Work
Prep work is vitally important to have a beautifully interior paint job, and spackling is part of the process.  Unfortunately, when sanding the spackle, if it is done without a vacuum attachment, the spackle dust carries. 
It is astonishing how few interior painting contractors sand spackle areas with vacuum attachments.  Spackle dust is very light and can carry all throughout a house, even making its way into closets.
We avoid this problem by sanding with vacuum attachments on our sanders, and it collects 95% of the dust before it has a chance to land where no one wants it. 
Our interior painting best practices not only include using a vacuum attachment when sanding, but also using the most flexible spackles so those cracks don't come back.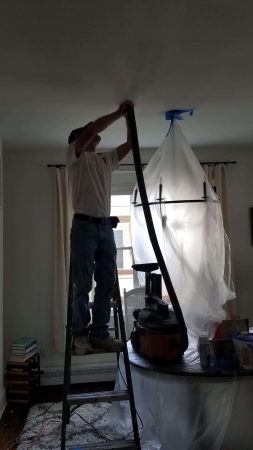 Interior Painting In Baltimore Also Includes Wallpaper Removal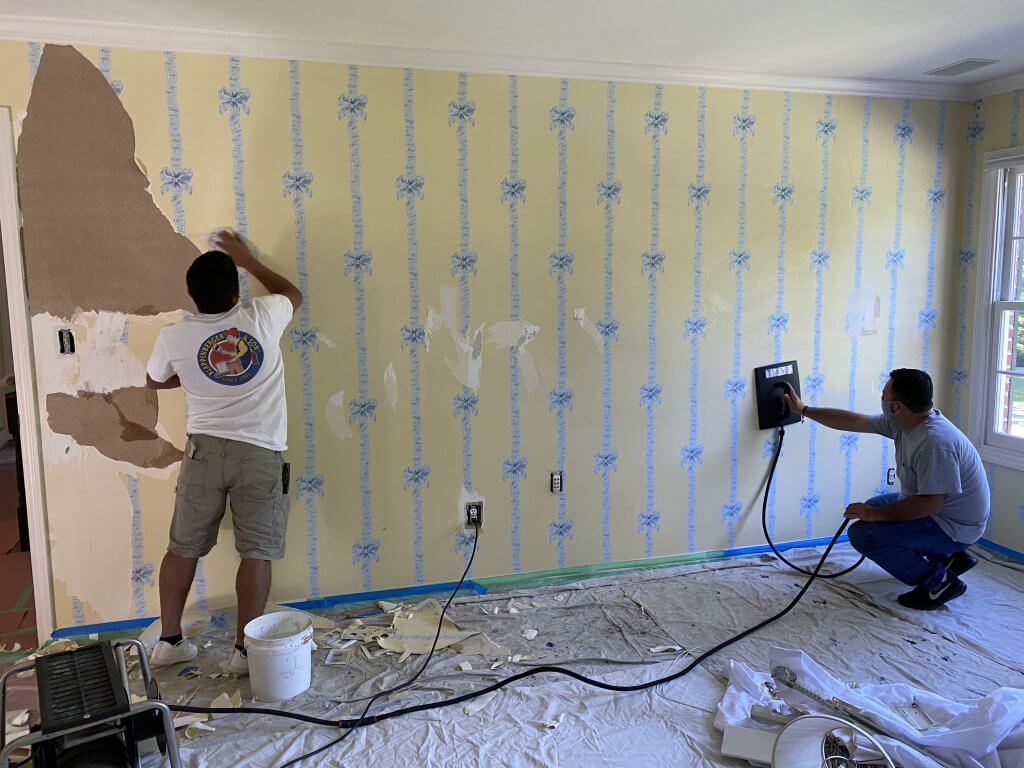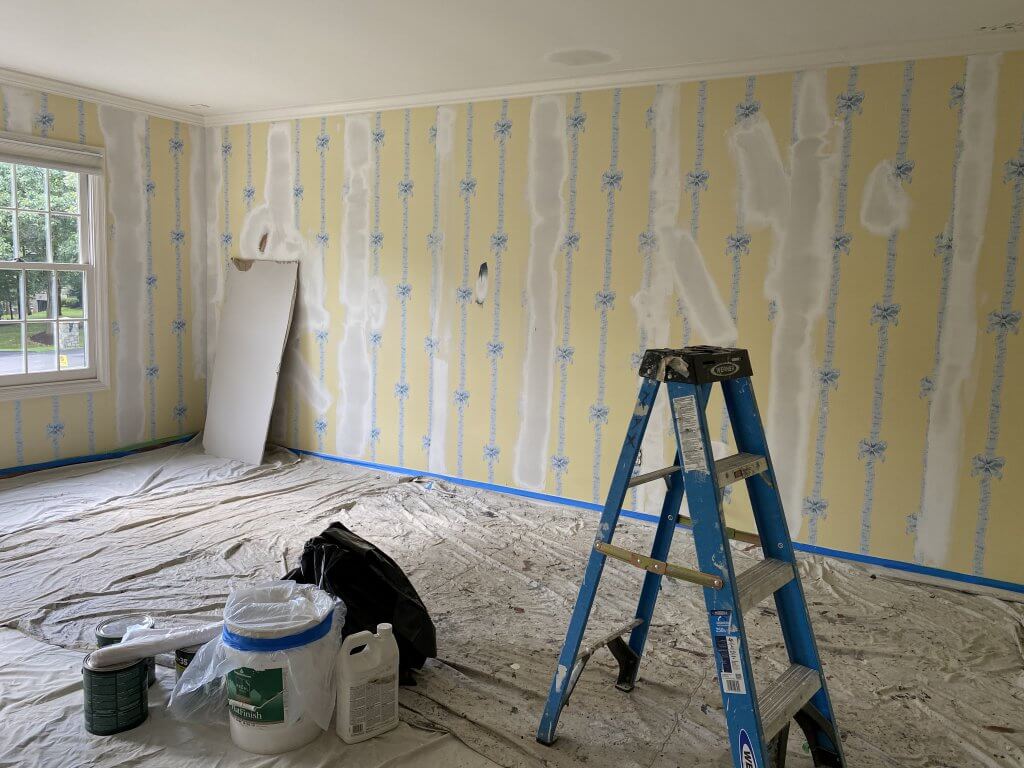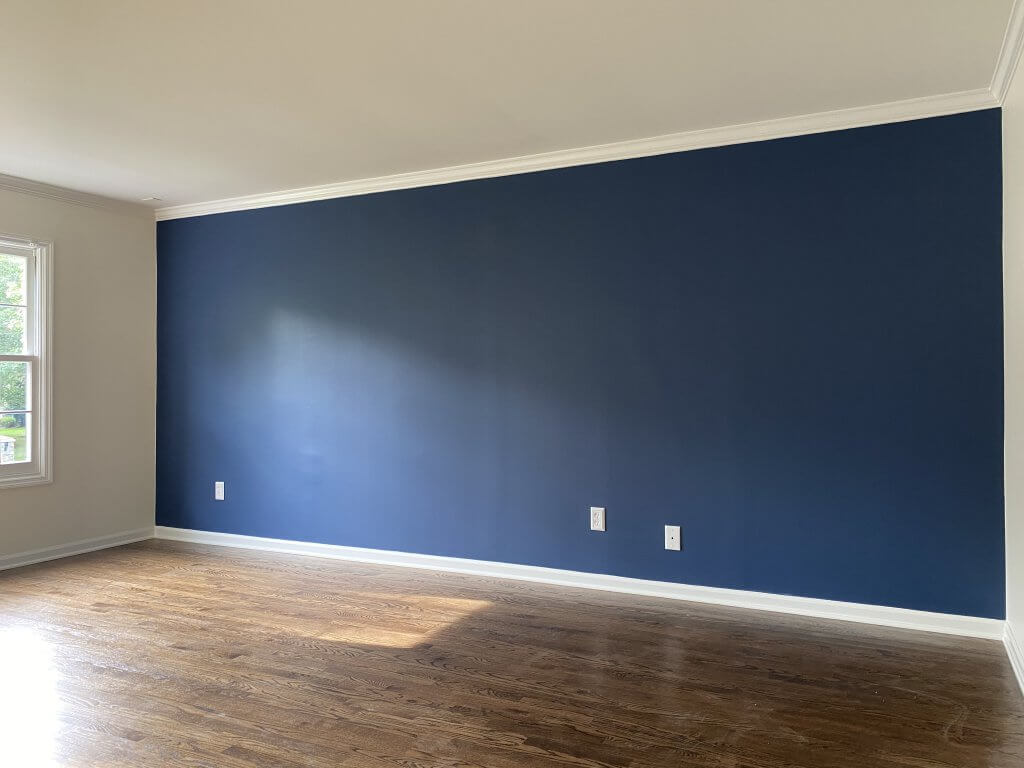 Most painting companies have their favorite go-to paint.  Whether it is Ben Moore or Sherwin Williams, there really is no one-size-fits-all.  Therefore, it is important to have a large breadth of knowledge to know which one fits your particular needs.  Moreover, it has been interesting to find that the more expensive paints are not always the best choice.  In addition to these fine paints below, we also do reviews on C2 Cabinet Paint. 
Picking the right paint for your project can be tricky.  However, we have an advantage over other interior painting companies.  We have taken the time to test over 40 different interior paints!  
We test and compare the following:
Coverage
Workability
Washability
Durability
Self-priming
Ability to touch-up
Trending Interior Painting Colors for 2022
For about 6 years or so, we were stuck in the light gray spectrum for the most popular interior painting colors.  Fortunately, we are stretching our palettes.
Tips for Picking the Right Colors for Interior Painting
Color adds interest to a room.  But the color doesn't have to come from the paint. 
The picture on the right has its walls painted with neutral color from PPG Transcend.  There needs to be a splash of color added, and the throw pillows provide that beautifully.  In contrast, if we were to take the throw pillows from the sofa in the left picture and replace them with the one on the right, the room would look dull.