Types of Paint Sheen and How to Choose
There are many different paint sheens and each one has its pros and cons.  Not only can the different paint sheens make a difference in the appearance but also the washability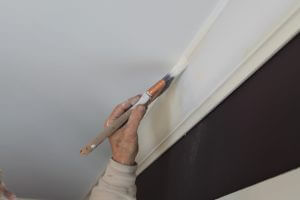 There are specific rules of thumb about choosing among the different types of paint sheen to help guide you in improving the paint's look and longevity. The information I have provided is largely based on experience and knowledge.
I have been painting homes for over 30 years. And like the Farmers commercial, "I know a thing or two because we have seen a thing or two"  applies to the over 30,000 homes I've painted and the knowledge and experience I've gotten along the way. 
Also included are some short examples of when I picked the wrong sheen to help you avoid those pitfalls and learn the different paint sheens and how to find which one is best for your project. 
Different Paint Sheens and Their Durability
Here are the sheens and durability from least to most:
| | | |
| --- | --- | --- |
| Sheen | Washability in General | Who is the best? |
| Flat | Poor washability | PPG Manor Hall Flat and SW Emerald |
| Matte | Good Washability | |
| Eggshell | Excellent Washability | |
| Satin | Excellent Washability | C2, SW Duration, |
| Semi-gloss | Excellent Washability | SW Emerald Urethane, Fine Paint of Europe ECO |
| Gloss | Excellent Washability | Fine Paint of Europe ECO Gloss |
Do all types of paint sheen clean basically the same?  Back in the day, the answer was always no.  But today with new technology flat and matte finishes have come along way and a small select few very high-end paints have excellent durability and clean-up, but for the most part, as you increase the sheen to a higher more reflective level the durability increases as well. The more reflective or smoother the surface the less dirt can fit in the grooves of the paint.  This is how interior painting and paint sheen was explained to me almost 30 years ago.
If you looked at flat paint under a microscope, it would look similar to a plate of cooked spaghetti noodles without the sauce.  There would be plenty of nooks and crannies for dirt fill in and hard to get it out.  Wiping flat paint off would just of smear the dirt around.
On the other hand, if we looked at a high gloss paint under a microscope it would look like a piece of glass.  And we all know that if you spill something on a glass surface it just wipes right off.  That is the same for gloss paint as well.  They are cleanable.
Flat paint Pros & Cons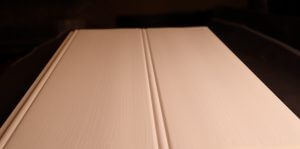 Flat paint has the least sheen of all the types of paint sheen and comes in many different grades.  From maintenance paint that would be used in apartments to premium grade flats that would be used at the White House.  Most major paint manufacturers have at least 4 or more lines that fall between the two.    I hate speaking in absolutes but most low-end paints will have poor results in washability and scrub ability.  Some poor paints do actually cover just fine and touch-up easily.  For the purpose of this article,  I will be referring to mid-grade to premium grades.
Pro's of Flat Paint
Least expensive
Covers the best
Self-priming
Touches up correctly (no need to paint the entire wall)
Hides imperfections
Best choice if you have removed wallpaper and are repainting.
Best choice for ceilings
Why choose a flat paint for the ceiling – most interior house painters will shutter at the thought of painting anything other than flat on the ceilings.  Why?  Because flat paints non-reflective properties hides subtle imperfections of roller marks and unevenness of surfaces.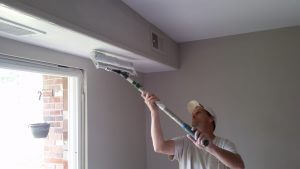 Recently we painted a home in Parkville, MD, with flat paint on the walls and ceiling because the house was built in the 1920s and had lots of imperfections in the plaster.  The customer did not have any children or dogs and wanted a clean finish that could be touched up when needed instead of cleaning.  Also, flat paint hid so many subtle defects of the plaster.
With multiple types of paint finishes for walls, a flat has a second great advantage.  It touches up well.  Some customers would prefer to break out a roller and touch up areas instead of cleaning the walls.  If so, flat paint is the way to go.  As you will see shortly, one of the disadvantages of different paint sheens is that they do not touch-up well.  Flat paint is the exception.  So, if drywall refinish service needs to be done, flat paint can be done in just the repaired areas, and the flat paint will blend right in without repainting the entire wall.
What type of paint sheen do you recommend for walls that had wallpaper?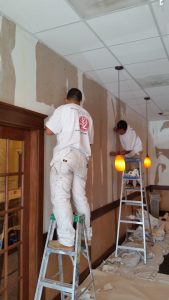 Free Advice:
Use flat paint if you are removing wallpaper with the intention of painting.  Wallpaper removal is a service we provide as well.  You want to use interior flat paint after wallpaper removal because of the walls' rough conditions. 
Flat paint will help hide the drywall imperfections better than all other sheens.
Con's of using flat paint
Does not have the washability or scrub ability compared to the other sheens.
Recently a customer who we painted for in Columbia, MD, wanted a highly washable flat paint.  Yes, all paint manufacturers have washable, flat paint, but most are not a real flat, in truth.  They need the slightest sheen to some wash-ability.   
These premium grade flats paints are definitely more washable than a good grade flat, but they do not have the washability that an eggshell / low sheen paint can handle.  There is a compromise. If you want to wash the walls but desire a minimal sheen, then a Matte finish is the best choice.  The best washable, flat paint I have tested is PPG Manor Hall Flat. 
Do different paint sheens have different washability?
Yes, different paint sheens do have different washability.  Typically the more sheen, the better the washability. 
Washable refers to the stain's ability NOT to adhere to the paint.  Stains can easily be washed off with a sponge and cleaning detergent.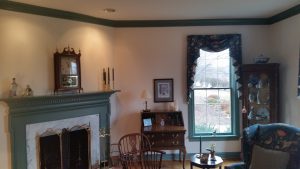 Today, there is a full gamut of different paint sheens that have terrific washability.   
Out of the 6 different paint sheens listed above, the matte finish is between a flat and eggshell gloss.  It was invented because chemists were unable to get flat paints to be as washable as the public demanded.  The public wanted a washable, flat paint, and the matte finish was the compromise.  When looking straight at the wall or even at a slight angle, it is impossible to tell the difference between it and a flat sheen. 
  Because the purpose of a matte finish is to have the lowest possible sheen and washability, it only comes in premium grades.   I am sure that will change soon if it has not already.   
Matt Paint disadvantages
The major disadvantage of a matte finish is it is expensive.
Matte paint does not work well on ceilings.
Free Advice: 
It can be hard to tell the different paint sheen, but not so if you paint a matte finish on a ceiling. 
Many years ago, I wanted to use the best Matte finish paint on the market to please a painting customer in Washington DC.  I painted the ceiling 3 times before I throw in the towel.  Matte paints have a slight sheen but it is really noticeable on a ceiling.  I ended up getting a cheap flat ceiling paint that did the trick.   T
Matte paint advantages
hide imperfections on walls about as good as flat paint. It is an excellent choice for plaster walls.
It can be touched up and will blend right into surrounding areas.
is self-priming
it has excellent washability and scrub ability.
Eggshell Sheen
 Advantages
Eggshell paint has several advantages and is chosen as often as flat paint.  The benefits are its subtlety, sophistication, and an elegant sheen.  Eggshell finishes are durable and washable.  Minor scuffs can be easily cleaned with a mild detergent and sponge.  Its soft creamy look gives it a contrast between flat and satin finish.
An old rule of thumb was a  good grade eggshell with better washability than a premium matte finish.
It is easy to apply
Many homes, including this interior painting job in Towson, MD, used eggshell paint on all the walls.  The eggshell sheen was a great choice, and Towson shined just a little brighter.
Long or tall walls with open space will show drywall imperfections. Short walls or walls with many pictures or windows will help hide the minor flaws.  Eggshell is the highest finish that slight imperfections will not be that noticeable unless walls are long and open or tall like a 2-story foyer.  Kitchens and bathrooms used to be painted with a semi-gloss sheen.  Most customers have switched to an eggshell finish because it still has durability without a semi-gloss shine.
Eggshell Disadvantages
Of all the types of paint sheen, Eggshell Interior paint does not touch up well.  Every time an additional coat of paint is applied, the product gets a hair shinier.  The results are noticeable, and any professional painting contractor should know that the wall will have to be painted in its entirety.  At Klappenberger & Son, our professional painters are trained to do the following procedure when repairing wall damage to a wall with a sheen other than flat or matte finishes.
Spackle and sand to a smooth finish
Prime spackled area
Paint repaired area only with an eggshell finish
Paint entire wall
Therefore, some professional painting companies in the Maryland areas and elsewhere charge more for painting with an eggshell sheen or other higher sheens.  Recently, we painted a tall foyer in Clarksville, MD, and the 20' high walls were flat paint.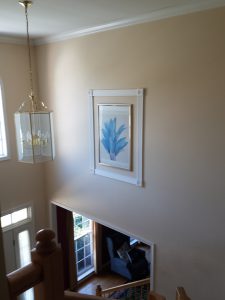 The customer wanted eggshell paint applied to the walls because of its washability (4 children and 2 large dogs).  But it was also important to the Clarksville family to have the walls look excellent as they liked to entertain.  So, they wanted a professional paint job using durable paint but were also concerned about not showing the imperfections.  Even though the walls looked good with flat paint, new areas of concern will appear because the reflection of light bouncing off the walls is more reflective.  The solution is to bring in halogen lights and shine them on the flat walls, highlighting the imperfections before applying the eggshell paint.  Klappenberger & Son is a professional painting company in Maryland that follows those best practices.  In other words, if you are switching from flat to eggshell, be prepared to see flaws in the walls that were not noticeable before.
Typical places to use Eggshell Interior Paint
Government painting jobs such as this one at the Smithsonian.  Selvin is applying  Ben Moore Eggshell finish to walls.

Commercial painting business 
Mid Grade Eggshell paints such as SW ProMar 200, or PPG Speedhide are ideal paints to use for light commercial settings.  With all the different paint sheens to choose from eggshell makes the most sense.  These mid-grade eggshells have great washability and are scuff resistant.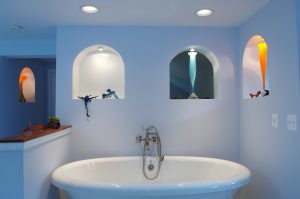 Residential places where eggshell is commonly used.
Some of the most common areas where rooms would benefit from having eggshell paint would be bathrooms, kitchens, and high traffic areas, such as hallways and laundry rooms.  If you are not concerned about having your walls look perfect and free of small blemishes, eggshell is the right choice for any wall.  It has a similar sheen to a stick of butter but with no calories.  Remember, a mid-grade eggshell paint, which costs about $35.000, will have better washability than a premium grade flat that would cost a range from 50.00 – 95.00 dollars.   So if you are likely to clean your walls instead of touch-up, eggshell paint is your best bet.
This Gaithersburg painting home had several small children that will require a highly washable low sheen finish.  The product used was Sherwin Williams Cashmere Low Luster, which is the same sheen as an eggshell.
Do you ever wash or clean your walls?
If you don't wash your walls, why bother getting washable paint?  You are paying for something you won't benefit from.  It reminds me of when I saw a button in a rental car for seat warmers in Hawaii.  Nice feature, but I can't imagine when they will ever be used.
What about rental properties?  I recommend painting a rental property with mid-grade flat paint because it touches up so well. 
Free advice: 
Just get an extra five-gallon bucket and leave a roller in it.  When tenants leave, you may be able to get away with just rolling the areas that need it.  It would be best if you certainly did not have to edge where the walls and ceiling meet.  If you touch up with an eggshell, the re-coated areas will look shinier than the areas that were not re-coated, causing a patchy look.
Satin finish
A satin finish is certainly the least common sheen used.  Why?  No real reason, but it is already visible in your home.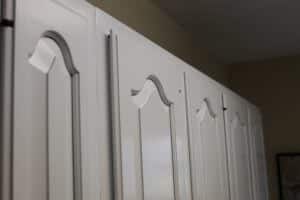 Your kitchen cabinets sheen is a satin finish.  Recently we got a referral from a previous customer who was asked if she knew any house painters in Baltimore who painted kitchen cabinets.  When I met the Towson customer, I showed them samples of cabinet grade satin finish paint and explained our best practices. 
Satin has great durability and washability with a slightly less sheen than semi-gloss.  It is often used in historic restoration work both on the interior and exterior of homes.  The reason is woodwork is often in rough shape on historical homes, and the slightly duller finish from a semi-gloss has noticeable differences in hiding dings and dents.  
Also, if the walls are flat and the trim is a satin finish, there is still significant contrast.  Most historical properties have beautiful trim, and it does not need a semi-gloss finish to be noticed.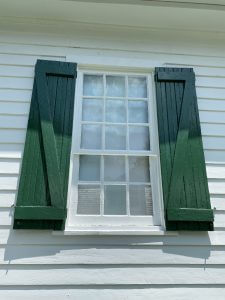 Disadvantages of a Satin Finish
If you have modest trim and switch from a semi-gloss finish to a satin finish, the paint looks slightly duller, as if the painter did not apply enough paint.
If you paint walls a satin finish and the walls are bowed or wavy, the work will look horrible.  It may take hours for a professional painter or drywall finisher to make the walls look acceptable.  In some cases, it might not even be possible.  When we were repainting this historical project in Baltimore City, the customer viewed the plaster's flaws as adding character.  These walls didn't need to talk to show all their personality.
The walls are a satin finish glow in the dark green with jet black semi-gloss and high gloss white trim.  This interior painting job is from a historic property in Baltimore City.
Advantages of a Satin finish: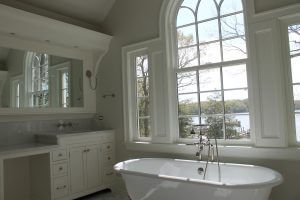 Satin types of paint sheen finishes can be used on walls, ceilings, and trim but come with the same warnings as eggshell sheen does.  Namely, it will accentuate imperfections if the previous coat was a lesser sheen.
It is excellent in bathrooms for moisture.  In fact, most bathroom paints have a satin sheen.
Other great places to use a satin finish are painting furniture, kitchen cabinets, and closets.  Yes, closets get all scuffed up, and a satin finish is like making it bulletproof.  If you have paintable shelves, you can paint everything in the closet the same color (white is best).   Life is complicated enough. Painting your closet's white satin from top to bottom just made life a little easier.
What does a satin finish look like?   Furniture and kitchen cabinets are usually satin finishes.
Staircase was painted in semi-gloss floor paint.
Semi-Gloss Paint
Semi-gloss is most commonly used on woodwork like windows, doors, baseboard, etc.  Its durability and contrast to eggshell and flat paint make it an excellent partnership with walls and trim.  It was typical to paint kitchen and bathroom walls semi-gloss, but its sheen can give a sterile impression.   
Today, customers are more likely to use an eggshell sheen because it has more subtleness to it.  It also does not highlight the imperfections.  Plus, if your walls are eggshell and the trim is semi-gloss, there is still a contrast.  In my opinion, semi-gloss on walls has an institutional look to it.  It is something that I would recommend in a daycare facility or a gym.  But on the trim and doors, it is still the best choice for durability and coverage. 
Semi-gloss the disadvantages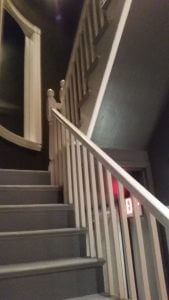 The staircase was painted in semi-gloss floor paint.
Semi-gloss does not look good on walls unless walls are in great shape.  This may require extensive drywall spackling services.  Drywall services such as skimming walls can double the time and cost of the paint job.  Touching up trim is no problem, but touching up walls will often look patchy.  Meaning every additional coat gets a little shinier and will be necessary to repaint the entire wall.  
The process is the same as it would be for all the other sheens besides flat and matte finish.  First, prime, then paint the primed area, then paint the entire wall.  This is a best practice that all professional painting services in Maryland should follow and is certainly incorporated by Klappenberger & Son.
Semi-gloss the advantages
The advantages of painting the interior of Maryland homes with a semi-gloss are its durability and its coverage.  This is the highest sheen you can apply that will typically cover in two coats.  Whenever you change colors or sheens, it best to figure on 2 coats of paint.  95% of the time, semi-gloss will not let you down.
The semi-gloss finish has more washability and scrubbable than any other sheen except gloss.  Because of those features, it is the best product to apply to doors and door trim.  It is also the most economical product for durability because of its superior coverage to gloss paint.
Free advice: 
Stay away from any white paint that reads "brilliant white."  This paint is so white that it does not have enough pigment to cover.  The consequence is you will be applying 3-4 coats.  Instead, choose a paint can that says "Extra white, Super White, or white pastel base.  These white base paints will cover and look white.  
High Gloss Types of Paint Sheen
Gloss paint looks like glass and sits on top of the surface.  It can have a dramtic and powerful feel.  In this historical restoration project in Baltimore City, the owner understood gloss paint's effect and wanted to maximize its effect. 
Gloss paint is difficult to work with and is more susceptible to drips and runs than other sheens.   Once, we used gloss paint on walls.  We had to spackle walls all the walls from top to bottom (called a skin coat).  The walls then needed to be sanded and primed, and rechecked for further imperfections.  It's also difficult to apply the paint, but that is for another article.  The bottom line is a gloss on walls has a dramatic effect and can look amazing, but it very labor-intensive.
This historical restaurant in Baltimore City (The Elephant).  We painted the walls Fire Engine Red and in high gloss.  Talk about dramatic!
High Gloss: the Disadvantages
The disadvantages of gloss paint will become apparent very quickly.
They show every flaw as if it was under a microscope. If glossy paint is applied with a roller, it should be backed brushed to knock down the roller's nap.
The paint runs and drips 10 minutes after you think you are finished.
It typically requires additional coats for coverage. Fine Paints of Europe does make high-quality gloss paints that have exceptional coverage.  SW Emerald does not cover well and is difficult to work with.
It dries more slowly than all other sheens.
It fades quicker when on exterior surfaces.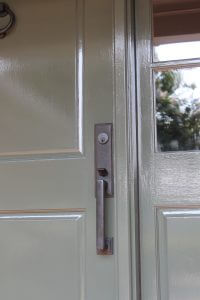 High Gloss The advantages
  You are the king of the sheen!
   High Gloss has an amazing effect.  It is very noticeable.
   Very durable and has great washability.
   Best places to use Gloss paint
Mantles
Window sills
Front door interior and exterior
Newel post
Bookcases
Wood shutters on historic homes look great if you don't mind seeing the imperfections.
Anything you want to show off.
                          Exterior Types of Paint Sheen
There are the same types of paint sheen available for the exterior of homes as interiors.  Fortunately, many of the advantages of the different paint sheen also carry over to the outside—for example, the more sheen, the better the washability.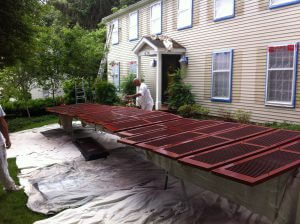 However, there is one main difference -the sun.  The sun's UV can alter wear down and dull the sheen, unlike an interior paint.  Over the period of 3-5 years, the sheen will start to be noticeably duller.  
The color of the paint will also play a factor.  Vibrant colors like bright yellow or red will also fade and become duller in appearance than white or earth-tone color. 
Free Advice:
Do not paint aluminum or vinyl siding with a satin finish.  When the siding originally came out of the box, it was an eggshell finish.  
It is a safe bet that if you are painting your siding, it will be either flat or Eggshell finish.
Satin and semi-gloss sheens have too much of a gloss and are better served to be used on trim, shutters, and doors.
Best Types of Paint Sheen for exterior siding 
Whether you live in the Mid Atlantic or Southern Florida,  customers need a professional painting company. They often call Klappenberger & Son Painting to guide the pros and cons of choosing the right sheen.  On aluminum and vinyl siding, the proper shine to use is Eggshell.  Why?  When the siding was originally installed, it had, and an eggshell finish.  As time wears on, the color has faded, and the sheen has become dull.  If a flat finish is applied, it will hold pollen and dust that can turn into mildew faster.  Also, as rain splatters mud or dirt on the siding, eggshells are less likely to stick.  Because eggshell finish has a smoother finish, it will clean easier when power washed.  If you skipped eggshell sheen and went straight to a satin finish, it will look too shiny.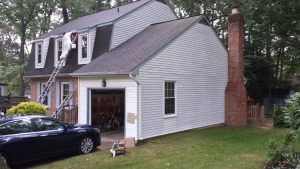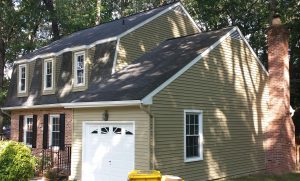 Once, I used an exterior satin finish paint on aluminum siding home; I thought it was too shiny.  It needed to be repainted.  The difference between satin and eggshell sheen is significant when you see the tall gable side of a two-story home.
Suppose you are fortunate enough to own a beautiful historic home such as this one in Annapolis, MD.  You will find the rules for exterior paint sheen have some additional options.  When we meet with the customer, we suggested a satin finish on all siding and trim.
This would allow better washability than a flat or eggshell and would let all the character of the siding and trim shine.
Historical homes can be painted just about any sheen, including High Gloss. In historic Annapolis, this storefront has oil gloss paint applied to its trim and Low sheen paint on the bricks.
This Historic storefront in Annapolis has high gloss trim and low sheen on the bricks.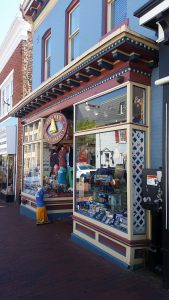 Exterior Sheens Fade But How Fast
The Maryland summers are long and hot, and the UV will definitely affect color retention and the sheen.  Color retention will fade depending on the color.  Reds and yellows will fade the quickest, while taupes and tans will hold their color the longest.  As far as sheen is concerned, a quality paint will retain its shine longer than a lesser grade.  Typically, most sheens will start to show a slight decrease in gloss in 4-6 years.  Hi-gloss paints in full exposure may lose then sheens a bit faster … 3-5 years.  Flats will have hardly changed for about 10 years.
Picking the right sheen takes careful thought and understanding of the pros and cons of each level.  Klappenberger & Son painting consultant will be glad to give you a free consolation on all aspects of interior and exterior painting and handyman work.
How to retard the loss of Sheen
Maryland has substantial seasonal changes, and the hot summers are one thing. Still, the dark winters play their own havoc on exterior painting surfaces, especially in high wooded areas like this exterior painting job in Columbia, Maryland.  The winters are a great time for mildew to spread, which means it may need a spring power washing with bleach.  Bleach will reduce sheen.  Chloride is a stripper.  It is an acid and will therefore know the shine down a notch.  It's best to use about 10-15% bleach in combination with other milder cleaners to clean homes instead of higher levels of bleach when power washing.
.
Do different paint sheens cover differently?
Yes, but not nearly as much as they used to.   Typically the lower the sheen the better the coverage but that is no longer the case.  visit our website and see how many of the most popular brands are compared for their coverage, washability, workability, and other important factors.  
I've included a few other exterior painting projects in Towson, Severna Park, and Potomac MD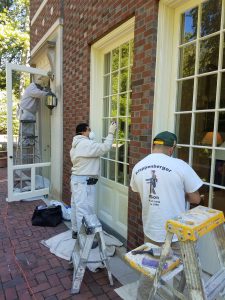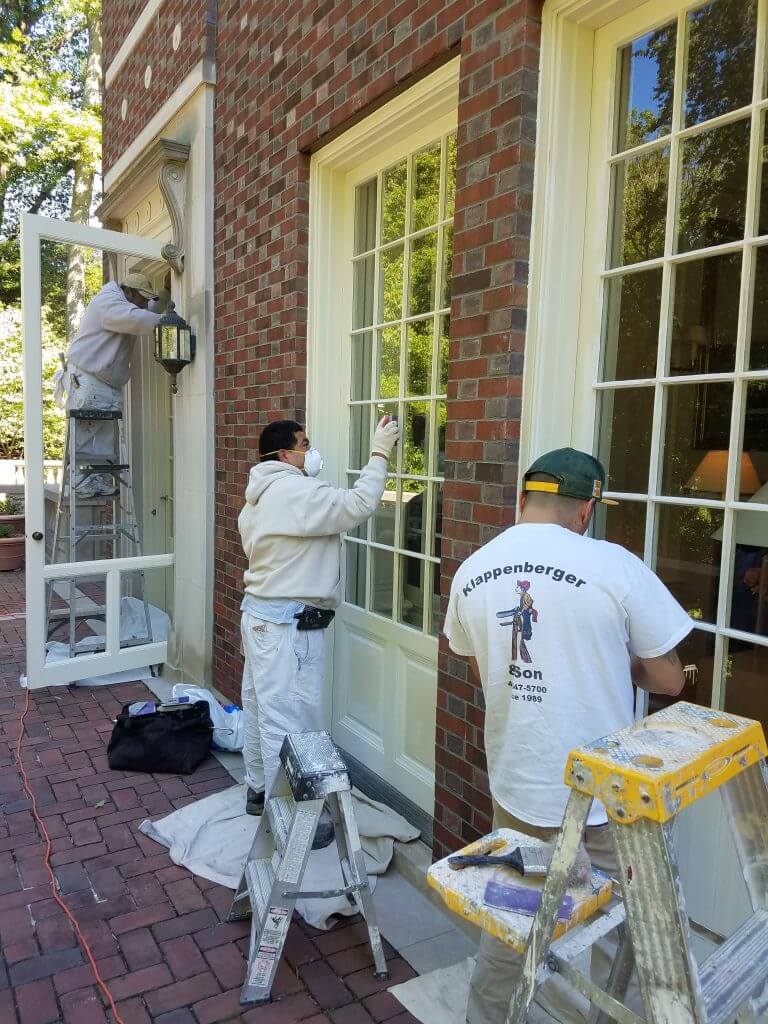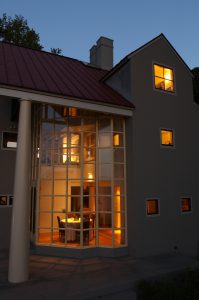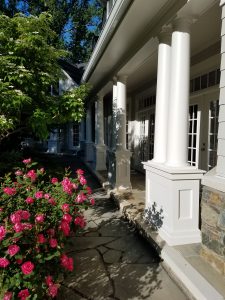 We are a one-stop-shop for your painting and handyman services!
Some of the other exterior painting and handyman services that Klappenberger & Son provide include repairing or replacing:
 rotten siding and trim

Replacing of screen
New door front door install
Replacing Handrails and deck boards
Klappenberger & Son is a residential and commercial painting contractor serving most of Maryland, DC, VA, and Southern FL.  Our professional painters' service would include Anne Arundel County, Baltimore County, Baltimore City, Howard County, Montgomery County, Prince Georges County, and Queen Ann's County.
If you need professional painting services outside of the areas listed above, please call us, and we may be able to recommend another professional painting company if we cannot service the area ourselves. Contact us for a free quote! Click here if you are interested in franchise opportunities we have available.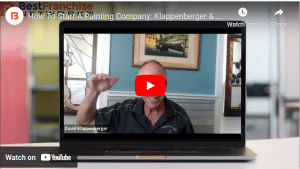 We were featured on Best Franchise Networks' Podcast – check it out!
Read More »