Klappenberger & Son - Painting Kitchen Cabinets in Alexandria VA
Schedule Your Free Quote Today
Painting Kitchen Cabinets in Alexandria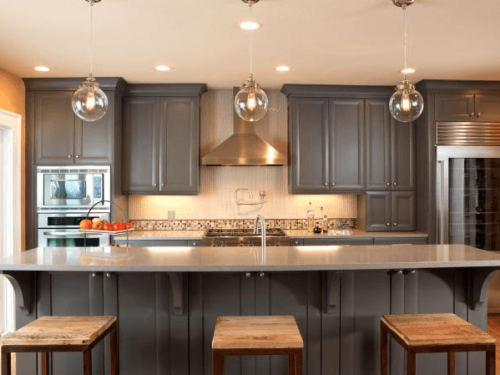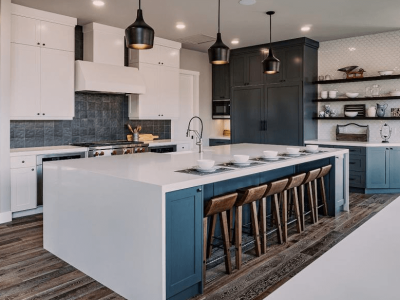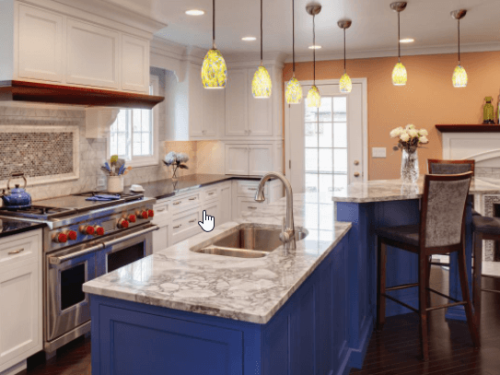 The central focal point in any kitchen is the cabinets.  Every time you need to get something out of the cabinets, they are staring you in the face.  If your kitchen cabinets could talk, they would say,
"We are dated, and we need a fresh new look!  We can be fixed up and dressed to kill for a fraction of the price of replacing me.  Give me a good cleaning, fresh new colors, and trending jewelry (new hardware), and I'll save $10,000 – $35,000 or more.
   Throw in a custom accessory like a new backsplash, and watch me shine like brand new!
Painting Kitchen Cabinets In Alexandria Is A Process We Have Mastered
First, a proper cleaning is necessary.  There are more oils on the kitchen cabinets than we would like to admit.  Those oils must be removed entirely if the primer is to grab.  See the picture on the right.
The cabinets pictured on the right started peeling in a few short months. 
The second significant factor to consider is the paint.   Some premium-grade paints might seem fine, but they don't self-level.  We have tested most of the leading cabinet-grade paints and know which ones are the most durable.
Using a premium-grade interior satin or semi-gloss paint is not a good option.  Why?  They just don't self-level as well as cabinet paint.  If you want a factory finish, we need to use paint that has a very smooth finish.
Secondly, many premium-grade paints do not self-level as cabinet paint does.  If you want a factory finish on your kitchen cabinet, you must follow specific protocols.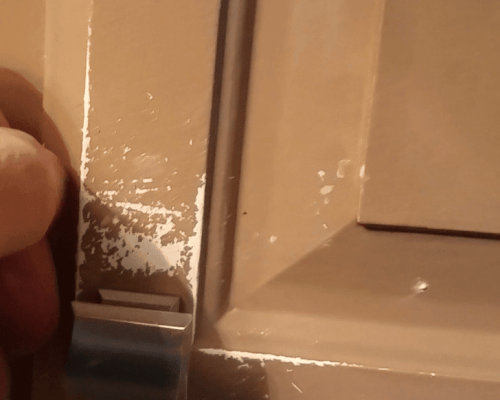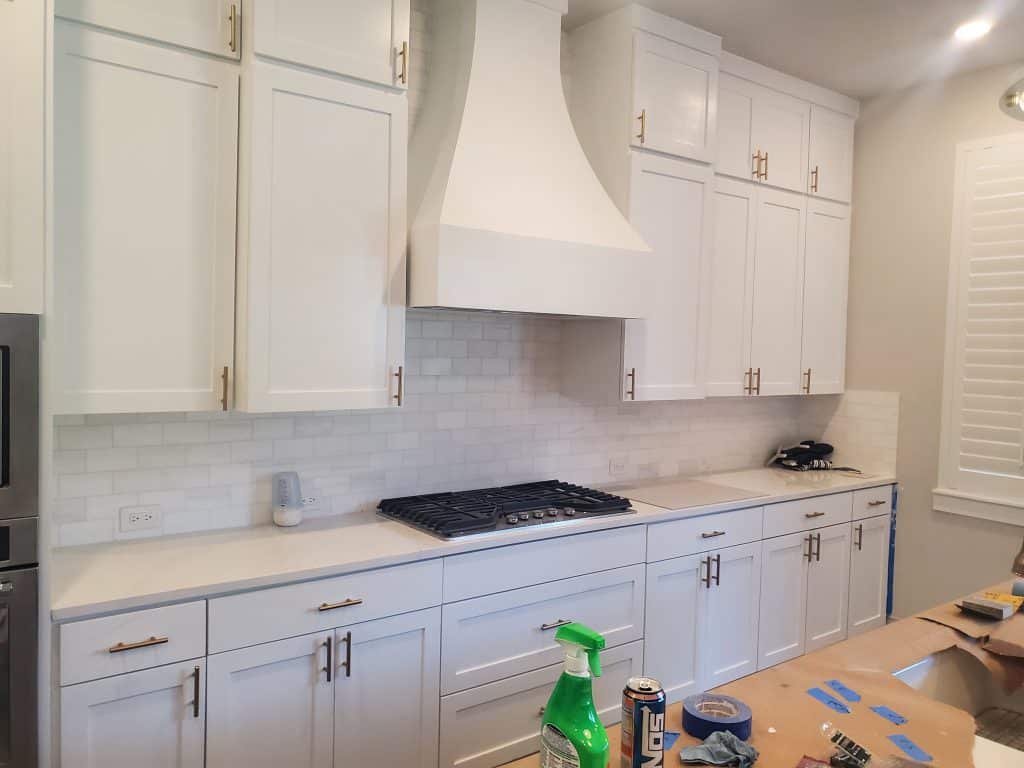 Painting Kitchen Cabinets:  A Learning Curve
If your current kitchen cabinets have a stained finish, chances are good they have a lacquer finish. Choosing the right primer to adhere to is critical.  There are many different types of primers such as latex, oils, and shellac primers.  Shellac is the best choice because it fuses with the lacquer finish.  The other primers may stick for a while but can lose their adhesion over time. 
One of the benefits of Shellac primer is that it dries in minutes and can be top-coated in 30- 60 minutes.   
One of the disadvantages is that it has a powerful odor and good ventilation is necessary.
Painting Kitchen Cabinets & Vanities
With over 30 years of experience painting kitchen cabinets, we offer two things that most companies cannot say.
First, your newly painted kitchen cabinets' quality has a smoothness similar to a factory finish.
Secondly, we offer a 5-year warranty when you have your kitchen cabinets or vanities painted.  No other painting contractor offers such a generous warranty.  Why do we offer a five-year warranty for painting kitchen cabinets in Alexandria?
The short answer is experience and product knowledge.  For example, we use the proper primers and topcoats.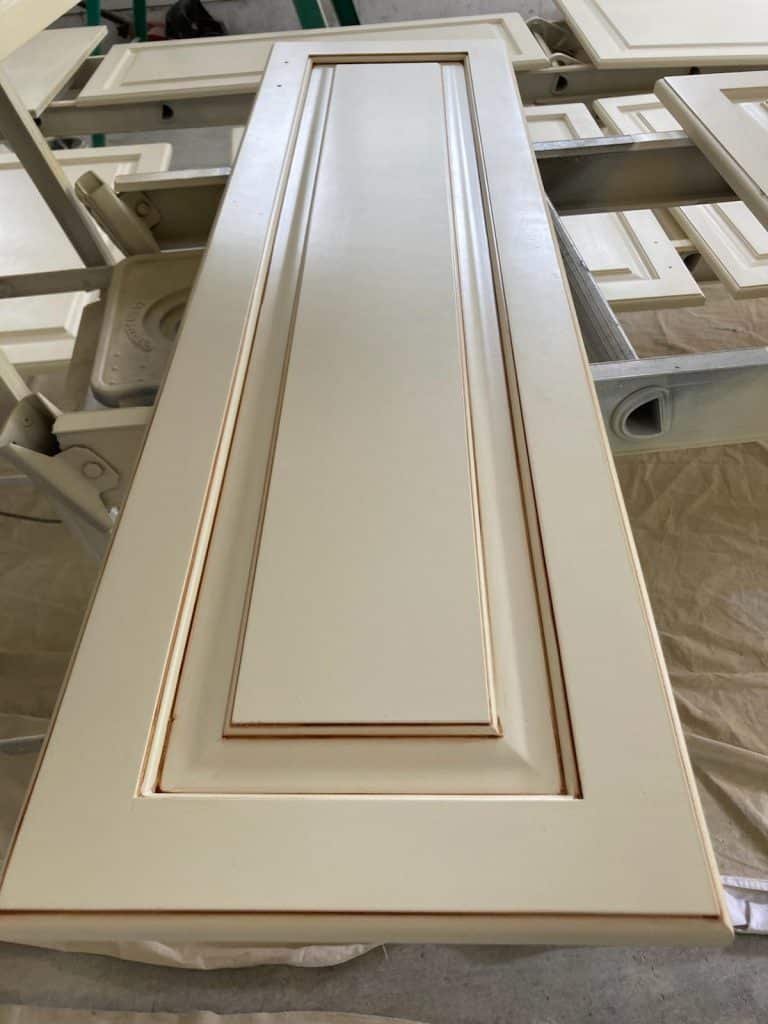 Our Warranty on Painting Kitchen Cabinets in Alexandria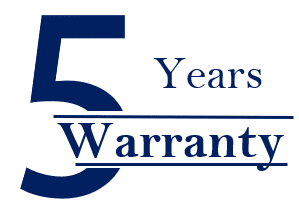 The confidence in our products and process has allowed us to include 5-year warranties on kitchen cabinets against chipping and peeling.
The Klappenberger & Son Cabinet Warranty covers all labor and materials necessary to repair damaged areas to cabinets due to improper paint application or adhesion.
You can be confident that if you choose Klappenberger & Son to paint your kitchen cabinets in Alexandria, you are covered under our 5-year warranty.
Cabinet Painting: Pick a Color, Any Color
We can handle any cabinet painting project, including antiquing, color matching, distressing, staining, clear coating, and refinishing.  We encourage all our customers to schedule a free in-home consultation.  Our team will work closely with you to understand your long-term expectations and budget.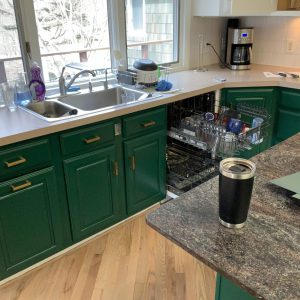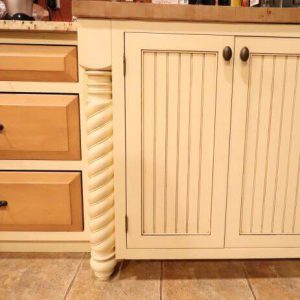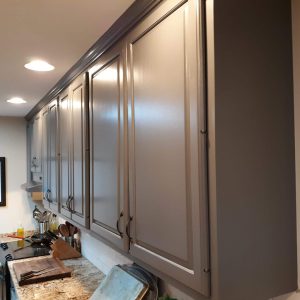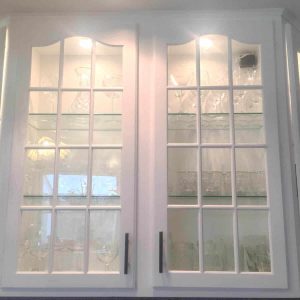 Customer Reviews for Our Painting Franchises
Want to know what it's like to work with us on your professional interior painting project?  Just ask our happy clients!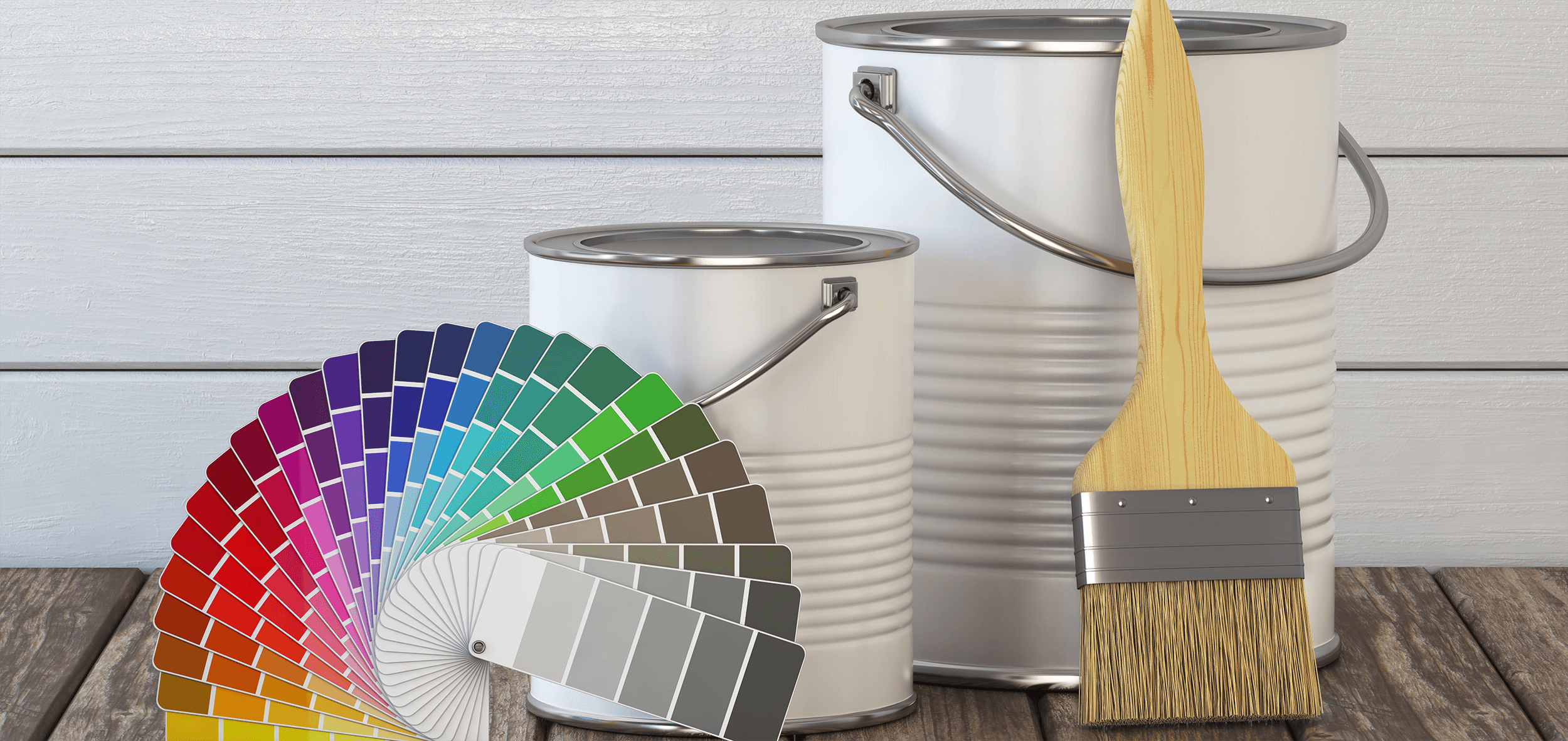 John Carpenter
Google Reviewer
From the front office to the painters, they were 5 stars. So, if you're considering painting your home, please give them a try. Also, they are a pleasure to work with and cleaned up.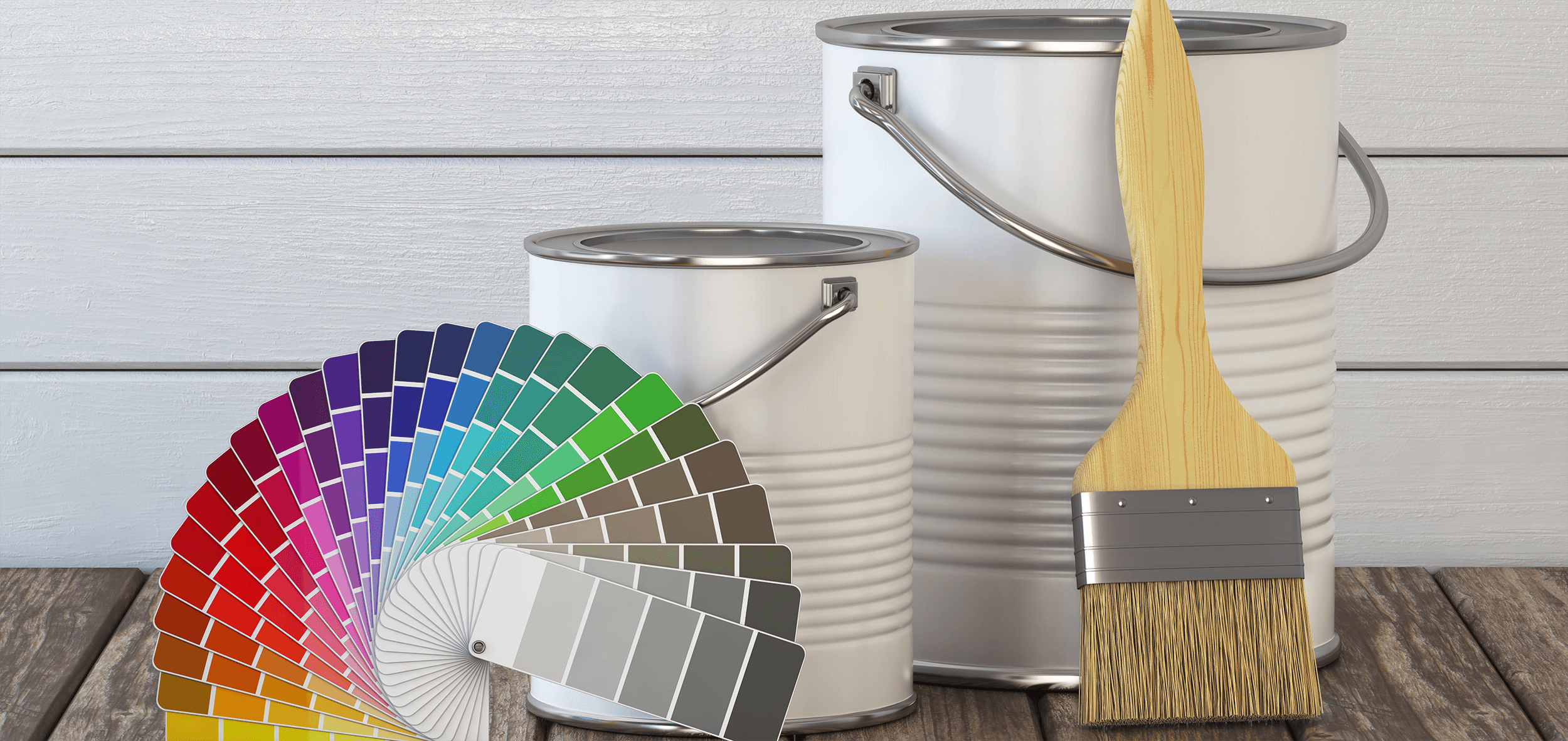 Deborah Gomes
Google Reviewer
As a property manager, I have many vendors that I contract for services; however, Daniel is always my first call. Why? Because he is professional, prompt, and provides me with an itemized estimate.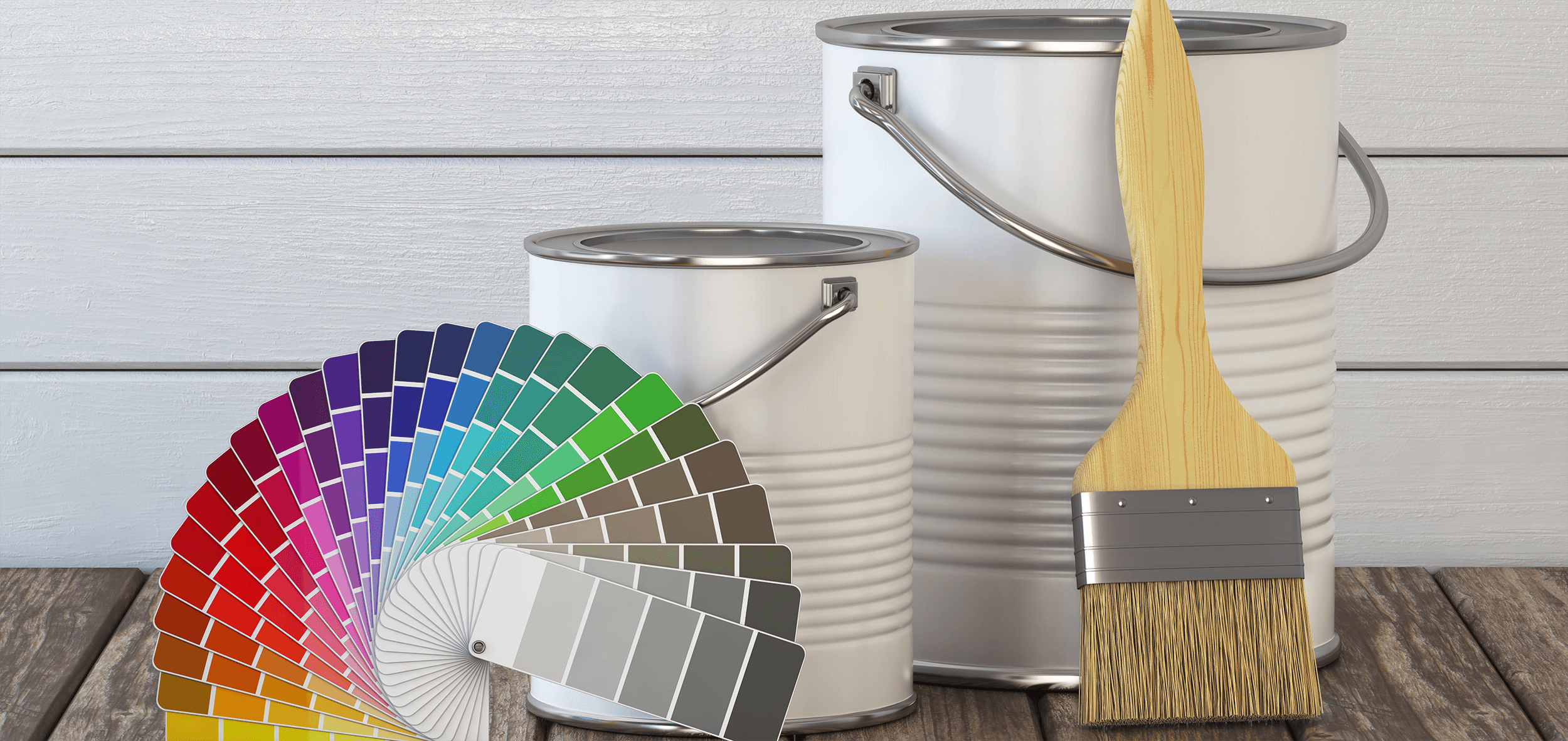 Rachel Grice
Google Reviewer
Arturo provided an estimate, and the crew got started quickly. They were prompt, and I am thrilled with the final paint job and the work ethic. All crew adhered strictly to COVID guidelines and wore masks the entire time. In conclusion, Arturo was a pleasure to work with, and I give them 5 stars.
Adding New Hardware Is the Fun Part
Why Choose Klappenberger & Son for Your Kitchen Cabinet Painting in Alexandria?
If you search for kitchen cabinet painting in Alexandria, I hope you will trust Klappenberger & Son.  First, we have tested over nine different cabinet paints to see which one holds up best to oils.  Secondly, we have refined the process of painting kitchen cabinets to offer a five-year warranty.
It's not rocket science to get your kitchen cabinets painted to a factory finish, but it does require a certain amount of knowledge and experience.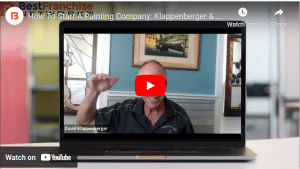 We were featured on Best Franchise Networks' Podcast – check it out!
Read More »