Who has the best cabinet paint?  Great question.  I choose these seven leading brands to find out.
Determining Who Has The Best Kitchen Cabinet Paint
In part I video of  "What Is The Best Kitchen Cabinet Paint" I applied:
In addition to the different topcoats, I also allied with different primers.  On one side of the cabinet door was an oil primer, and on the other, Bin Shellac Primer.  
After curing for 28 days, I wiped on Crisco oil on both sides of the cabinet.  On the 10th week, I added olive oil to both sides. 
For a detailed breakdown of product failure after 13 weeks, please see the video. 
Paints that started failing after 13 weeks include:
Ben Moore Aura   (oil side only)
SW Emerald Urethane (both oil and shellac side)
PPG BreakThrough (oil side only)
C2 Satin finish (with no hardener (oil side only)
 
Footnote: Each side of the cabinet has one square that remained primed only.  I want to see if oils affected the primers.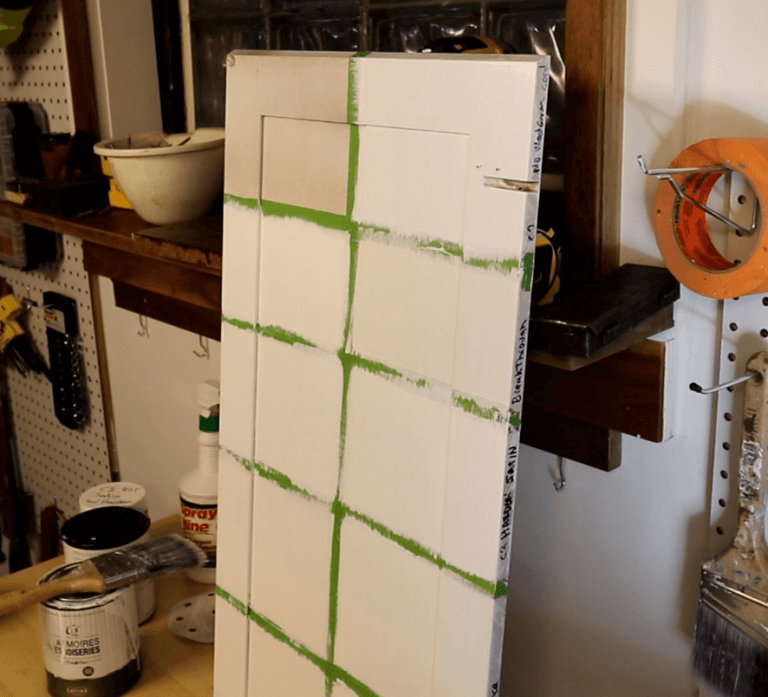 After 4 months of having Criso Oil and olive oil smeared on both sides of the kitchen cabinets, I applied the following stains to the shellac primer side only:
Mustard
Catsup
Crayon
Wine
Coffee
Pencil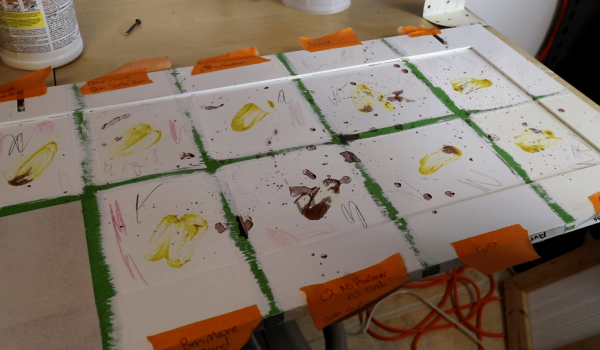 I was expecting all the paints to handle the cleaner with little negative effects.  I anticipated the stains being fully removed and left with a clean oil-free surface.  
The light industrial cleaners were sprayed on sat on the flat cabinet door for roughly one-two minutes.  The cleaner was the same I have used for all my other tests, which are:
Krud Kutter
Spray Nine
Bleach and Water
Simple Green
After the first application of cleaning, all of the paints had mustard stains (Tumeric) remaining.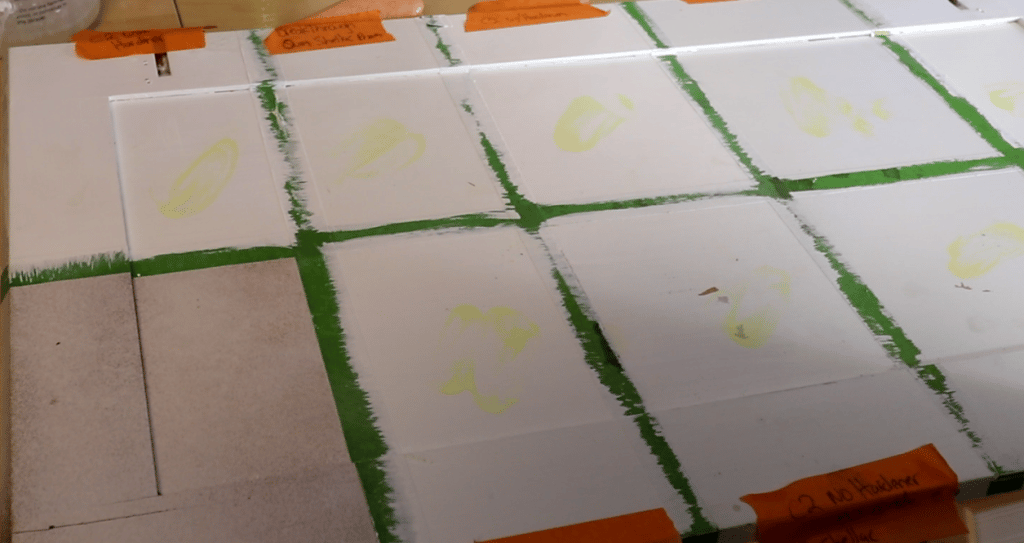 The Second Application of Cleaner Told A Different Story
I applied the second application of light industrial cleaners heavier than the first.  A second challenge for the paint was that it was still dealing with the effects of the first patch of chemicals.  In other words, some of the paint was beginning to soften up, and now it is time for round 2. 
Moreover, because the cabinet was laid flat, the chemicals could stand on top of the paint. If the cabinet door were hung, the cleaners would roll off and not collect.  It is fair to say that these cleaning products acted as paint strippers.  
What Kitchen Cabinet Paints Did I Test and Why?
Chemical & Stain Test To See Who Has The Best Cabinet Paint
Product

Stains removed

Affected by cleaners

Durable grade

Command

Yes

No

10

 

Advance

mostly

Barely

9.7

 

UltraLast

Mostly (2nd Best)

Very minor softening

9.6

 

Aura

Mostly

Minor softening

9.3

 

Emerald Urethane Gloss

Mostly

Sticky

7

BreakThrough

Mostly

Removed paint

6

 

C2 without Hardener

Mostly

Removed paint

6

 

C2 with Hardener

Yes

Removed paint

6

 
Results after 4 months with Crisco and Olive Oil
Who Has The Best kitchen Cabinet Paint After 4 Months?
Though several of the paints proved to be very durable, Ben Moore Command could handle any situation.  Ben Moore Command is a very unusual paint. 
For example, it dries in just 15-30 minutes and can be recoated in 1 hour.  However, just because it dries fast, it still self-levels like cabinet paint.  In addition to being used on cabinet paint, it can be used for metal surfaces and concrete floors where forklifts drive.  Ben Moore Command is genuinely a unique paint.
Other cabinet paints that I would strongly recommend would include:
C2 with Hardener (most durable against oils)
PPG UltraLast (best coverage, very durable)
Advance (excellent cabinet paint, but it requires 16 hours between coats)
Soon, I will be testing other paints for kitchen cabinets that include:
SW ProClassic Oil and Acrylic paint
SW Emerald Satin Finish
Fine Paints of Europe Eco Gloss
PPG Advantage 900 
Additional Pro's Review by David Klappenberger include:
PPG Paints
Sherwin Williams Paints
Ben Moore Paints