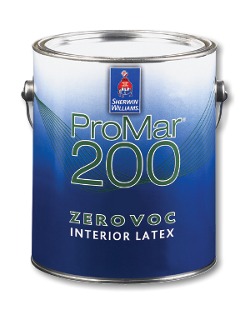 Sherwin Williams ProMar 200 Eggshell Tried and True, But Is It A Good Value?
ProMar 200 Eggshell is a workhorse paint for painting contractors all across America. It is a mid-grade paint from Sherwin Williams with a high retail price,$72.00.  Contractors often pay less than $30.00. Contractors like it because of its cost, and coverage, touches. Customers like it for its washability and durability. Because there is such a difference in retail and contractor price, I will evaluate it as both a $30.00  and $72.00 paint.
If you end up purchasing the paint, ask for the painting contractor's discount. Tell them David said you could and should! It won't probably do anything more than give you a free paint stick, but what the heck. In this review of, we will be taking a careful look at:
Coverage
Workability
Touch-up
Washability
Durability
Self-Priming 
Value
ProMar 200 Eggshell Coverage
I certainly gave this paint a difficult test for coverage. Two coats were brushed and rolled over many different colors. A vibrant yellow-orange color doesn't have the proper pigment to cover and earth-tone shades.
After brushing two coats, there was still some bleeding through of the old color(s). I estimate that after two brush coats, the paint covered about 98%.
The rolling covered better, giving us 100% coverage in two coats.
At $30.00, the Coverage grade score 9 out of 10
For $72.00, the Coverage grade score 7 out of 10
I got slightly better coverage from SuperPaint Satin, Cashmere Low Luster, and Duration Satin.  Those paints all retail for about the same price.
 Workability of ProMar 200 Eggshell
ProMar 200 Eggshell has good workability. I was able to spread between 24-28″ with one dip of the brush. Compared to PPG Speedhide, a similar mid-grade paint has a workability rate of only 22″.
The paint does not splatter when rolled and was very cooperative regardless of brushing or rolling.
$30.00  Workability: Grade 9
$72.00 Workability: Grade 7 
Premium grade paints such as PPG Manor Hall Eggshell, Ben Moore Regal Select, and Duration Satin all have better workability for the same cost or less.
Promar 200 Eggshell Touch-up
There are two ways to fix painted walls. It can be cleaned or touched -up.  The risk in touching-up is that it could dry looking differently.
Paints sheens can increase as if each layer of shine is building on top of the other.
The ProMar 200 Eggshell ability to touch up was average at best. It would be best to paint from floor to ceiling and corner to corner instead of just touching up as needed. $30.00 Touch-up: Grade 7
$72.00 Touch-up: Grade 6
Even premium grade paints like Duration Satin and Cashmere Low Luster can not get away with touching up areas here and there. But they do a better job depending on the size of the wall and its location to windows.
Promar 200 Eggshell Washability and Durability
I applied difficult to remove items on the wall and harden for 24 hours before cleaning.
Before After
Red Wine
Coffee
Pencil
Crayon
Mustard
Catsup
The cleaners we used were:
Spray Nine
Krud Kutter
Bleach and water
Simple Green
Results- after the paint was cleaned, all of the stains were removed. 
The durability was equally as good. There was no burnishing or alteration to the paint finish. We have used this product in gymnasiums, school hallways, and classrooms because of its washability and durability. 
 Washability – Grade 10
 Durability – Grade 10
 Promar 200 Eggshell is an excellent product for rental properties or other areas where washability and price matter.
Self Priming
Unfortunately, the ProMar 200 Eggshell is not self-priming. Some of the spackle was still visible after three coats.
In some areas, I could not detect the spackled regions that were not primed. But it would be too risky to paint long walls that run parallel with the windows and not prime.
To be safe, I would prime spackle spots with a drywall primer before applying Promar 200 Eggshell.
$30.00 Self-priming  Grade 9
$72.00 Self-priming Grade 6
Premium grade eggshell paints like C2, PPG Manor Hall, Duration Satin are all self-priming paints and cost around $72.00 or less.
P
roMar 200 Eggshell Value
Sherwin Williams ProMar 200 Eggshell is a tremendously popular product for contractors but mostly unknown to consumers. This probably because of the cost difference. At a price point of $30.00, I value this paint at 9 out of 10. With decent coverage, workability, washability, and durability, it makes sense.
Its closest rival is PPG Speedhide Eggshell, and the Promar scores better on workability.
At $72.00 a gallon, I would pass on buying Promar 200 Eggshell. There are many paints under or at $72.00 a gallon that would be a better choice for any scenario. Therefore at $72.00 per gallon, I paint a value score of just 5 out of 10.
If you can get this paint for under $35.00, I value this paint a 9 out of 10.  Why?  Because it is easy to work with covers reasonably well and has great washability and durability.  Its biggest negatives are poor touch-up and it is not self-priming. 
Additional Pro's Review by David Klappenberger include:
PPG Paints
Sherwin Williams Paints
Ben Moore Paints