Is Manor Hall Eggshell a Good Value?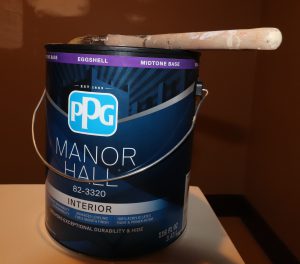 Manor Hall paint is PPG's premium grade paint, and the interior eggshell paint retails bewteen $52.00 –  $33.00.   I have been using this paint since it first arrived at Maryland Paint nearly 20 years ago.   PPG Manor Hall Interior Eggshell has always been dependable paint that we have used on 100's of jobs, and now I want to see just how dependable it is.   With over 30 years of painting, its time for the PPG Manor Hall Review!
Coverage of PPG Manor Hall Interior Eggshell
Until 2020 I never found an eggshell paint that could spot prime spackle.  Primers and paint in the same gallon typically do not prime spackle spots very well.  So, when I see "primer and paint" in one, I ignore it and buy the primer anyway.  But if I was going to be a Professional Opinion of PPG Manor Hall Interior Eggshell,   I need to test it.  So I spackled the wall, and instead of priming the spackle spots with primer,  I decided to prime it with the PPG Manor Hall Eggshell paint.
Coverage Grade:  10 out of 10
Self Priming:
I was able to skip the primer and just apply the first coat of eggshell paint on the spackle spots.  Allow that to dry and then recoat the walls twice.  The walls were uniform and the sheen was even through-out.
Self Priming Grade: 10 out of 10
Workability
When you buy a gallon of paint, you will probably be spending all day using it. It is, therefore, nice to have a gallon of paint that is easy to apply.    I had no problem brushing 24″-28″ with one generous dip of the brush.  Anything less than 24-28″ I would have given it a lower grade.   In addition to it being cooperative to brush, it also rolled very nicely.  Using a 1/2″ nap roller, the paint rolled easily, and I had no issues with paint dripping off the roller or splattering.
Grade 10 out of 10
Washability & Durability:  Manor Hall Eggshell Review
After the paint had two weeks to cure, I applied various "high staining" foods and drinks on the wall and let it sit for 24 hours.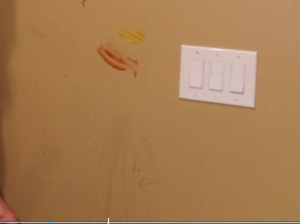 Red wine
Coffee
Mustard (the toughest to remove)
Catsup
Crayon
Pencil
All stains were removed by using a degreaser called Krud Kutter and a soft micro-cloth.

Washability Grade:  10 out of 10
The durability of Manor Hall Eggshell
Not only was the PPG Manor Hall Interior Eggshell able to handle the Krud Kutter and remove the stains, but when the wall dried, there was no evidence of cleaning.  With many paints, burnishing of the walls can occur.  This eggshell paint showed no alterations from the cleaning.
Durability 10 out of 10
Touch-up
Being able to touch up paint and not being able to see a difference in sheen is a real plus.  It is also hard to find a paint that can.  PPG Precatalyst Eggshell Epoxy paint is the only one that I am aware of that does not change in sheen after the second coat.  The Manor Hall Eggshell sheen did increase on the second coat.
Touch-up Grade: 7 out of 10
 Manor Hall Eggshell Review and conclusion
I found one additional nice feature about this eggshell paint.  It successfully primed the spackle spots.  Even if I shined a light against the walls, I could see no difference in the sheen of the walls where I spackled compared to where I didn't.   This paint is straightforward to use, covers well, and has excellent durability and coverage.  It retails for $52.00 but can be found as low as $33.00.
Coverage       10
Workability  10
Washability  10
Durability     10
Touch-up      10 
Overall score 47 out of 50
Where to buy
Home Depot DOES NOT CARRY Manor Hall but rather a subpar version of this product called Timeless.  Timeless is a step-down and has yet to be reviewed by Klappenberger & Son.
Other Paints reviewed by Klappenberger & Son include: 
Eggshell Epoxy PPG