Evaluating Benjamin Moore  Regal Select and Ben Semi-gloss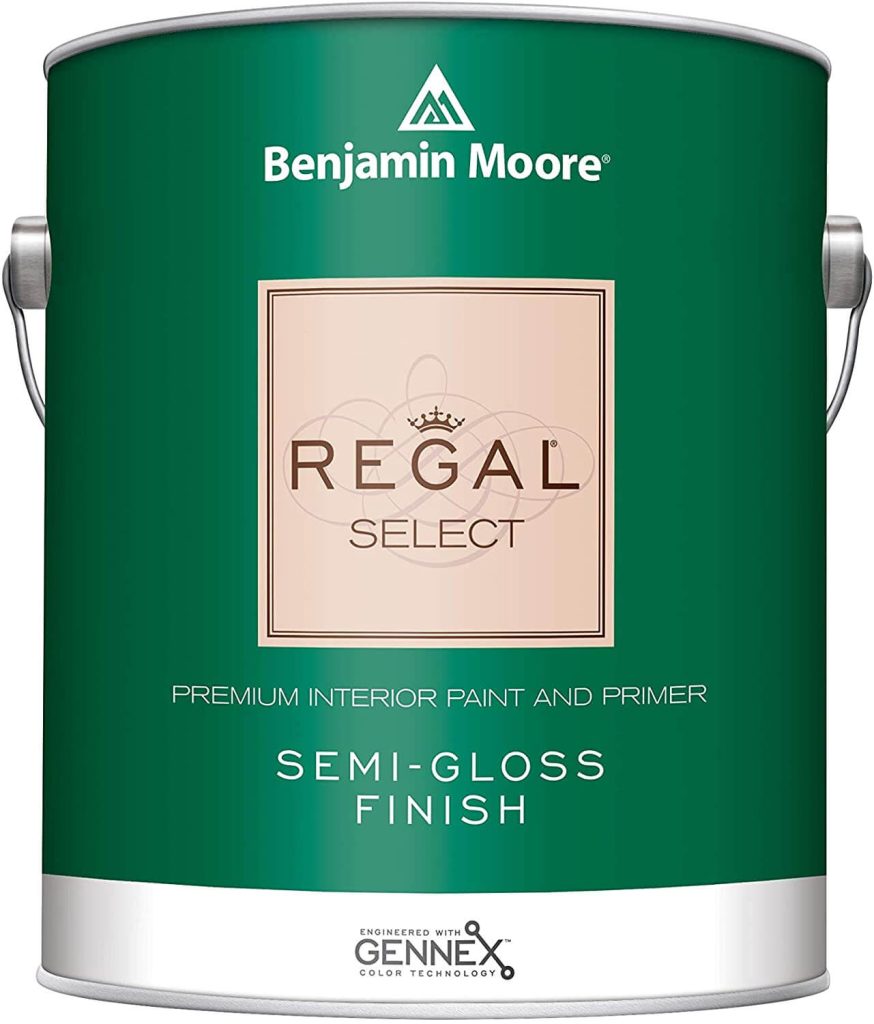 You are at your favorite Ben Moore paint store, starring at Regal Select and Ben Semi-gloss, and wondering what the difference is besides the cost.   Do you need a top-of-the-line, or will a mid-level paint work similarly?  And when you buy a top of the line paint, what exactly are you getting?  With over 30 years as a painting contractor, I will walk you through what I consider to be a fair and honest evaluation of both  Ben Moore Regal Select and Ben Semi-gloss paint.
Both Regal and Ben Semi-gloss paints are primarily used for trim and walls.  They are ideal for both residential and commercial applications.  Neither one is a cabinet-grade paint, but I did do some self-leveling tests, which were fascinating. 
The basic evaluation of each paint tests the following: 
Washability
Durability
Coverage
Workability
Value
Coverage
Regal Select semi-gloss
It covered very well. Regal Select will cover most colors easily in two coats.
Ben Semi-Gloss 
Ben Semi-Gloss – Also covers very well.  It has a finish that looks like a hard oil finish and not as shiny as the Regal Select.
Workability
Keep in mind that workability is very important if you are painting a lot of trim and doors.  A single gallon of Regal and Ben Semi-gloss can easily last 8-16 hours.  If the paint is difficult to work with, it can slow production down by 30% or more.  Choosing a paint with good workability can not only be a pleasure to work with but dramatically affect productivity.
Regal Select semi-gloss – the first coat applied effortlessly, but the second coat dragged a little.  This is unusual.  Most paints glide on more manageable on the second coat.  I was able to spread about 24-28″ of paint with just one dip of the brush (average – good).
Ben Semi-Gloss –  This paint was difficult to work with both on the first and second coat.  I was only able to spread about 14″ of paint with a loaded brush (poor).  It was the most difficult latex paint I can recall working with.
Self-Leveling
As paints dry, the brush strokes or roller marks settle.  The more they settle, the better if you are painting smooth surfaces like cabinets, bookcases, front doors, etc.
Regal Select Semi-gloss – good self-leveling with brushing.  Brushstrokes were easily visible but less than PPG Manor Hall Semi-gloss.   When applied with a foam roller, it still left a small stipple but reduced the sheen. Surprisingly,  I see little difference between the stippling or texture left behind from using a foam roller and a 1/2″ nap roller.
However, when we added a product called Extender by M-1, it reduced the brush strokes almost in total.
Ben Semi-Gloss – average, brush strokes were fairly pronounced.  I like the look of the sheen but the paint did not self-level much.

Washability of Regal Select and Ben Semi-Gloss
Before cleaning, all paint had 20 days to dry.  Mustard, catsup, coffee, red wine, crayon, and pencil were applied to both the Regal Select and Ben and allowed to rest for 24 hours.  Each paint was cleaned with a degreaser called Krud Kutter, a non-abrasive orange cleaner, and Simple Green.
Regal Select semi-gloss
Besides the mustard, all other stains were removed with the cleaners.  Over a period of time cleaning with the products, the Regal Select began to get soft and started to be scrapped off.  In a few areas, the paint came off.  For removing typical fingerprints marks on walls, the Regal Select should hold up well.  My recommendation is to only use stronger cleaners for under 60 seconds to avoid the paint scraping off.
Regal performed much better than Ben Semi-gloss but fell short of similar semi-glosses in their price range.  
Ben Semi-Gloss 
The coffee, wine, pencil, and crayon came off quickly, but the catsup and mustard could only be removed if the paint lifted.  The overall washability of this paint was poor.
Both the Regal Select and Ben Semi-gloss had the worse washability of over 7 semi-glosses that I have tested. 
Durability Of Regal Select and Ben Semi-gloss
After the cleaning process is completed, how does the paint look?  Has the sheen changed? Did any of the paint come off?  That is how I evaluate the "durability."
Regal Select semi-gloss – The Regal Select has good durability.  After Cleaning, minor damage was done to the sheen of the paint.
Ben Semi-Gloss –  This paint proved to have poor washability and durability.  The paint peeled off easily with Krud Kutter and Simple Green.
Overall Value of Regal Select and Ben Semi-gloss
I compare the cost of the paint to how well it performs.  I expect more from a $90.00 paint than I do from a $35.00 gallon.
| | | | | | | |
| --- | --- | --- | --- | --- | --- | --- |
|   | cost | Coverage | Workability | Self-Leveling | Washability/ Durability | Value |
| Regal Select | $70.00 | 10 | 8.5 | 9 | 7 | 8.5 |
| Ben | $45.00 | 10 | 4 | 7 | 4 | 5 |
Summary 
Ben Moore Regal Select has been around for many years, and as State Regulations requirements change, so does the paint.  It is a popular paint used by contractors and homeowners alike. I have always liked this paint for its ease to work with, coverage, and above-average semi-gloss sheen.  However, the washability is a little disappointing.
Ben Semi-Gloss – This is a challenging paint for me to be complimentary too.  At $45.00 per gallon, it fell far short of what I would expect from Ben Moore.  There is not a situation that I could recommend this paint due to its poor workability.
Additional Blogs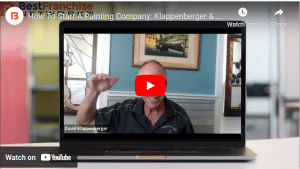 We were featured on Best Franchise Networks' Podcast – check it out!
Read More »