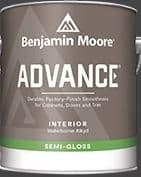 It's 2023 and it's time to give Ben Moore Advance a pros review! Ben Moore Advance has been on the market for seven years, and it is time to see if it is a good value. 
Ben Moore Advance is a "go-to" paint for many painting contractors because it is an excellent paint that retails for $70.00 – $95.00.
Many other premium grades of paint, like PPG UltraLast $75.00 and SW Emerald $95.00, are also excellent paints but cost more.
Advance was created to take the place of Satin Impervo.    Satin Impervo is an oil-based paint that could not pass many states' environmental requirements.  Ben Moore Advance is a waterborne,  low VOC paint and clean-up that replaces Satin Impervo.
What Is A Waterborne Paint?
Waterborne coatings use water as a solvent to disperse a resin, thus making these coatings eco-friendly and easy to apply. In most cases, waterborne coatings contain up to 80% water with small quantities of other solvents, such as glycol ethers. These coatings are also known to be environmentally friendly as US and European regulations require waterborne coatings to have a VOC content of fewer than 3.5 pounds per gallon of water.
Here is my unscientific "street definition" of waterborne paint.  Water surrounds the oil (alkyd or solvents) during the brushing, rolling, or spraying application. 
Why?
Because when the solvents are covered with water, you can not smell it.  Besides, the water encapsulation allows the paint to glide on easier and clean up with water.  
Simply said, waterborne paints are always good quality paints.  I've used many different types of waterborne paints, and they are all outstanding. 
Ben Moore Advance Coverage: 9.5 out of 10
The coverage of  BM Advance was good.  If there are drastic color differences, then it will take 3 coats to cover.  However,  when I changed from colors to a full two shades, that paint covered 99% in two coats. 
The picture on the right is one coat over a dark blue color.  3 coats were necessary for full coverage.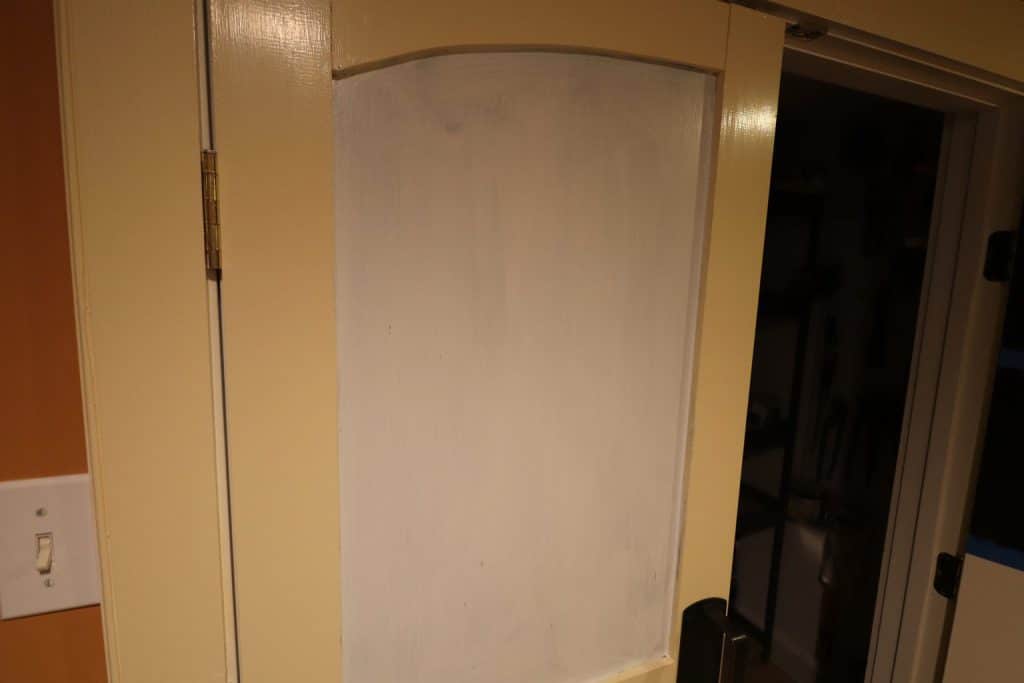 Ben Moore Advance Workability: 10 out of 10
The spreadability refers to how far I can brush the paint before I need to dip my brush back into the paint can.   With most premium satin finish paints, like C2 Satin Finish, I can spread between 32″-36″ per dip.  I consider anything over 24″ of spreadability to be good.  The spreadability of Advance was only 20″.  
This is important because, if you can't spread the paint far, it can take more product and more time.  
The working time refers to how long you can go back and touch it up before you start causing damage to the sheen.  The time will vary depending on humidity, but anything over one  minute is good. 
I was able to work with the Advance paint for two minutes which is excellent. 
Advance is a straightforward paint to work with.  It has a somewhat thick feel to it but very easy to work with.  
Pro Tip – purchase a premium grade brush for the best results and to make the paint easy to work with.
Ben Moore Advance Self-Leveling
Whether you roll the cabinets with a foam roller or brush, you will like the paint levels.  Of course, if you spray them, it will look like a factory finish paint job—either way, this paint knows how to self-level.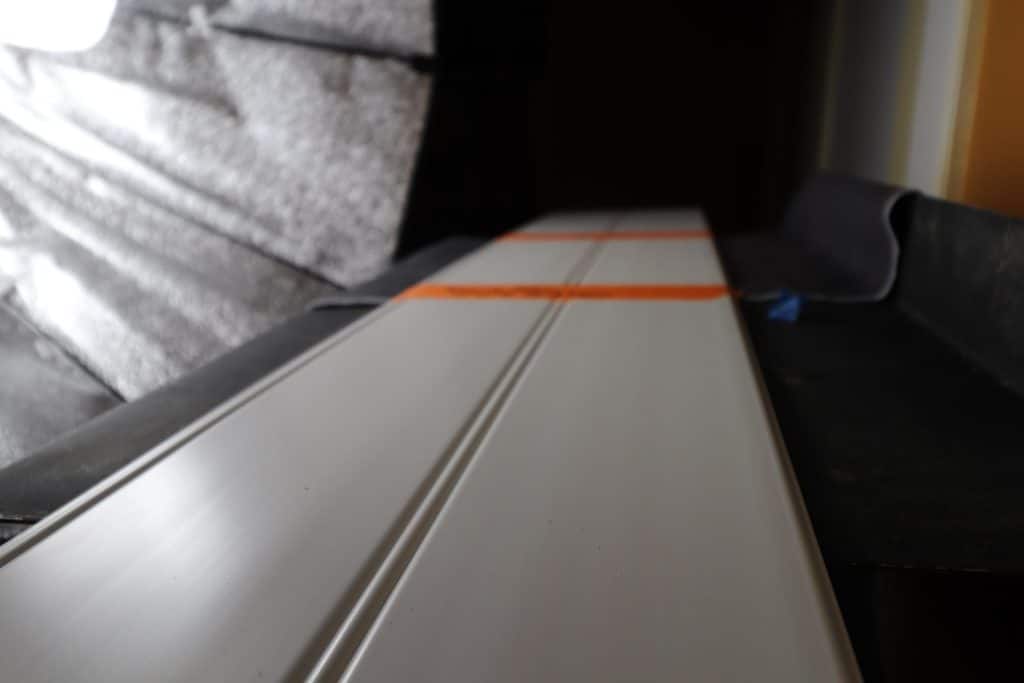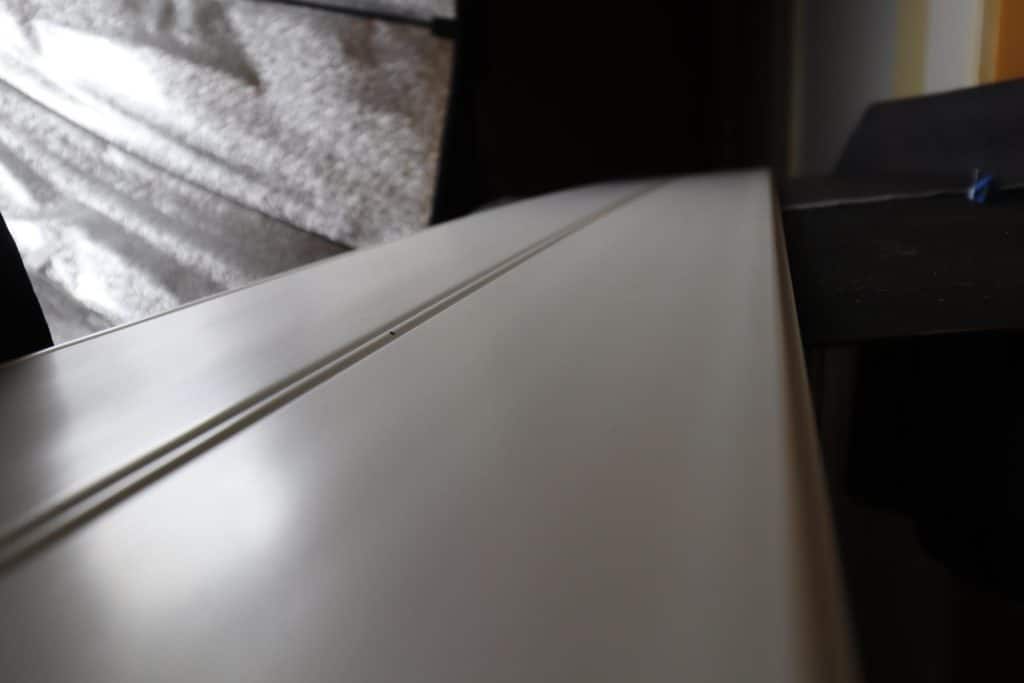 Paint conditioner is a terrific product to add to latex paints when you want to have the paint self-level as much as possible.  
It is hard to tell the difference between these two pictures, but I can see that the paint conditioner leveled better when holding the boards.
Ben Moore Advance Washability
If you are considering painting your kitchen cabinets,  you won't be disappointed using BM Advance Satin.  The washability of Advance is fantastic.  
After the paint was cured for over 14 days, I applied:
Catsup
Mustard
Pencil
Crayon
Wine
Coffee
Ben Moore Advance Durability
Durability refers to how well the paint holds up after it is cleaned.  After cleaning kitchen cabinets, the last thing you want to see is damage done to your freshly painted kitchen cabinets. 
The durability of a paint is determined by any changes to the sheen or did the paint scrape off.
After the kitchen cabinets are painted, the paint must cure for 14-28 days.  I then  clean the paint with several products, including:
Krud Kutter
Simple Green
20% Bleach and Water Mixture
Spray Nine 
After cleaning with the above materials, there was no change or alteration to the finish. The paint did not get soft or scratch.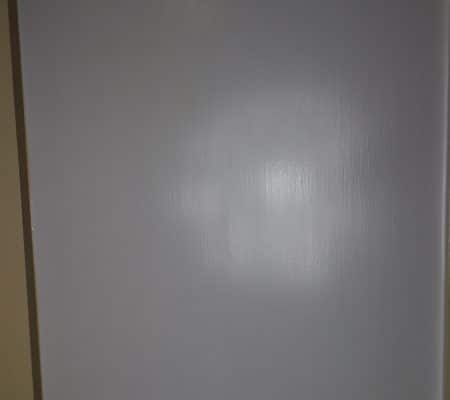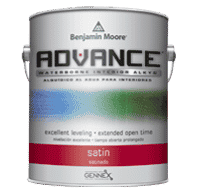 For premium paint, Ben Moore Advance has a low price point.   As a painting contractor who frequently paints kitchen cabinets, it is helpful to have quality paint at a good price.  It's nice to know that after these tests, it really has no weaknesses.
Ben Moore Advance retails for about $60.00  
Coverage……………9.5
Self-Leveling …….10
Washability ………10
Durability  ………..10
Value ……………….10
Where to Use Ben Moore Advance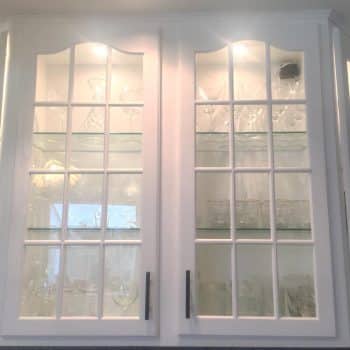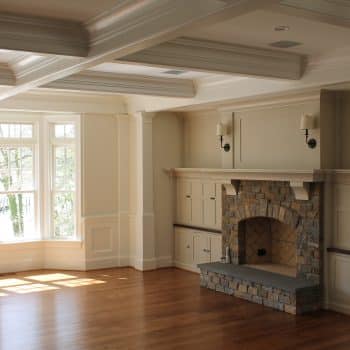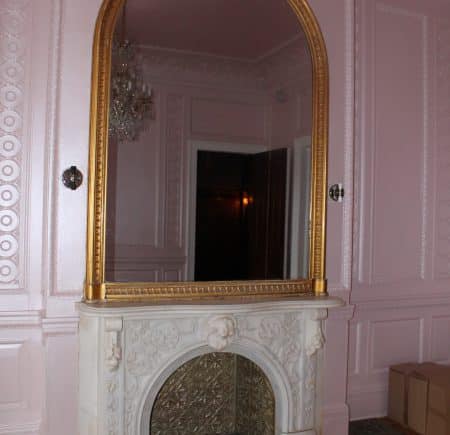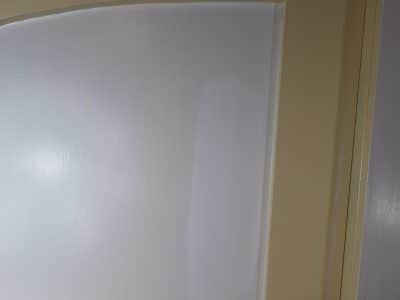 Any Problems With BM Advance?
Ben Moore Advance white paint is darker than other white cabinet-grade paints.  It is not unusual for production paints to add black pigment to paint to help with coverage.  However, premium-grade paints, like C2, don't even add black to any of their paint! 
Why?
Because black absorbs light.  So, if you are a designer or just particular about a white being as white as possible, then Advance may not be your first choice.  
Additional Pro's Review by David Klappenberger include:
PPG Paints
Sherwin Williams Paints
Ben Moore Paints