Is Duration Satin a Good Value?  Yes, and here's why.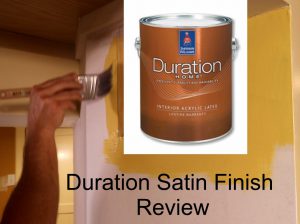 Duration Satin Finish is a premium paint from Sherwin Williams.
It is well known for its moisture resistance and its durability.  Because of these qualities, it is ideal for kitchens and bathrooms, and other high traffic areas.
It is a moderately expensive paint.  Its sale price is $52.00, and it retails for $70.00
About the judge and jury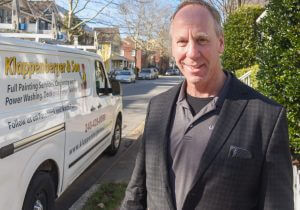 My name is David Klappenberger, and I am the founder of Klappenberger & Son.  I was a painting contractor for over 30 years, and now I am the franchisor of Klappenberger & Son.
I will be evaluating the paint by looking at the Price + Coverage + Washability + Touch-up + Self Priming + Durability + Workability = Value.
Coverage of Cashmere Low-Luster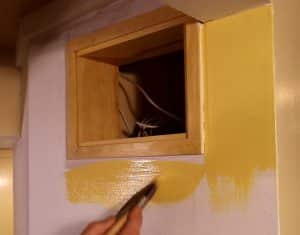 Duration did not cover any better Promar 200 Eggshell.  That wasn't very reassuring.  If you wanted to avoid applying a second coat, Duration is not your best option.  Sherwin Williams Cashmere covers better ($45-$62.00), and Emerald has even better coverage than Cashmere!  Unfortunately,  Emerald Retails for $92.00 per gallon, so prepare to pay.
Even though I wasn't impressed with the first coat coverage, it covered easily in two coats. If any paint covers a different color in two coats, it automatically gets a 10.
Grade 10 out of 10
Workability of Duration Satin 
Duration Satin paint glided over the primer and itself with ease.  When the second coat was applied, there was no difference in workability.
I was able to easily able to cut-in the wall for about 35-40″ with one generous dip of the paintbrush.  Few paints have better workability unless you move up to the most expensive paints.
The paint is a pleasure to work with.
Grade: 10 out of 10
Washability & Durability: Duration Satin
We applied the Duration and allowed it to cure for 14 days before we applied the list of items below: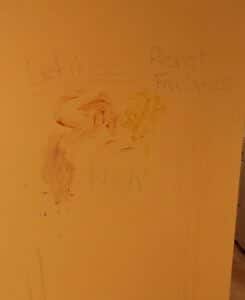 Mustard
Catsup
Pencil
Red Wine (French Bordeaux)
Coffee
Crayon
The products listed above dried on the wall for about 2 full days.
Results – Duration Satin has a very durable finish.  It can withstand cleaning detergents such as Krud Kutter, Simple Green, Spray Nine, and Orange Cleaner.
All of the stains were removed, and there was no damage to the paint.   No Paint came off, and the sheen was not altered after about 3 minutes of cleaning with a microfilter cloth.
Washability and Durability was Grade 10 out of 10
Duration Satin Notes
Sheen
The sheen on this paint is duller than most satin finish paints.  In my opinion, it could have been labeled an eggshell paint.
Also, the paint's feel is closer to shark skin than a smooth enamel hard shell finish.  I because of its texture, I would not recommend this paint for trim.  I think this is much better suited for walls in high traffic areas that need durability and washability.
Touch-up
Other than flat and matte finish paints, most do not touch-very well.  Duration Satin can be touched up as long as the wall does not run parallel with windows.  Tall foyers and long walls may show a sheen difference from where it was touched up to where it was not.  If you are more inclined to touch-up your walls than clean them, the price might not make this the best choice.  Other paints like Promar 200, Cashmere,  PPG Speedhide may be better options.
Self Priming
I did not need to apply primer over the spackle spots before painting the Duration Satin.  Avoiding this step saves time and money.
Coverage  ……     10
Workability ……10
Washability ……. 10
Durability …….. 10
Touch-up ………   8
Self Priming …..10
Value ……………..9
Overall score 67 out of 70
Duration can be purchased only at  Sherwin Williams Locations.
Other Paint reviewed by Klappenberger & Son Include:
Eggshell Epoxy PPG
Flat Duration Sherwin Williams
Matte Duration Sherwin Williams
Promar 200 Eggshell
Low Luster Cashmere Sherwin Williams
Satin Duration Sherwin Williams
Semi-gloss Emerald Sherwin Williams
Gloss Emerald Sherwin Williams