When you want the highest sheen possible, you will want a high gloss or gloss paint. 
FYI, this is NOT what you typically put on trim, and for a good reason.  For a glossy paint to have a mirror-like finish it will need additional prep work and lots of it.  How to prep a surface to get a mirror-like finish is for another article.
For this blog, we are only going to look at water-based paints.  It is unfair to compare oils to water-based paints as far as sheen and overall finish.  Oil paints take hours to dry to the touch, giving them a substantial self-level advantage.  In addition, if you can keep the dust off; oil paints (with few exceptions) have a smoother finish than latex paints. 
In addition to comparing the sheen, I will also evaluate the coverage, workability, and overall appearance are important factors as well. 
To give each gloss paint a fair chance to shine its brightest,  I added Flotrol.  Flotrol is a paint additive that improves workability and slows drying time.  The extra time to dry allows more time for the paint to self-level.  
We want a nice finish regardless of what paint sheen we use, but the overall look is most important with a gloss finish.  We want the paint to look like it is standing on top of the surface, with as few brush strokes as possible or a spray finish that is factory smooth. 
THE HIGHEST GLOSS LATEX PAINT TESTING CENTER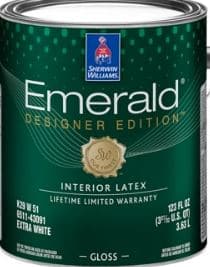 Emerald Gloss has the best workability out of all the paints I tried.  The paint glides on with or without the Flotral.  The coverage is excellent.  Two coats is necessary when changing colors, but that is to be expected.
The sheen level was good but not great.  It was slightly better than all the other paints except Farrow & Ball.
Emerald retails for about $100.00 per gallon, which is the second most expensive of the group.  
I like the paint and think if you can deal with the price, you won't have any regrets. 
https://www.sherwin-williams.com/document/PDS/en/035777755563/
Overall score 8.5
Even with Flotral I found ProClassic to be sticky and dry exceptionally fast.  The coverage was excellent, meaning two coats can cover just about any color.  Overall, Emerald has the same reflectivity, but the finish seems thinner.  
Its self-leveling ability is okay.  Brush strokes are somewhat diminished but still clearly visible. 
It has a smooth finish and an average reflectivity value of 80%.
If I was at the Sherwin-Williams store and had to choose between Emerald ($100.00) and Proclassic ($95.00), I'd choose the Emerald Designer Gloss every time.
Overall Score 6
Behr Premium Plus was once Behrs premium grade paint.  Today Behr has Scuff Defense, Marque, and Dynasty, all of which are higher-quality paints but do not come in a high gloss sheen.  
The Behr Premium Plus High Gloss also has a reflectivity value of 80%.  It dragged and set up very quickly, making it difficult to back brush after rolling.
I could not tell any difference between the Behr Premium Plus and Proclassic except for the price. The Behr paint is less than half the cost, $42.00, verse $90.00, for the ProClassic. 
The self-leveling, finish, sheen level, and workability were all identical to ProClassic.  The only reason I give it a higher score is the price. 
Overall Score 7.5
I was hoping Ben Moore Aura or Regal Select came in a gloss sheen, but they don't.  BM's  Command is a crazy commercial-grade paint and can be a go-to paint for a thousand things. 
Command paint can be applied on concrete and have a forklift ride over it in 24 hours!  It's great when sprayed on kitchen cabinets and metals.  It dries very quickly and can be recoated in 15 minutes.  It is waterborne Acrylic Urethane, which means it has the feel of oil paint and water clean-up and is incredibly durable. 
What's not to like?  It has poor coverage, and the gloss dries quickly to have an even sheen.  Even after applying six coats with a roller and back brushing (with Flotral added), I could not get the paint to lay down evenly. 
The workability was difficult. 
I would never use Ben Moore high gloss on any surface where the quality of the finish was important.  
Overall Score 6
A subscriber requested that I try Clark & Kensington, which can be purchased at Ace Hardware.
When I bought this paint, I knew it would be the worst of the group. 
I could not have been more wrong!
This paint went on quickly and had a reasonable working time with or without Flotral.  I almost cried when I used this paint.  It was so easy to apply.  And because it dried slower, the paint had time to self-level, allowing the brush strokes almost to disappear completely.  In most cases, it gives complete coverage in two coats.  
The Clark & Kensington paint is just an acrylic latex enamel that does everything you want and retails for only $42.00.  I could not find any data on the sheen, but it appears to the naked eye to be about 80% reflectivity.
Overall Score 9.5  
Why not a 10?  That answer can be found below. 
Who has the highest gloss paint?  So far, everyone has a reflective value of 80%.  Farrow & Ball has a reflectivity value of 95%!  
If you are looking for the highest gloss paint, this is it.
But be careful what you wish for because the surface must be nearly as smooth as glass, or you will see every imperfection. 
 Whether you choose Farrow & Ball or any high gloss paint, you have a choice; either embrace the imperfections in the surface or spend untold hours smoothing out the surface to make it look perfect.  
The paint is easy to work with, and as long as you don't choose a dark color, it dries in 2-4 hours.  Dark colors can take more than 24 hours to dry to the touch. 
The finish of this paint is amazing.  It retails for $130.00 per gallon but is worth every penny if you want a beautifully smooth, highly reflective finish.
Overall Score 9.5