How To Paint Your Kitchen Cabinets Like A Pro
There are few better ROIs for a kitchen facelift than painting your kitchen cabinets. For most kitchens, the cabinets occupy most of the wall space. The transformation is dramatic whether you change stained wood cabinets to a bright white or multiple colors. Before painting your kitchen cabinets, I recommend you avoid these four common mistakes and check out our gallery for inspirational ideas.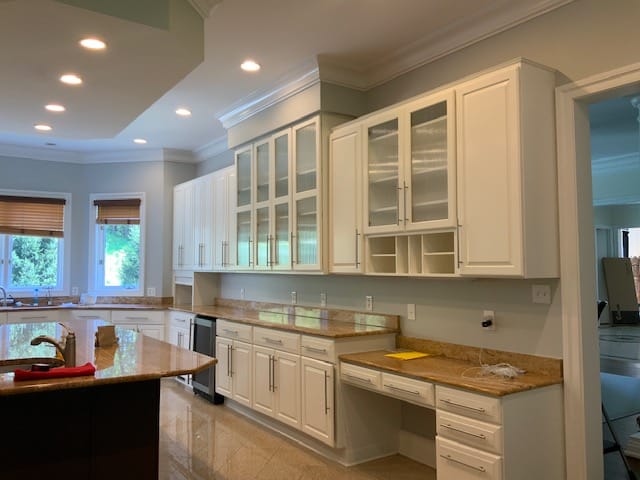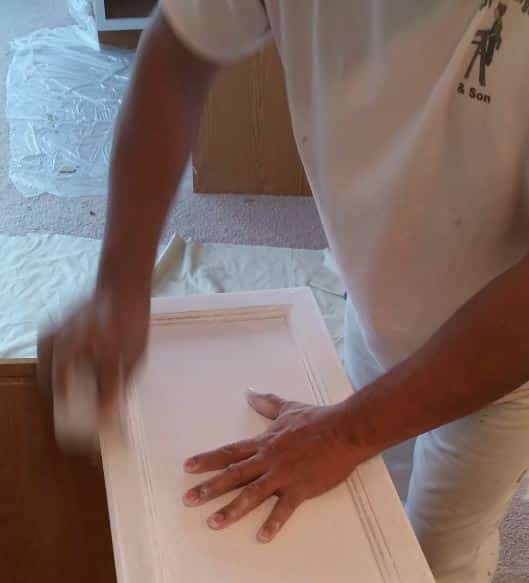 Remove hardware
Don't try painting with the cabinet doors still on the hinges. Remove the hinges and run the knobs and handles through the dishwasher if you are not planning on replacing them.   
Clean with a degreaser
It is critical to have the cabinets free of oils, or the primer and top coat will scratch off your newly painted kitchen cabinets. It may be necessary to clean them twice. 
The oils on the kitchen cabinets are invisible to the naked eye.  Oils can also be hard to feel; however, the primer will not bond to even the slightest bit of oil residue left on the surface.  Murphey's Oil soap is one of many suitable degreasers you can clean your kitchen cabinets with.
Scuff sand
It is not necessary to remove the finish before painting your kitchen cabinets. The purpose of sanding is to make little etched marks for the primer to grab. Using sandpaper with 180-220 grit is sufficient.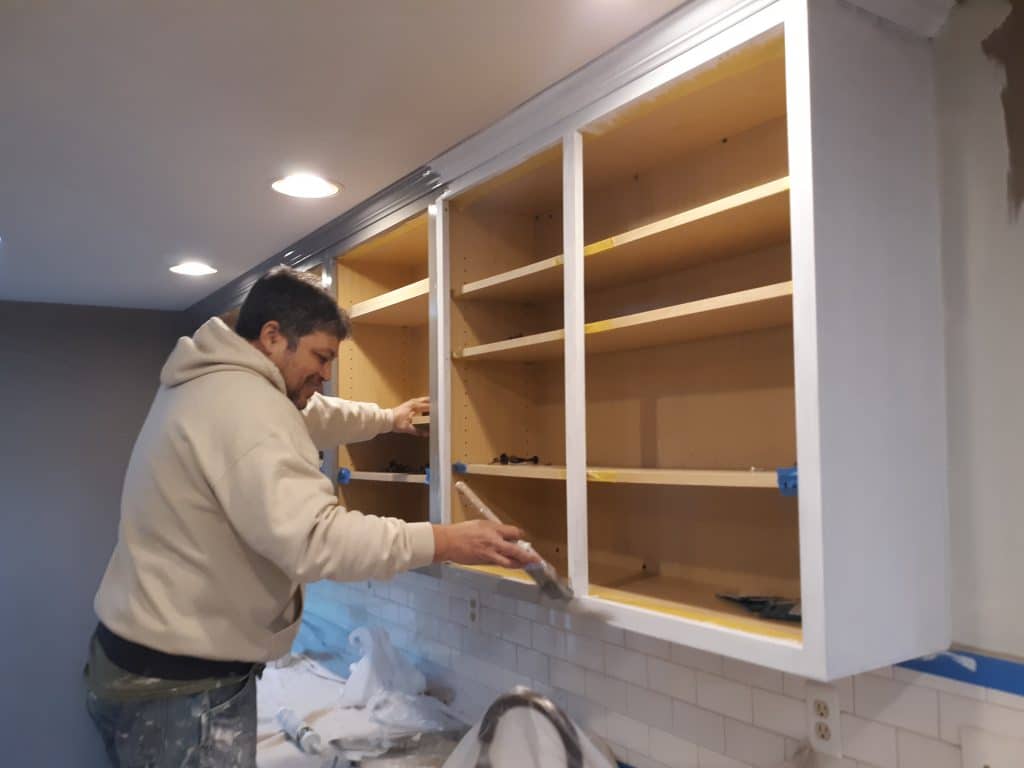 Every paint manufacturer that makes primers carries at least ten different types of primers.  Many companies, such as Sherwin Williams and Benjamin Moore, have closer to 30 different primers.
I mention this because there is a reason a company would make so many different primers.  Each primer is best at something, and in the case of painting kitchen cabinets, we need the best primer for bonding to a lacquer finish. 
A shellac base primer is the best for painting your kitchen cabinets with a lacquer finish.  Shellac loosens up the lacquer finish and then fuses with it.
Is applying latex and oil bonding primers a good substitute for shellac primers?
I have not found a bonding primer for painting kitchen cabinets equal to a shellac base primer. In addition, shellac primers have the smoothest finish. 
That said, shellac base primers have a strong odor that lingers for a few hours.
If I had to choose an alternative, Sherwin Williams Extreme Bond would be my first choice.
Step 3. Choosing The Top-Coat For Painting Your Kitchen Cabinets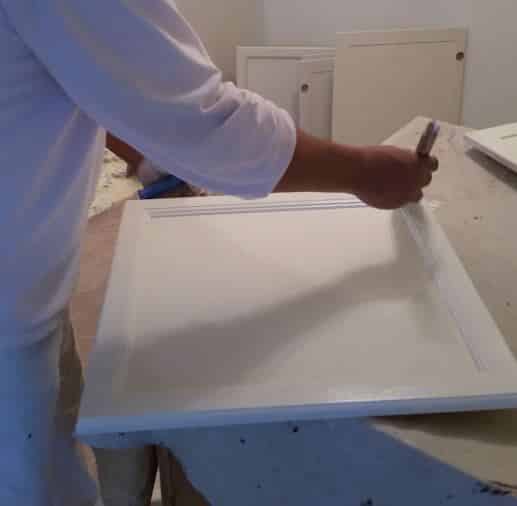 There are many different cabinet paints on the market; fortunately, I have tested and compared many of them.
Choosing the wrong kitchen cabinet paint can leave you with a couple of problems. First, if you want a smooth factory finish, you'll need a cabinet paint that self-levels. Secondly, the paint needs to be durable so that when oils get on the doors and drawers, it won't scratch off around the handles. 
A common misconception when choosing the right paint for kitchen cabinets is the more expensive the paint, the better.
Expensive paints do self-level, but they are not necessarily the most durable paints for kitchen cabinets.
Any premium grade interior paint is fine for painting kitchen cabinets.
Many DIYers use a semi-gloss sheen when a satin finish is a more commonly used sheen for painting kitchen cabinets.
Some of the best kitchen cabinet paints are Ben Moore Advance, Ben Moore Command, and PPG UltraLast.
Step 4. Proper Application For Painting Your Kitchen Cabinets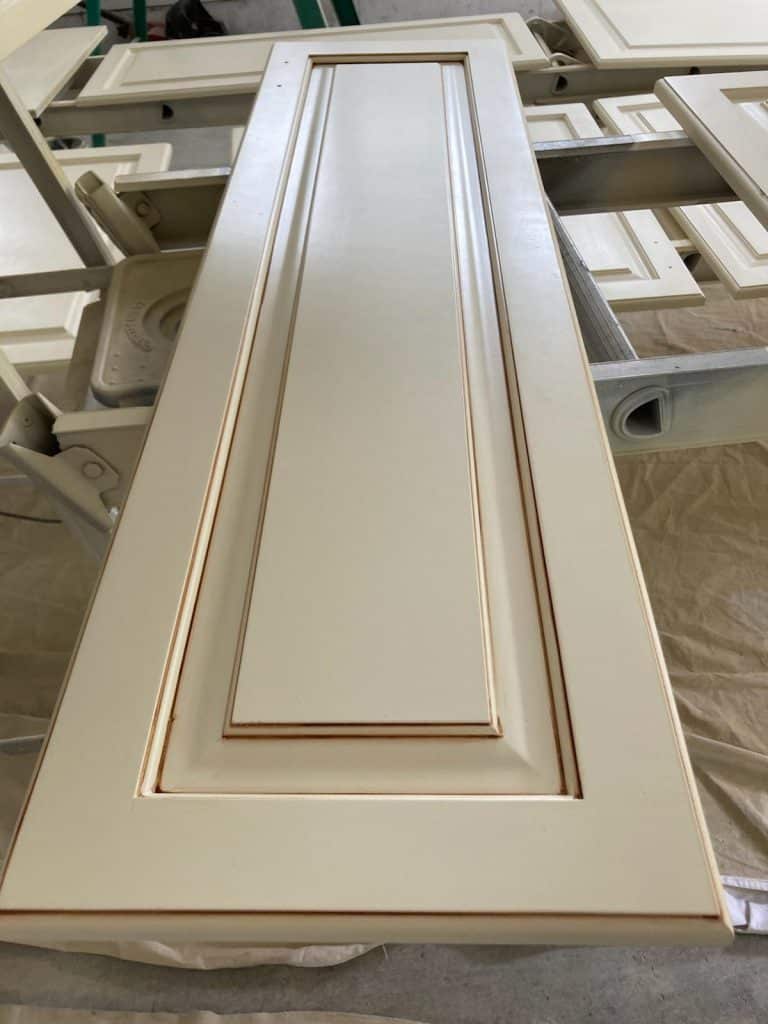 If you follow steps 1-3 when painting your kitchen cabinets, you are still not free of the fourth common problem – texture left from the roller.
All rollers, even foam rollers, leave a texture inferior to brushing. Yes, a roller applies the paint faster than brushing, but it does not self-level very well. 
I think rolling alone should never be done on any smooth flat surface. Instead, add a paint conditioner to the paint, then roll the brush while the paint is wet. 
The paint conditioner does three things. 
Extends the working time
Improves the self-leveling of the paint
Improves workability
Don't be fooled that a foam roller won't leave a noticeable nap. It will leave a slight nap that will reduce sheen and smoothness.  
What About Spraying Kitchen Cabinets?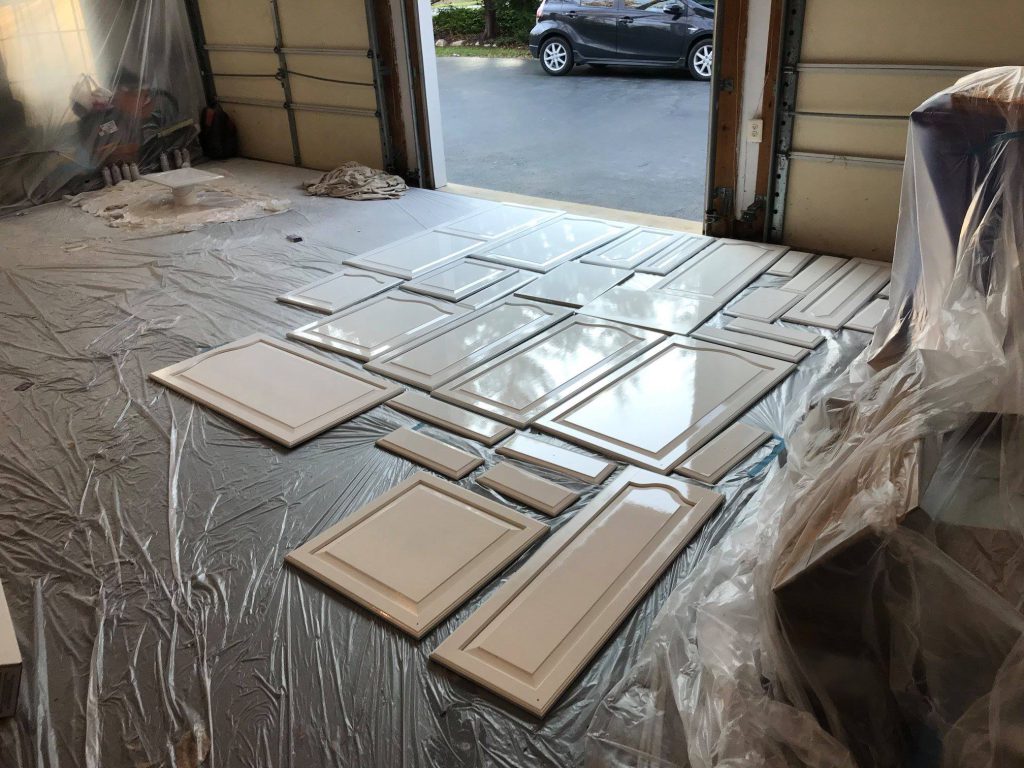 If you do not have experience in spraying, this is not a good time to learn. If you know how to spray, absolutely spray the doors and drawers at a minimum.   
Spraying will give you the closest look to a factory finish, but without experience, it's not worth the risk.
If you want to learn how to spray, practice on a fence, deck, or foundation. Get familiar with adjusting the pressure, different tip sizes, and applying the product evenly.  
Tips And Tricks For Painting Your Kitchen Cabinets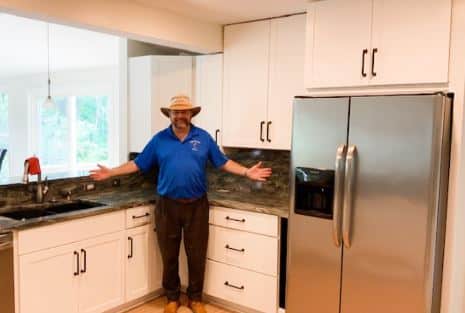 There is more to painting kitchen cabinets than I mentioned, but these are the four most common mistakes I see. 
For a step-by-step process, please visit How To Paint Kitchen Cabinets Without Spraying.
I'd love to see and post pictures of your newly painted kitchen cabinets. 
Please send them to david@klappenbergerandson.com.