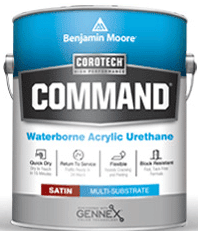 It's important to ask the question:  What is the purpose of Ben Moore Command?
Paint manufacturers do not create new lines of paint for the sake of seeing what label strikes the fancy of their painting contractors.   Every brand of paint made is for a purpose. 
  It can be strange stuff too. For example, Sherwin Williams has a paint that absorbs odors called Harmony.
It is challenging to create one paint that has everything you could possibly want.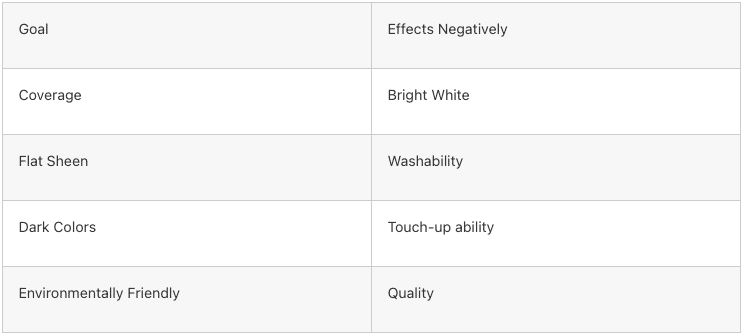 These goals are directly opposed to each other as far as chemistry is concerned. 
The Purpose of Ben Moore Command
Some senior-level officials told me at Ben Moore that Command was created to compete with PPG BreakThrough. However, painting contractors such as myself have enjoyed BreakThrough because of its durability.
BreakThrough is the only paint that I know of that can be used on painting wrought iron exterior furniture, kitchen cabinets, exterior metal commercial doors, and concrete pad at a warehouse and interior walls.  Wow, that is versatility!
What does Ben Moore Command Need to do to Compete with BreakThrough?
Dries in 15 minutes
Self Levels 
Durable
Washable
Good Coverage
An interior and exterior paint
Horizontal surfaces including concrete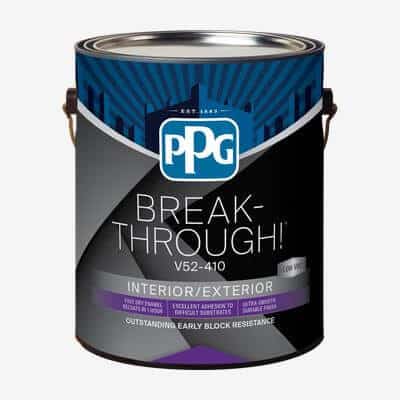 Both Ben Moore Command and BreakThrough dry within 15 minutes.   However, the coverage was a different story.   Command has below-average coverage.   
In a different test, where I compared Command's coverage with six other Ben Moore products, all six judges gave Command the worst score for coverage. 
I applied seven different Ben Moore white semi-glosses on three different backgrounds. Finally, the backgrounds were drywall painted:
A dark brown gloss
An off-white matte finish
A mid-tone eggshell
For some unknown reason, the Command separated and alligatored on the dark brown gloss.  The other paints had minor separation on the brown.  The dark brown paint I  used is Emerald Designer Latex Gloss. 
Besides the alligatoring on the dark brown paint, the judges unanimously observed that Command was the only paint NOT to cover the off-white paint in 1 coat.  It also scored the worst by all six judges on the mid-tone background as well.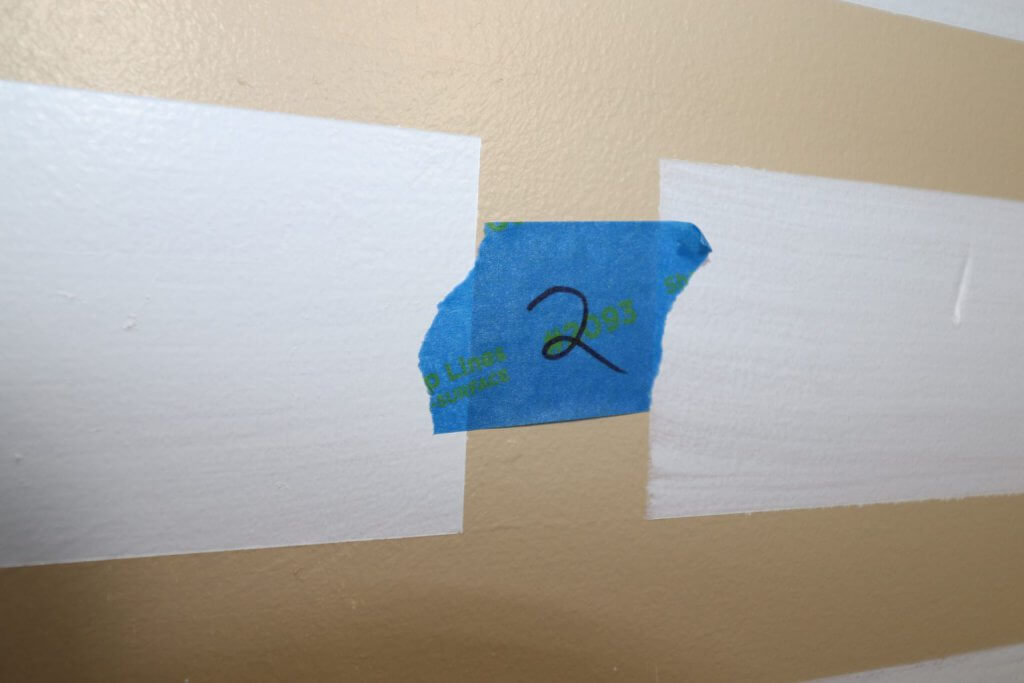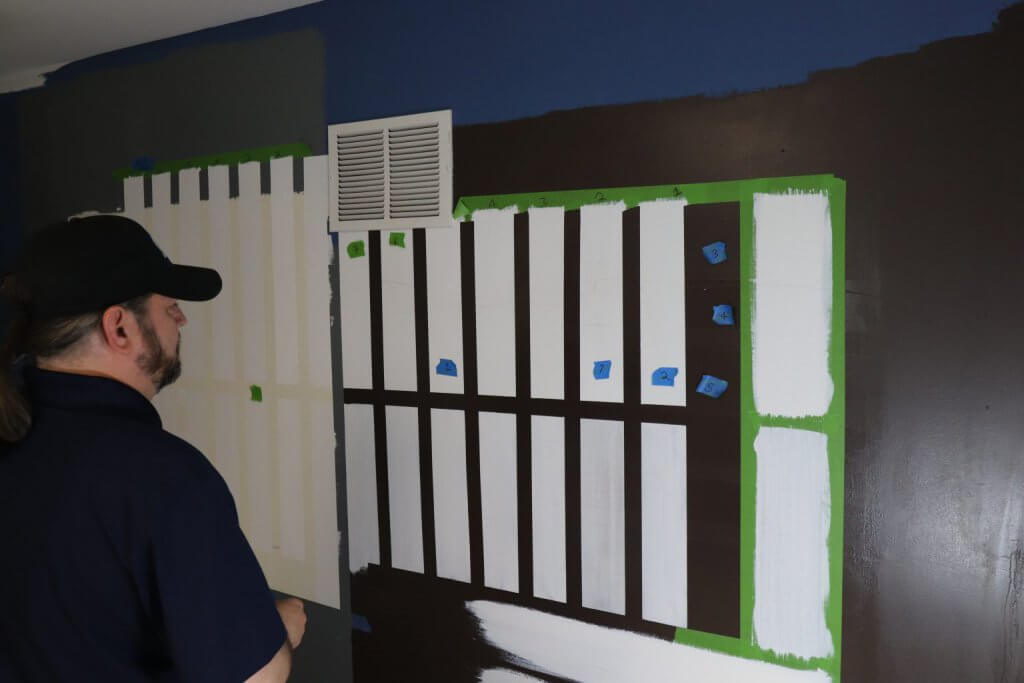 The Command is an unusual interior and exterior paint.  Few paints promote use on both concrete floors and kitchen cabinets. Typically, I would expect to find concrete floor paints to be thick and cover well.  Alternatively, I would expect cabinet-grade paints to be thin and not to cover as well. Unfortunately, the coverage of Command falls short compared to other floor paints and some cabinet-grade paints such as C2, UltraLast, and Fine Paints of Europe, and Advance.
The coverage of Command is comparable but slightly worse than PPG BreakThrough.
Coverage Score 6 out of 10
Workability of Ben Moore Command Satin Finish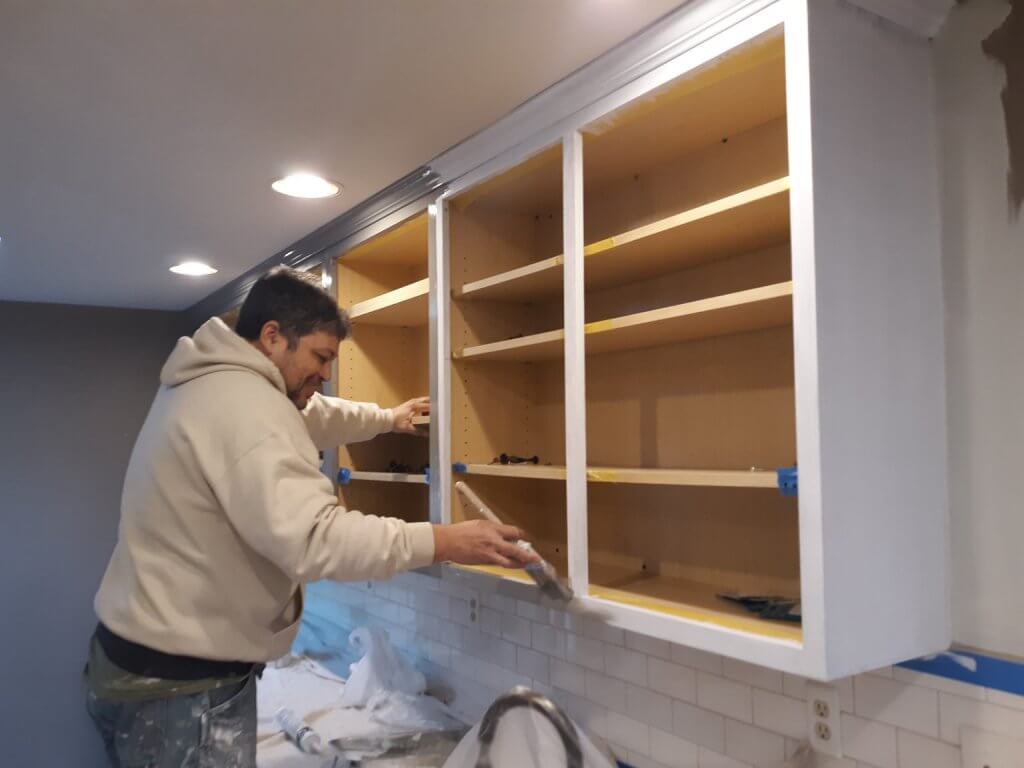 The workability of Ben Moore Command is excellent for a paint that can be top-coated.
Ease of brushing – Whether you are a DIYer or a seasoned painting contractor, you will enjoy the ease of use.
Brushing distance – I can brush between 22″ and 26″ with one dip of the brush, which is very good.  
Working Time – I have over 60 seconds to go back and touch up areas as needed without damaging the sheen.  The working time is excellent for quick-drying paint.
BreakThrough Satin finish also scored equally as well.  
Workability Score 10 out of 10
Washability and Durability of Command Semi-Gloss
Whether you are a  painting contractor and homeowner, you want the paint to be washable.    Professional painting contractors don't want to hear that the paint they applied failed.  Of course, homeowners should have a product that can handle their daily demands. So, the stains were cleaned with various cleaners listed below.  After applying the cleaners on the paint, all stains were removed, and the finish stayed hard and durable.  
Krud Kutter
Bleach and water
Simple Green 
Spray Nine
Washability and Durability Score 10 out of 10
Self-Leveling: Ben Moore Command Semi-gloss 10 out of 10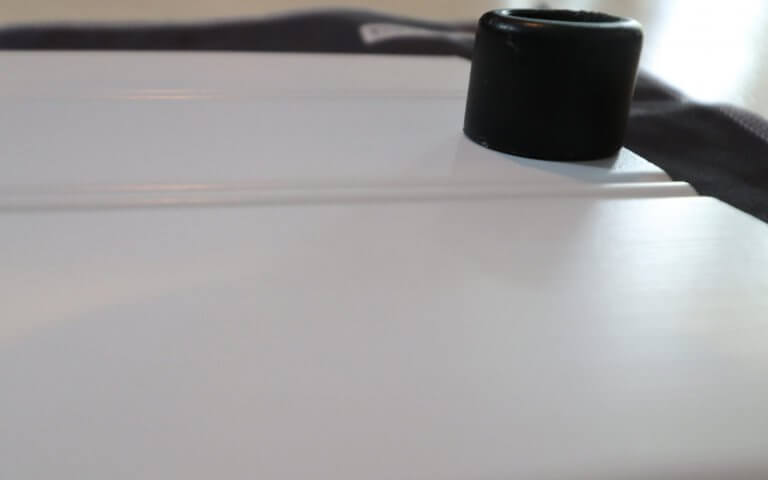 Ben Moore Command self-levels exceptionally well.  Therefore, it makes it ideal for painting kitchen cabinets, bookcases, and furniture.    Painting contractors want to use a paint that self-levels, and Command does an excellent job.
To properly determine the value, we need to consider two things: 
Firstly, what is the cost? 
Secondly, when would I use Command? 
When paint needed to dry quickly, which could be commercial space.
If washability and durability are necessary.
If self-leveling is important.
I feel like I am describing painting kitchen cabinets, bookcases, and outdoor furniture.
However, I would avoid this paint if I was brushing and rolling.  The paint is thin and does not cover very well.  If you choose to brush and roll, be prepared to apply three coats of paint.  
Overall Score 8.5