Exterior Painting In Melbourne Beach
Great Reputaion, Timely Estimates And a 7 Year Warrnaty
Exterior Painters Serving All Brevard County!
Do you need a reliable, affordable with experience to do some exterior painting in Melbourne Beach?   We have a simple system of providing Superior Customer Service that emphasizes common sense practices that are not common.
 First, we come prepared!  We bring large 8.5 x 11 trending color samples that can touch, see and feel!  Those small one-inch squares at the store are not big enough to decide.  
What else is part of our Superior Customer Service?
One of the first things we do when we arrive to paint samples are applied for your approval.
We wear name tags.   
Once we start a job, we will return the next day.  We don't remove crews or change crews.  Continuity is critical.
Find out more about our Superior Customer Service.
                                        Now let's discuss the quality of the work!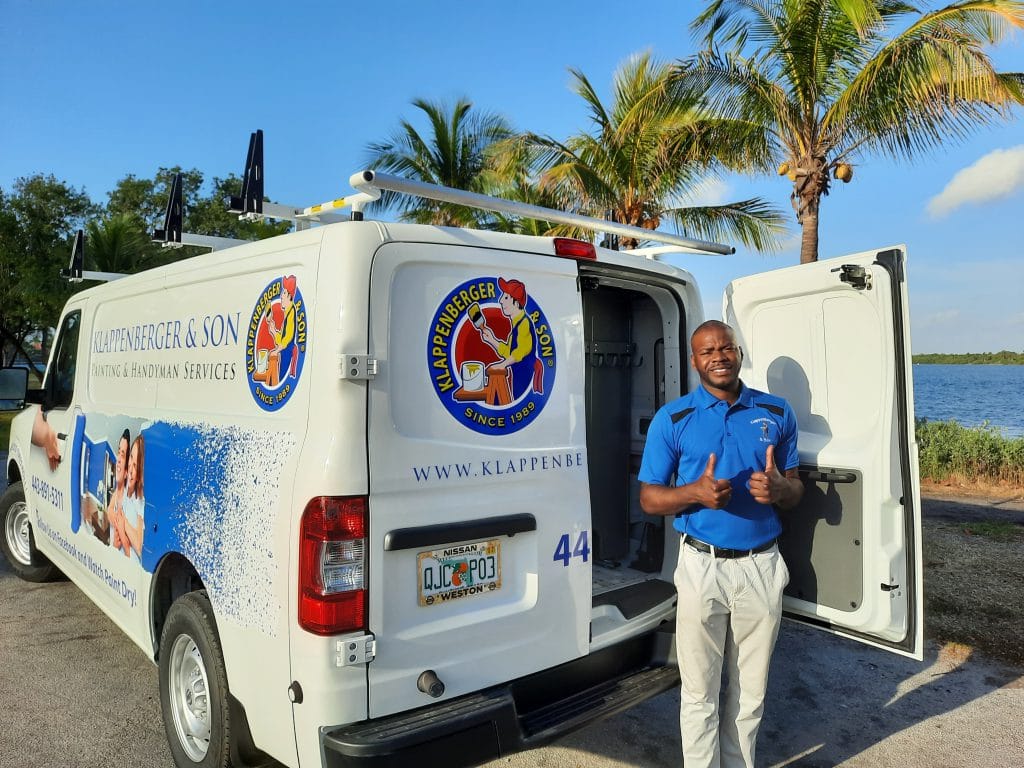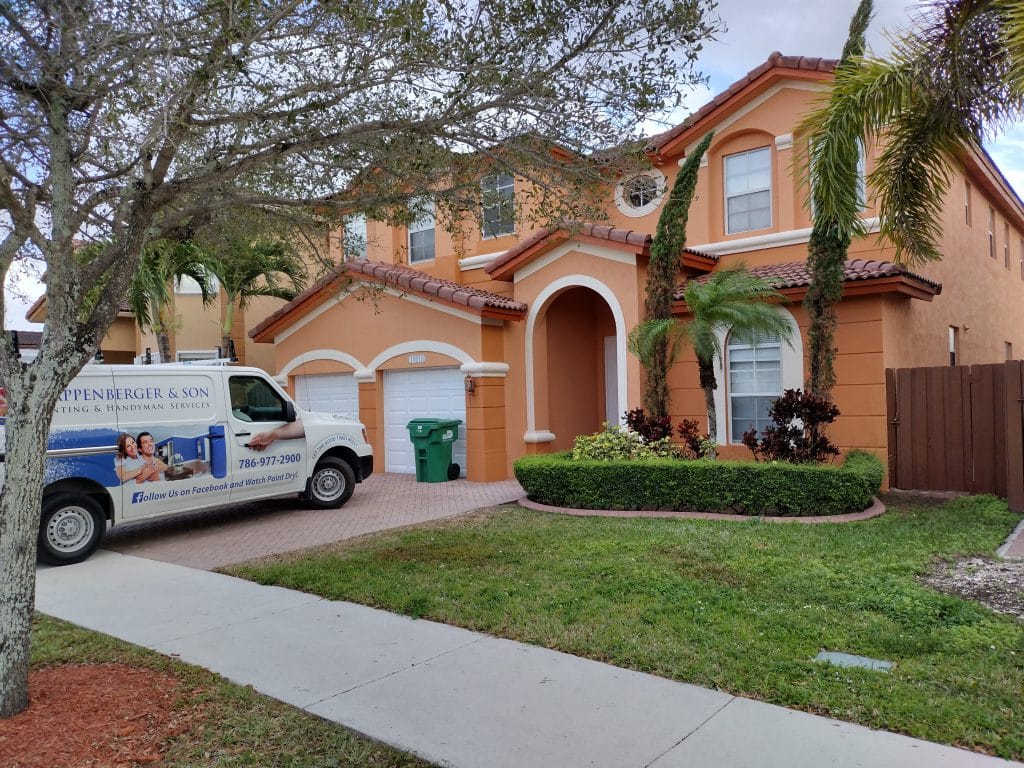 The 4 Keys To A Successful Exterior Painting in Melbourne Beach
Since 1989 we have been painting exterior homes in Melbourne Beach.  We have learned how to maximize the paint job's longevity through trial and error.  I will share the five keys or principles we incorporate into our Superior Customer Service.  
Pressure washing with the best cleaning products
Testing the moisture before the wood before painting.
Choosing the right products and coats for your particular surfaces.  
Working with Mother Nature
Whether you have a rancher or a mansion, consider Klappenberger & Son as your exterior painting contractor in Melbourne Beach.   
With our 30 years of exterior painting services,  we can advise you on the best products and methods to ensure your home is protected and beautiful.  
In addition to being an interior and exterior painting contractor, we can also do minor repairs around the home.  
Repair rotten wood with wood or composite
Replace decks and handrail
Other handyman services
Having one company take care of multiple services saves you time and money.   
Exterior Painting in Melbourne Beach: What Do We Do Differently?
Cleaning The Surface With Out Damaging The House 
Few things can cause more damage than improper pressure washing.  
When power washing or pressure washing the exterior of your home, we let the chemicals do the work, not high pressure.  
We use the least amount of chemicals that kill mildew and eliminate dirt and pollen collected in the home.
Our cleaning products will not harm your plants or flowers!
FYI – We insist that the chemical stay on for 15 minutes.  That's the amount of time necessary to kill the mold spores. 
If not, the mildew will grow back much faster.  
GET YOUR FREE HOUSE PAINTING ESTIMATE NOW!
Enter your name, email and phone number below.  One of our friendly staff members will get back to you within 60 minutes to schedule your free exterior painting estimate.  We can't wait to meet you!
            When Is It Safe To Paint?
It is impossible to feel the wood and know if the moisture content is low enough to paint.  And believe it or not, most painters do not own a moisture meter. 
Why this isn't as important as a paint can opener is beyond me.
FYI – The most likely cause of paint peeling is water.
Almost all paint requires the moisture content to be below 16%.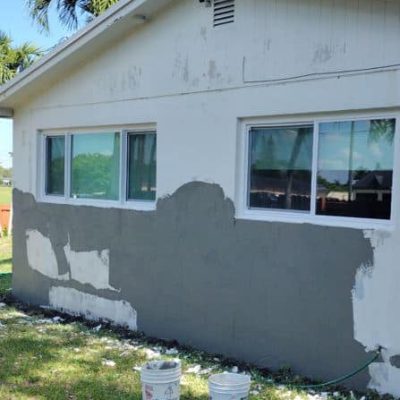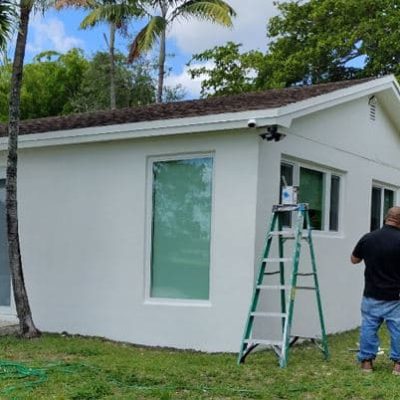 The Benefits of Applying Two Coats?
Besides applying two coats satisfies the warranty, it also extends the paint job's life for years.
For example, the picture on the right clearly shows where someone brushed the edges and seams and then painted the exterior wall with a roller. 
The areas that received two coats have significantly more paint left.
Applying a second coat of paint usually adds about 30-35% to the total cost of the job.  Considering it can extend the paint job's life by five years, it is a wise investment.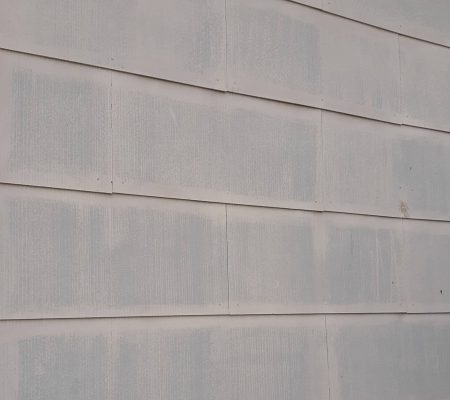 Proper Weather Conditions
Late Fall through mid-Spring is certainly the best time for exterior painting.  Regardless, we are always keeping track of the weather in Melbourne Beach.
Also, if it rains shortly after painting, the rain can seep through the paint, causing bubbles.  
Therefore it is best not to paint when the chance of rain is above 30-40% for the next 24 hours.  Check out Sunny Isles 10 Day Weather Forecast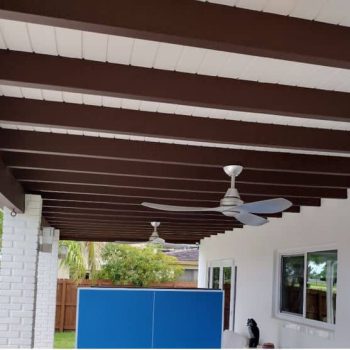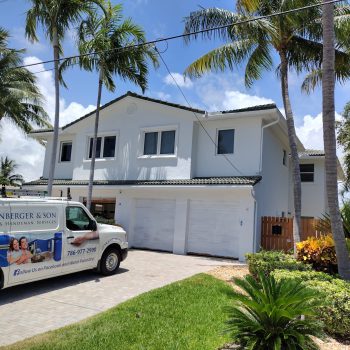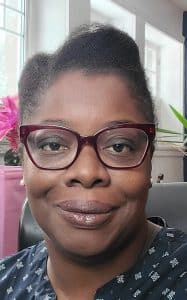 Klappenberger & Son Is Your Exterior Painting Company in Melbourne Beach
How do I know I won't be overcharged?    Our prices are based on square foot calculations, not wild guesses.  
How do we avoid bate and switch?  Our proposals detail the type of paint and the number of coats.  If you are available, we will show you areas as they are completed. 
Is the contractor asking for more money in the middle of the job?  Our prices do not change.  If you don't request any additional work, the price will not change. 
Are they going to leave and start another job before they finish mine?  No
Can they replace rotten wood, or do I need to find a second contractor?  We can do many handyman and remodeling tasks.
These are fair questions because they happen so often.
I pride myself on being a one-stop shop for any handyman, interior painting, or exterior painting in Arlington.
Other Services include: