Whether you live in an arid climate or a 4 season climate,  your deck will regularly need refinishing. But when is the best time of the year to schedule your deck for painting or staining? We can stain or paint your deck almost all year-round as weather conditions correlate to getting the best results. Here's what to consider when choosing a solid stain vs. paint and the time to get your deck refinished.  To learn about the pros and cons of each product please click the link, Pros, and Cons of Painting and Staining.
Solid Stain vs. Paint: Necessary Conditions for Refinishing Your Decksolid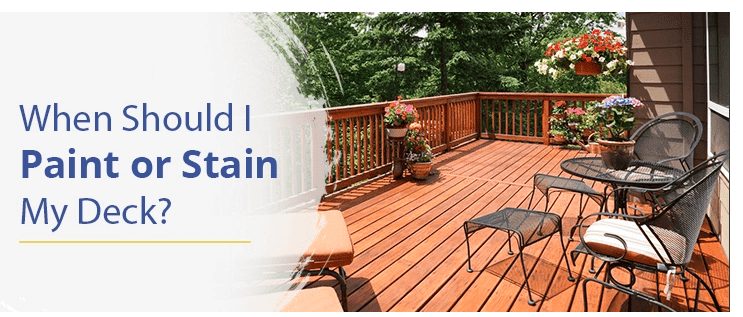 Painting and staining require specific conditions for the best application and curing, but the parameters are not as narrow as you might think. In fact, in eastern Maryland, Virginia, and D.C., weather conditions can allow for painting or staining throughout the non-winter months. At Klappenberger & Son, we have successfully refinished decking throughout the spring, summer, and fall.  If you would like to learn more about our deck sealing best practices please click please click the link above.
So, what are those conditions?
1. Proper Temperature
Both stain and paint require the right temperature conditions to cure properly. If it's too cold, the color or stain won't dry at all and could crack and split, and if it is too hot, it can evaporate too quickly. The ideal temperature range for stain is between 50 and 90 degrees Fahrenheit, though you can typically stain as long as the temperature is above 37 degrees.
Paint requires similar temperatures for drying properly. For oil-based exterior paint, shoot for temperatures between 40 and 90 degrees Fahrenheit. Latex-based exterior colors have a narrower window of 50 to 85 degrees.
2. Dry Surfaces
All paint requires a dry surface before application. This means your deck boards must that your wood must have a moisture reading below 16%.  Just because it's dry outside doesn't mean your new deck is ready to be stained or painted. Pressure-treated wood will need 60 to 90 days to dry out.
Most stains also require a dry surface, especially more solid colors. Some transparent and semi-transparent wood preservatives work while the wood is still damp, as long as there are no puddles on the deck. This can be helpful if you want to power-wash your deck before using a semi-transparent or transparent preservative on it.
3. Low Humidity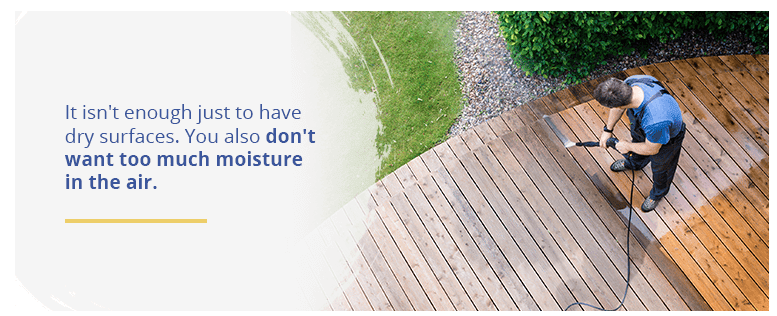 It isn't enough to have dry surfaces. You also don't want too much moisture in the air. Muggy weather can make for stifling conditions that keep retard the drying and curing process. Although your paint or stain will dry eventually, the humidity will slow it down.
Humid conditions allow more time for children or pets to step on the surface or for leaves or twigs to land on the surface, smudging the finish before it has had a chance to cure fully. Humidity isn't as much of an issue with faster-drying products like a wood preservative.
4. Dry Forecast
Depending on the length of time your paint or stain product needs to dry, you'll want to make sure the forecast will accommodate that timeframe. In other words, if it's dry right now, but it's supposed to rain within the next 24 hours, you probably want to hold off on staining or painting your deck until you have a long dry spell in the forecast.
Again, though, if it's warm outside and you're applying a product that dries quickly, you may only need a few hours of low humidity and no precipitation for the product to cure.
Solid Stain vs. Paint in the Spring
After the snow melts and you start wanting to enjoy time outside, you may notice your deck needs refinishing. Fortunately, spring can be a fine time to refinish your deck, as long as you choose dry days. This can be a bit tricky in spring due to frequent rain showers.
Rainfall after application of either paint or stain will prevent it from properly drying. If surfaces are already wet before staining or painting, you'll be limited mainly to wood preservatives and semi-transparent stains that can be applied to damp surfaces.
There is however an exception.  When choosing between a solid stain vs. a paint, Sherwin Williams has a deck product called DeckScapes.  DeckScapes is a solid stain that can go over wood with a moisture content of 25% or less. 
I am not aware of another paint or solid stain that can be applied with a moisture content above 16%.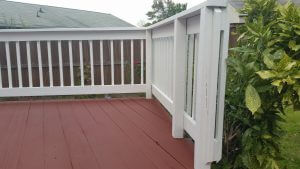 If you want to use a semi-solid or solid stain or paint, you'll need to wait for dry conditions.  The required moisture content levels can be found on the can, or you can request datasheets from the manufacture or search the web.
As long as you have a free window of rain, spring temperatures, with lows well above freezing and highs that remain temperate, tend to work well for both painting and staining. This makes late spring, in particular, a great time for scheduling refinishing, but it is not the only time you can finish your deck with stain or paint.
Painting and Staining in the Summer: Solid Stain Vs. Paint
Summer is also a preferred time to stain or paint a deck. That's because warm and dry conditions allow paint and stain to dry quickly so that you can achieve a professional, durable finish quickly.
While summer is one of the driest times of the year, you still have to watch the forecast to make sure you avoid the rain. Humidity can also be an issue. Choose days with low or average humidity levels for tremendous success with the finish drying.
There really is no difference between applying a solid stain vs. a paint due to summer condition, with just one exception.  Sherwin Williams has a paint product called Resilience.  It can not be applied to decks but it can be applied to handrails.  The advantage is it is rain safe in 2 hours.  So, if a pop-up thunderstorm approaches you to have a better chance of avoiding peeling and other issues.  
.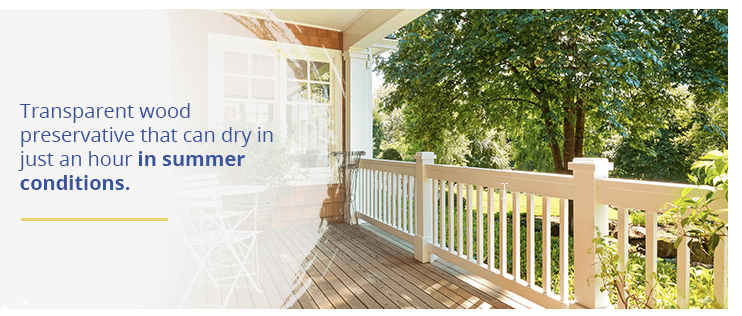 Luckily, the summer's warmer temperatures will allow paint and stain to dry faster, so you can quickly move on to additional coats or start enjoying your finished deck sooner. We use a transparent wood preservative that can dry in just an hour in summer conditions. Remember, those scorching days may cause a stain to dry too quickly for superior penetration into the wood.
Solid Stain Vs. Painting in the Fall
If you don't get the job done during the summer, should you stain your deck in the fall? Fall can be a great time to refinish your deck. Fall returns cooler temperatures to Maryland, D.C., and Virginia. During the day, temperatures remain mild through November, and nighttime lows stay above 37 degrees on average until December. Early fall, especially, should offer ideal temperature conditions. You don't need to wait for summer to come back around. We can get your wood surfaces looking great during the fall months.
Even on colder days, if your deck receives full sun, the surface temperature may be warm enough for finishing. Conversely, if you have a fully shaded porch, the fall's low temperatures combined with the shade will result in cooler surface temperatures. Note that the sun's lower position will also affect drying conditions and deck surface temperature. We will consider the surface temperature before starting the project to ensure you get long-lasting results.
In addition to suitable temperatures for staining and painting, autumn also tends to have slightly lower precipitation levels. Even with the longer drying time required by cooler temperatures, fewer days of precipitation ensure that you should have a long enough span for the surface to cure appropriately. If you want to prepare your home for the winter months, refinishing your porch or other outdoor wood surfaces during the fall is a wise choice.
The Best Time of Year to Stain or Paint a DeckSolid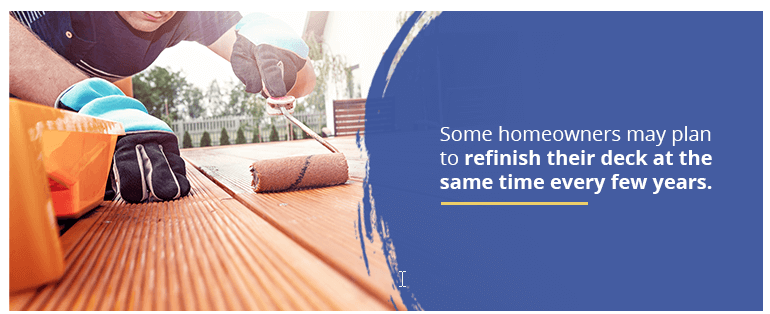 Considering all the factors we've looked at, let's boil it down to answer most homeowners' main question: What time of year is optimal for staining or painting a deck? Generally, summer is the best time of year to paint or stain a terrace, with late spring and early fall as close seconds.
Some homeowners may plan to refinish their deck at the same time every few years. However, you may need to move up your plans for painting or staining if your deck needs to be refinished, even if it means completing the project during a different time of year than you usually do. Worn, chipped paint, and the fading stain is indications that you need to refresh the surface. Worn paint or stain doesn't look right, and it exposes the wood to damage from the sun and rain—schedule refinishing as soon as you notice a problem to protect the wood from the elements.
We have extensive experience identifying the conditions that enable us to get the best results from the products we use. Give us a call, and we'll find a time to restore your wood decking that will allow for optimal outcomes. Even during times of year that are less than ideal, the forecast may include unseasonably good weather to allow for staining or painting outside.
Common Questions About Solid Stain vs. Paint and the Best Time to Tackle the Project
Now that we've covered the basics let's look at some common questions homeowners have when they're looking to paint or stain a deck and want to make sure they plan their project for the right time. If you have a question we don't answer here, we would be happy to answer all your questions when planning your refinishing project.
1. What Is the Best Temperature for Painting a Deck?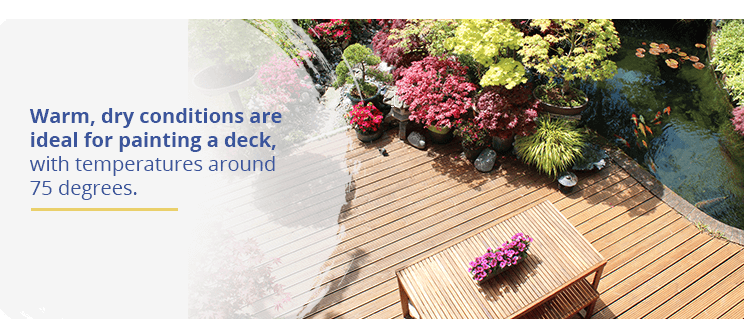 Warm, dry conditions are ideal for painting a deck, with temperatures around 75 degrees. Although 75 degrees is ideal, we can paint your deck as long as surface temperatures are above 38 degrees.
Temperatures determine how quickly the finish dries. When temperatures are above 90 degrees, as may occur during summer heatwaves in Maryland, D.C. or Virginia, the paint may dry too soon. If you are refinishing your deck during a heatwave or if the temperature unexpectedly climbs above 90 degrees, your best option is to work in a shaded area during the hottest time of day.
When temperatures drop too low, below the mid-30s, the finish takes too long to dry. If the low is 38 degrees or below, we will hold off on painting a deck, as the temperature is too cold. The paint could freeze on the surface of the deck when the temperature is too cold.
2. What Temperature Should It Be to Stain a Deck?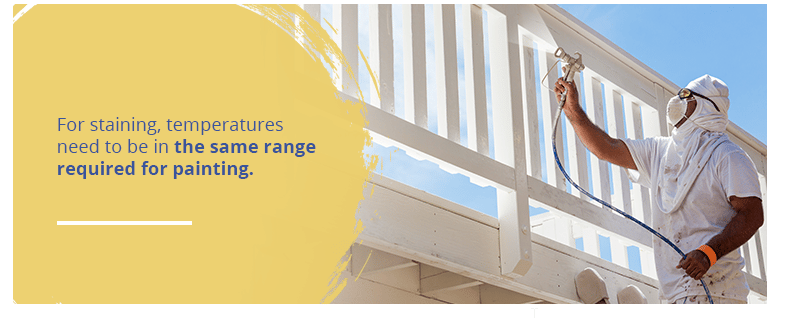 For staining, temperatures need to be in the same range required for painting. A stain will dry faster than paint because the former tends to be thinner than the latter, but you don't want the stain to dry so quickly that the wood does not gain the sealing and protective properties of the preservative. If you stain a deck during a frost, you are asking for trouble.
3. When Is the Best Time to Stain a Deck?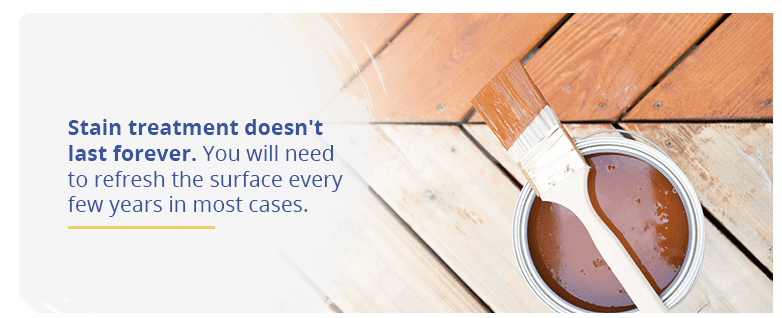 If your deck is due for refinishing, the best time to do it is during the day when there's very little or no chance of rain. How long the weather needs to stay dry after the stain is applied depends on the product we use. Each type of stain dries at a different rate. Wood preservatives dry the quickest, often within a few hours, while semi-solid or solid stains need more time to dry.
Stain treatment doesn't last forever. You will need to refresh the surface every few years in most cases. The timing for applying a new stain typically is at least once every three years, but your deck use and the product on the surface will affect this timing. Wood preservatives are typically gone by the third year. Other stains with more color may begin to look faded after two years. Look for these signs that your old coating has worn off:
Water no longer beads
Surface appears dull
Walking paths across the wood visually stand out
When you notice any of these problems, give us a call. We'll take a look at your deck and let you know what your options are.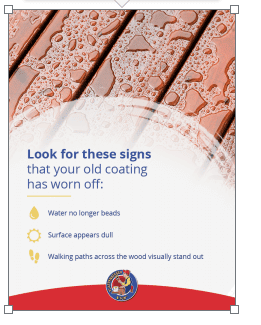 4. Can I Paint or Stain My Deck in the Winter?
Your best bet is to avoid trying to paint or stain your deck in the winter, for a few reasons. The days are too short, and winter brings frigid temperatures to many parts of the country, including Maryland and the rest of the Mid-Atlantic. Even when it's warmer during the day, the temperature dips below 38 degrees most nights.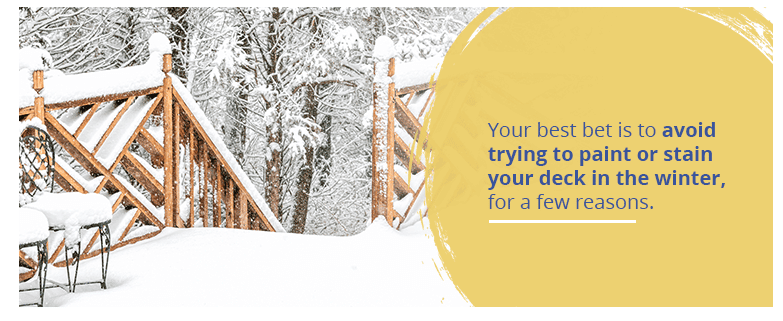 Winter also tends to be wet, and conditions aren't dry enough to allow for staining or painting. If the product you're going to use requires the surface of your deck to be dry, don't even think about refinishing it in the winter. The only exception would be if you were to use a wood preservative. You can put a wood preservative or a semi-transparent stain made for damp surfaces, and you likely won't have any problems. However, the other challenges of winter mean that you're better off waiting until spring to work on your deck.
5. Can You Paint or Stain a Deck in Cold Weather?
Colder temperatures require longer drying time, which is especially problematic when you're painting and need to apply multiple coats. If the temperatures throughout the day stay closer to 50 degrees, you will need six hours before applying a second coat. For warmer temperatures of 75 degrees, the time until the next layer shrinks to four hours. Some types of oil-based paint may require as long as 48 hours to dry in cold weather.
Cold temperatures affect more than just the drying time. If the temperature falls below 38 degrees, there is also the risk of frost. You don't want the stain or paint to freeze on the surface you're painting. We recommend not doing anything to your deck when it's cold outside.
6. What Are Wood Preservatives?
A wood preservative is a type of stain. There are several types of deck stain:
Transparent
Semi-transparent
Semi-solid
Solid stain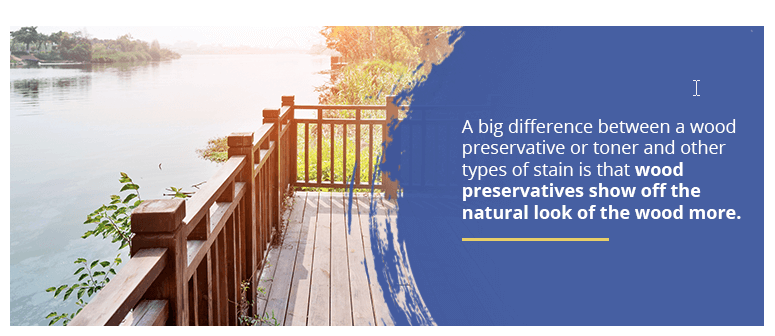 Wood preservatives are available in a range of colors and tones, including clear. They are sometimes called wood toners. A big difference between a wood preservative or toner and other types of stain is that wood preservatives show off the natural look of the wood more.
Solid Stain vs Paint: Advantages Of Choosing Wood Preservatives
When comparing solid stain vs paint, wood preservatives offer a few advantages. When your deck is due to be refinished, the process of applying a new coat of wood preservative is simple. The stain won't peel, so all you need to do is power-wash your deck and apply a new coat of wood preservative. Usually, the deck only needs a few hours to dry between power-washing and staining.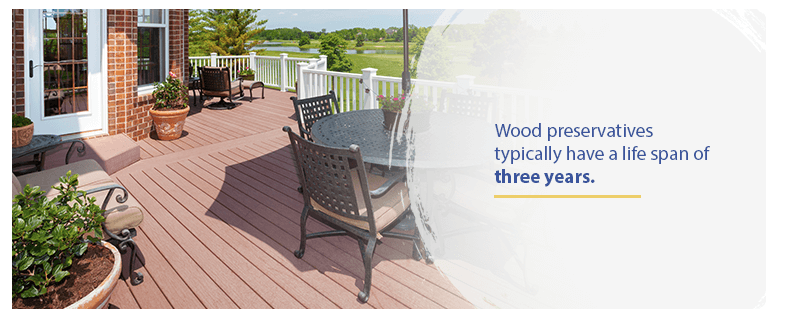 Wood preservatives typically have a life span of three years. The first year we apply them, they look great! In the second year, the wood preservative looks good.   During the third year, you will need reapplication because the preservative will typically have worn off. Railing tend to last about 5 years because they don't get the harsh wear and tear that horizontal surfaces do.
When we stain a deck with clear or semi-transparent wood preservatives, we prefer to use the Olympic brand. If we apply it on a warm summer day, the stain will dry in just one hour.  This will allow you to enjoy your deck the same summer day we treat it.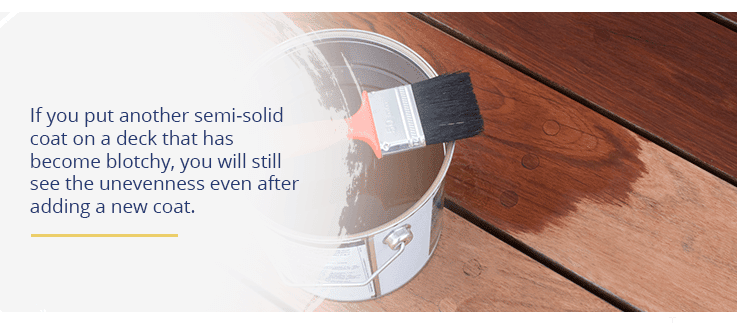 Although wood preservatives can be the right choice for your deck, there are some disadvantages to using one. If you don't maintain your deck, the stain can wear unevenly. If your deck is in a sunny spot, damage from ultraviolet rays can cause excessive wear on the stain, leading to an uneven appearance. Usually, decks that are in shaded spots,  are best suited for wood preservatives and won't become uneven. The best solution may be to apply a solid stain on the deck to eliminate the discrepancy in wear.  If you are not sure what to do, power wash the surface with bleach and water, then apply a wood brightener and wait a day or two for the deck to dry.  This treatment has worked wonders for reducing the unevenness of wood preservatives.
Professional Staining and Painting Services From Klappenberger & Son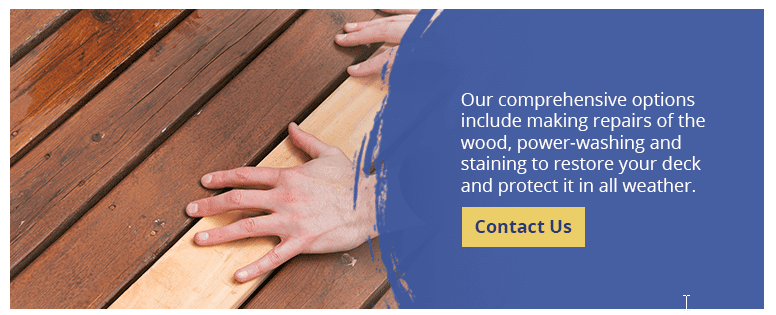 Knowing the best time to paint or stain is just one piece of the puzzle.   With Klappenberger & Son, we can ensure the right product is applied properly.
Trust your home to the trained and tested painters at Klappenberger & Son. We can help protect your wood deck from weather damage and needing premature replacement through our knowledge of the best products. Our comprehensive options include making repairs to the wood, power-washing, applying wood brightener,  and staining or painting to restore your deck and protect it in all weather.
At Klappenberger & Son, we even have experience restoring historic properties, including interior work in the White House.  We can advise you on what products we have found to be the best solution for your particular need.  Contact us today to book our painting or staining services for your wood deck.