Stain or Paint a Deck:  The Pro's and Cons
There are pros and cons with all deck products.  There are a few key factors in determining whether to stain or paint a deck.   
Knowing the proper product to apply to your wood deck will enhance its natural beauty and increase longevity. 
The right product depends on four things: 
age of wood
previous coatings
type of wood
personal preference  
 How Much Wood Grain Do You Want To See?
How much wood grain do you want to see will impact whether you stain or paint a deck.
Several deck stain types exist:  These stain and paint options are in order from translucent to opaque.
Transparent stain
Wood preservatives and toner
Semi-transparent stain
Semi-solid stain
Solid stain
Paint
       Deckscapes Clear wood Preservative           Olympic Honey Gold Wood Preservative                            Olympic Tundra Semi-Transparent
Each type of stain differs in the amount of UV protection it offers. For example, clear wood preservatives and toners allow the maximum amount of wood grain to be visible.  Unfortunately, the more wood grain visible,  the less UV protection.  The deeper the colorant, the more protection and the longer the product will last.  That is why clear wood sealants last about 6-12 months, and Olympic Semi-transparent can last 3-4 years.
On the opposite spectrum of clear sealants are solid deck stains.
Semi-Solid Redwood Stain From Cabot                                                        Solid Stain From Sherwin Williams
  Stain or Paint a Deck?  Age is a big factor.              
The age of your deck will help determine the deck's stain or paint. I like Olympic Wood Preservative for decks under eight years of age. 
 Why?  The grain of the wood still has some youth, and it is easy to apply.  Also, the moisture content is not relevant to clean and seal on the same day.
Opinion:
Wood preservatives and toners are ideal for younger decks.  The semi-solid stains are better suited for middle-aged decks, such as those around 10-years-old.  Decks over  15-years-old will be protected best with a solid stain.
Regardless of what product is applied, as the coats increases, the visibility of the wood decreases.  Therefore,  if you applied a wood-toner for several years, switch to a semi-transparent stain.  Whatever opaqueness you chose,  going to a less opaque product is not recommended.
What Stain Should You Apply On Your Wood Deck
For younger decks where you want to see the grain of the wood still, try wood-sealers.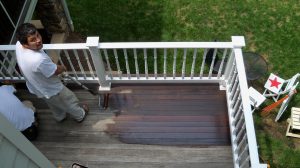 Not all brands of deck stain are created the same.  Deck Scapes, Cabots, and Olympic.  Are all recommended products by Klappenberger & Son.
They have good longevity, are easy to apply, and can go on damp surfaces. 
Technology for wood decks products has changed for the better.  Today you will see names on labels "waterborne" and "hybrid."  These are quality products because it takes the best of both oils and water-based products into one can.  These hybrid paints are water clean-up and have low volatile organic compounds (VOCs), making them a greener option.  The waterborne products come in all makes and models, from translucent to opaque.
The best type of stain to use on a wood deck is waterborne formula deck paint. A hybrid product is a mix of oil-based and water-based paint. One of the waterborne products we recommend is SuperDeck.
  What Product Should You Apply On Your Wood Deck A Paint or Solid Stain?  Maybe A Combo!
Staining your deck is almost always better than painting it. Stains are more flexible and can better withstand the wear and tear deck's experience. Paint doesn't have the flexibility of a stain. When the horizontal surface of a deck is painted, water can get under the paint.  As the water evaporates, it separates the paint from the wood's surface, which leads to peeling and cracking. As time goes on, the painted surface develops more cracks, which leads to even more peeling.
When a deck is stained, water evaporates from the surface rather than beneath the deck. There is less cracking, chipping, and peeling with a solid stain.
If deck boards are protected from the sun and rain, would I consider using paint.
Although paint isn't ideal for a deck's horizontal surface, it can be appropriate for handrails and vertical surfaces. If you want the deck's handrails to have a sheen, your only option is to paint.  Handrails hold up very well to being painted because the water does not stand.
                      Stain Or Paint A Deck?  Pros and Cons of Using Stain?
There are several advantages to using a stain.
It keeps wood from drying out. Wood dries out as it ages, and as it dries, it can begin to crack. Applying a coat of stain to the wood helps to slow down the drying process and reduce cracking.
Stains Protect your deck from UV rays. Just as the sun's ultraviolet rays cause your skin to age and wrinkle, they also cause wood to age. Deck stain is sunscreen for your deck.
Stains provide more traction. Stain on the horizontal surface tends to be less slippery than paint.  In some cases, sand can be added to products as well. 
Using a stain also has some disadvantages, such as:
Requires ongoing maintenance: Stain on a deck will start to wear off within the span of a few years. A semi-transparent stain will look fantastic during year one. The second-year it will good during and be gone by year three.
The more UV protection in the stain ( the more pigment), the longer it will last. For example, dark stains such as Canyon Brown can last up to five years.  
Hardwood and softwoods get different types of stains.  It is important to know what type of wood you have before considering what product to choose.  Hardwoods such as Ipe use different products than pressure-treated wood or cedar.  This article deals only with softwoods. 
Stain or paint a deck? The pros and cons of painting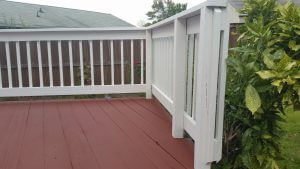 If you will paint your deck,  purchase a paint that is made to be walked on. Deck or porch paint is thicker than other types of exterior paint. It also often includes mold and mildew inhibitors and has Teflon in it to provide scruff-resistance.  Staining is the most common approach to protecting your deck.  However, if you choose to paint, here are the pros and cons.  
The Pros of painting
 You have a wide variety of color and finish options to choose from with deck paint. Deck paints come in a variety of bases which allows you thousands of color options.  Solid deck stain also has an unlimited number of colors to chose from. 
Paint creates a uniform look.  Evenly applied coats of paint give your deck a more uniform look. I have good results with Floor & Porch Paint by PPG  and PPG Proluxe Rubbol.
If properly maintained, Deck paints can last for 3-5 years.  Keep a close eye on the deck and correct and peeling areas.  Once the paint begins to fail, it will peel off into bigger pieces than the stain will.
 Deck paints do fill in small cracks and reduce splintering in the wood.   
Provides UV protection: Paint is opaque and provides better UV protection than a transparent or semi-transparent wood preservative. Protection from the sun's UV rays can help your deck look better over time.
The Cons of painting
The paint peels more than a solid stain.  Painting a wooden deck's horizontal surface can lead to more chipping and peeling than using a stain. Water can seep underneath the surface of the paint, between the paint and the wood. As the paint loses its flexibility, it begins to crack and peel.
The paint will cover the wood grain. Complete coverage can be an advantage if you're trying to hide the age of the deck.  It's a disadvantage for younger decks not to show off the natural beauty of the wood grain.    Wood preservative with some pigment is a better choice for new decks, as it offers some UV protection without obscuring the wood's natural grain. 
Can be slippery: The higher the sheen of the paint, the more slippery it can be.  Adding sand to increase traction can reduce slippage.  Most deck paints already have anti-skid properties included.  
Painting a deck is a bigger commitment.    Be prepared to paint it every 2-3 years. Once you've painted your deck, you should not switch back to a stain.
Stain or paint a deck:  The age factor
As decks age, trying to restore the natural beauty of the wood becomes a mott point.  The best product to apply on your wood deck as it ages will be more opaque.  Before I jump to a solid stain, I consider a semi-solid stain from Sherwin Williams.
The Superdeck semi-solid from Sherwin Williams. It is a hybrid solid stain that takes the best from water and oil-based stains. It can be applied to damp wood which means it can be cleaned and stained the same day!
What Product should you apply to your deck if when selling a home?
If the deck is over 15 years old and you are selling your house, opt for a solid stain.  Why?
If you apply 2-3 coats, it will fill in some of the smaller cracks.
It will hide the unevenness of the previous coatings.
Solid Stains and paints look terrific for about 3-5 months.
When a deck is nearing the end of its life, a solid stain is your best option.    The solid stain will give a uniform look and fill in some cracks.  DeckScapes is a safe choice because it has a higher wood moisture content than any other solid stain.  
What Product Should You Apply On Your Wood Deck for Longevity
What product will give your wood deck the best longevity?  Stains with the lightest amount of coverage, such as a clear toner, will also have the shortest lifespan. A clear sealant will typically be gone after about a year. Choosing a wood preservative with pigment can last an additional year or two. A semi-transparent stain can last even longer.  They typically last 3-5 years before requiring reapplication. 
              Product                                               Flat surfaces Longevity        Vertical surfaces       
Transparent stain                                             6-12 months                                12-18 months
Wood preservatives and toner                        24-36 months                             36-48 months
Semi-transparent stain                                    30-40 months                             40- 50 months
Semi-solid stain                                               32-42 months                             40-50 months
Solid stain                                                        24-36 months                             40-60 months
Paint                                                                 24-36 months                             40-60 months
The longevity of these products is from my personal observation.  This is not from testing but my 30 plus years as a painting contractor.
Best choice for flat surfaces
Flat surfaces that take a lot of full suns take a disproportionate amount of wear.  These flat surfaces also get the snow, foot traffic, rain, frost that vertical surfaces are excluded from.  Hence, flat surfaces may need to be treated in 2-3 years, while spindles can wait 1-2 years longer.  Please note that solid stains and paints are not the best choices for flat surfaces.  Tinted wood preservatives are the best option. However, solid stains and paints both  last longer on vertical surfaces 
New Wood Deck Stains Option
Pressure-treated wood is a great option for outdoor projects.  It contains chemicals that help it withstand the elements much better than, say, cedar.  The PT decks are attractive, and homeowners want to keep that look as long as possible.    If that describes you, apply a clear sealant asap. The green in the wood will fade in a few months if left untreated, and it will begin to turn gray.  Applying a clear sealant will give it moderate protection for a year before needing an additional coat.  Once the green look is no longer an option. You can switch to a toner. The wood toner will add a little bit of color and protection.
What Product Should You Apply On Your Wood Deck When It Is Damp?
Most products want the surface to be under 16% moisture content.  Several products can be applied when surfaces are damp.  This is great because you can power wash your deck in the morning and seal it later that same day.
They include:
Olympic Clear Sealent
SW DeckScapes Clear
Olympic Wood Preservative
SW Deckscapes Semi-Transparent
Olympic Semi-Solid
SW DeckScapes Wood Toner
 Deckscapes Semi- Solid
SW Deckscapes Solid (under 25% moisture)
Can You Stain Over Paint on a Deck?
Once you paint a deck, there is no going back to using a stain. The same is true when you start to use more opaque stains. You can't apply a solid stain one year, then switch back to a semi-transparent stain a few years later.
If you painted your deck and no longer like it, your best option is to contact a painting services company to discuss your deck's available options. Klappenberger & Son will examine your deck and help you decide what to do next.  
Can You Paint Over Stain Without Sanding?
Rarely do we recommend sanding a deck to remove previous coatings.  The exception would be if your deck were brand new. The only time when it might be acceptable to sand your deck is if it is brand new and has a solid stain on it, but you prefer to see more wood grain. In that case, it's a good idea to hire a professional to sand the deck to remove the solid stain and start fresh with a wood preservative or semi-transparent stain.
If you want to paint a previously stained deck, you can skip sanding by priming the surface first. You can also hire professional painters to do the work for you.
Deck Painting and Staining From Klappenberger & Son
When it is time to give your deck a new look or to perform maintenance, work with a team of experienced professionals to get the best results. Klappenberger & Son offers deck services to homeowners in the Mid-Atlantic region, including Virginia, Maryland, and Washington, D.C. We can recommend stain and paint products for your deck that will meet your needs. We treat your home with the level of care and respect we would want for our own homes. If it's time to refresh your deck, contact us online to schedule your project today.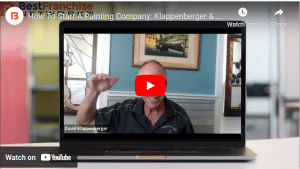 We were featured on Best Franchise Networks' Podcast – check it out!
Read More »