UltraLast Matte Finish Review 2023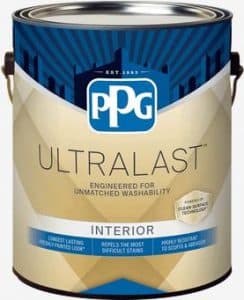 In 2021 PPG released  UltraLast Matte. 
UltraLast comes in a matte, eggshell, and semi-gloss finish.   If you are not familiar with a matte finish it has just a slight sheen.  Great for walls and bad for ceilings.
UltraLast'sclaim to fame is that it is impervious to stains.  Coming from a matte finish, that is a tall order.  Typically the lower the sheen, the less washability.  A matte finish is in between a flat and an eggshell finish.
The paint retails for $70.00 a gallon, and the stores are pretty firm about sticking to that price.
I will compare this paint to another premium-grade paint called C2, which also retails for $72.00.
Coverage
For premium-grade paint, the coverage was average.  It sometimes struggled to go over 2-3 shades of a darker color. 
However, the coverage with a roller is easily covered in two coats.
I also applied two coats over a yellow and a deep blue to see if it could cover those colors in two coats.  UltraLast covered completely in both situations.  
Grade: Coverage 8 out of 10
Workability of UltraLast Matte Finish
This is a very unusual paint in so many respects.  On the first coat, I can only get about 24″ out of one dip of the paintbrush. Which is good.  The second coat glides on much better.  I was able to get about 30″, which is very good.
The working time with a brush is about 15 seconds.  The paint starts to get sticky and lose its flow quickly.  It also dries and can be repainted in 2-4 hours, depending on humidity and temps.
Rolling this product is easy, and for a matte finish, it self levels like a semi-gloss paint.
Grade: Workability 9 out of 10
Touch-up
Matte finish paints should touch up easily.  This would imply that there would be no noticeable difference in the paint color or sheen if a third coat were applied in a few select areas.  
Grade: Touch-up 10 out of 10
I could not find the areas I touched on the wall.  UltraLast Touched up perfectly. 
Washability of UltraLast Matte Finish
The washability of UltraLast Matte finish is off the charts fantastic.  It must have to do with the sheen.  It has the feel of a smooth semigloss but the shine of a matte finish.  Even the sheen is deceiving. 
Grade: 10 out of 10
Until I compared the sheen side by side with other eggshell paints, I would have thought that the UltraLast Matte finish was shinier than traditional matt finishes, but it is the smoothness that fooled me.  When I touch the Matte finish, it feels like a semi-gloss but looks like a Matte finish. 
The durability of UltraLast Matte Finish
The durability of the UltraLast paint is its best standout quality. Its smooth, hard finish makes it difficult for stains to stick.   
After cleaning the paint, there was no burnishing or paint disfiguration.
Grade: 10 out of 10
Is UltraLast Matte Self Priming?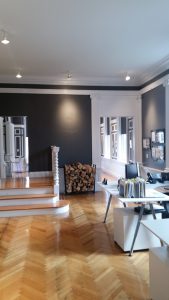 UltraLast Matte finish is self-priming.  I applied just two coats over spackled areas, and when the paint dried, the sheen was consistent.   
Grade: 10 out of 10
Even if it took 3 passes of paint, I would have still given it a 10 out of 10.  Being able to go directly over bare drywall in two coats on exceptional. 
                             Overall Value of the UltraLast Matte Finish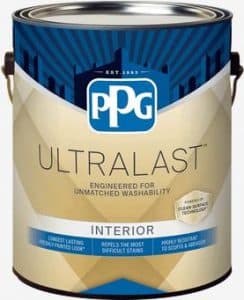 Similar paints
C2 Matter Finish
, $74.00, costs a couple of dollars more and has similar results.  The coverage is slightly better but the washability is slightly less.   
If you are looking for highly washable and durable matte paint, look no further.  If you are looking for a great covering paint with exceptional workability, you will not be swept off your feet by UltraLastt.  The UltraLast retails for around $72.00 and advertises itself as a highly washable stain-resistant paint, and it is.  
Also, it is self-priming ann touches up very-well. For those reasons and its washability, I give the UltraLast a 9.5.  
Recommended Uses for UltraLast Matte:
High traffic areas where cleaning walls is important and eggshell paint would be considered to shiny. 
Two-story foyers with kids or dogs
Old woodwork in bad condition.  This will hide imperfections but still give excellent protection.
Areas not recommend:
When the cost of paint is a priority.
Ceilings
PPG UltraLast Matte
Overall Grade: 9.5 
Feng shui, an ancient art and science rooted in Chinese culture, is way more than just about how a space looks. It has a deeper
Read More »