Before you spend $80.00 on a gallon on C2 Cabinet & Trim paint, shouldn't you know if it is worth it?    I've used this paint for years, and now it is time to really test it and see how it compares to other premium cabinet paints.  
Who Is Giving This Review?
Hi, my name is David Klappenberger, and I have been a painting contractor for over 30 years.  Now I am franchising my business, And I now see if my beliefs about different paints are accurate.   I test comparable mid-grade to premium paints to see which ones hold up the best.  I realize by publishing this, I am helping painting contractors near me and you, but that's okay.    Helping painting contractors and DIY'ers is a good thing. 
If you are interested in painting kitchen cabinets and searching for the right paint, you should like this product.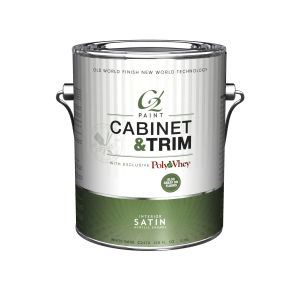 Characteristics of C2 Cabinet Grade Paint
Zero VOC
Made in Buffalo NY
Water Clean-up
Poly Whey Technology
Can have hardener added for increased durability
C2 Cabinet Grade Paint: How's The Coverage?
The Coverage of C2
The coverage of white C2 Satin paint did not cover as well as I wished.  Crisp white paints like C2 do not cover well because there is not much pigment in the paint to do so.  The white paint of C2 is more white and crisp than all other cabinet-grade paints I tested.  The only one comparable was PPG Ultralast.  The whiter the paint, the worse the coverage.
Most paint manufactures add 2 drops of black pigment to improve the coverage.  Ironically, these paints go by the name of "super white" or "extra white." 
Though C2 Cabinet and Trim paint can be sprayed and cover with two coats, if it is brushed, it will take 3-4 coats. 
Advance, by Ben Moore, covers well but is not nearly as white.
Grade: Coverage 6.5 out of 10
Three Ways To Determine Workability 
 Spreadability – How far can the paint be brushed with one dip of the brush.  Most Premium grade satin paints can spread 24-32″ with one dip of the brush.   C2 Cabinet and Trim paint spread about 28″ on average.
Workability – C2 is very easy to use.  It is user-friendly.
Working Time– refers to the amount of time one has to touch it up after applying.   With C2 Cabinet and Trim paint, it was about 45 seconds which falls in the middle of the pack.
Spreadability  10 out of 10
Workability …10 out of 10
Working Time 8 out of 10 
Washability of C2 Cabinet and Trim Paint
  After allowing the paint time to cure, I applied: 
catsup
mustard
pencil
crayon
red wine  (Merlot)
coffee (dark roast)
and allowed the stains to dry for 24 hours.  
The stains were cleaned with: 
Krud Kutter
Spray Nine
Simple Green
Orange Cleaner
Bleach and water solution
The results were terrific.  All the stains came off, and the paint did not react to the chemicals by getting soft or scratching off. 
The Washability of C2 Cabinet Paint is 10 out of 10
The Durability of C2 Cabinet & Trim Paint Satin
The durability of the paint looks at how well did the paint hold-up to the chemicals and cleaning.  Did some of the stains remain?  Was there any damage to the sheen or paint?
The answer is, no.
The Durability of C2 Cabinet & Trim Pain 10 Out of 10. 
                                      Self-Leveling of C2 Cabinet & Trim Paint
Self-leveling is very important when painting kitchen cabinets, vanities, bookcases, and mantles.  It can make the difference between an average job to a fantastic factory finish.   
Painting contractors know this for sure and DIYers often learn this once the job is completed.   Regardless of the score below, adding a paint conditioner will reduce self-leveling substantially.  
C2 Cabinet and Trim Paint has very good self-leveling capabilities.  There are other paints such as Ben Moore Command, and PPG UltraLast .
Self-Leveling Score is 9 out of 10
                 Overall Value of C2 Cabinet & Trim  Satin Finish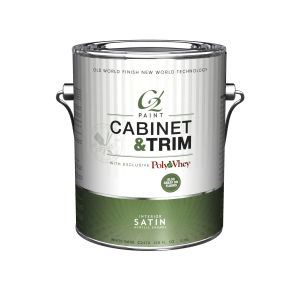 As a painting contractor who paints kitchen cabinets frequently, I've used C2 maybe 40-60 times.  I've always liked the self-leveling and washability. 
Unfortunately, when painting straight white C2 cabinet & Trim Paint, the coverage becomes a problem for painting contractors.  Applying 3-4 coats takes a lot more time and slows the overall cure time.    
C2 has a hardener that can be applied to paint to give it an even stronger finish on the plus side.  The hardener stops oils from fingers that smudge kitchen cabinets. 
Over an extended period of time, these oils that sit on the kitchen cabinets can cause the paint to scratch off for an extended period of time.   No other cabinet-grade paint has a hardening additive. As a painting
Additional Pro's Review by David Klappenberger include:
PPG Paints
Sherwin Williams Paints
Ben Moore Paints