Who has the best cabinet paint?  Great question.  I choose these seven leading brands to find out.
What Is The Best Kitchen Cabinet Paint? Just Two Factors
To determine the best kitchen cabinet paint we need to look at the quality of the finish and the durability of the cabinet paint.   Coverage could also be a determining factor, but only if the quality of the finish and the durability are equal.  
In addition to evaluating the topcoats, I want to test primers as well.  So here is what I did.  
Step 1 
The cabinets were cleaned with a mild degreaser and sanded with 180 grit sandpaper.
Step 2 
I primed the front of the cabinet with oil primer and the backside with shellac primer.  The cabinets had over a week to cure.  
Step 3
I then taped off sections on both sides of the cabinet to apply 2 coats of paint on each side.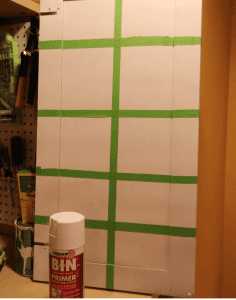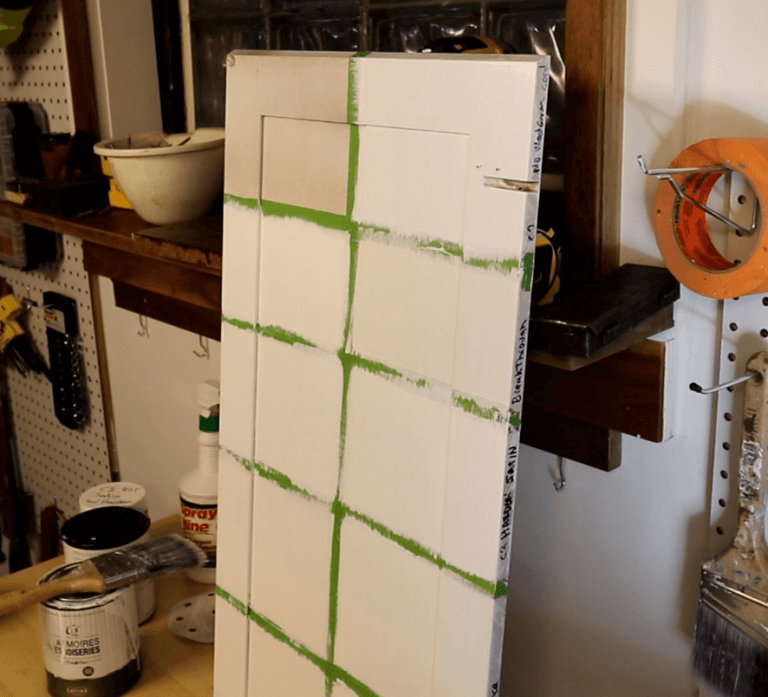 What Kitchen Cabinet Paints Did I Test and Why?
If you were to ask someone behind the counter of a paint store other than the big box stores, they are very likely to recommend one of the paints I tested. 
Ben Moore Command – Is primarily used in commercial applications. Command paint is waterborne paint and is recommended when durability and fast drying are essential.  It dries so hard that a forklift can drive over it in just 24 hours.  It also has an excellent self-leveling ability which makes it an ideal choice for kitchen cabinets. 
Ben Moore Aura – Is Ben Moore premium interior acrylic paint.
Ben Moore Advance – Ben Moore Advance paint lists for $60.00 per gallon.  With oil paints becoming phased out, Advance is a waterborne paint designed to have the look of oil without causing the icecaps to melt. 
C2 Cabinet Paint – C2 Cabinet paint is a high-end cabinet-grade paint retailing for $
C2 with hardener – C2 comes with a hardener for extra protection.  I decided to test it both with and without the hardener. 
PPG UltraLast  – Is Pittsburgh Paints premium line of paints.  It is their best line of paints recommended for kitchen cabinets.
Sherwin Williams Emerald Gloss-It retails for $90.00 per gallon.  Emerald Gloss covers well and is easy to apply. The question is how well does it self-levels and handles oils.  
PPG BreakThrough – This is a multipurpose quick-drying paint similar to Ben Moore Command.  It can be recoated in about an hour and is dry to the touch in 15 minutes.   
            Rules To Determine the Best Kitchen Cabinet Paint
All paint had 30 days to cure before testing began. 
Then the Crisco was spread evenly on both sides of the door.
Every week I would scratch the paint with my fingernail.  For three weeks, all eight paints held up very well.  However, after four weeks, the Emerald Urethane Gloss begins to scratch off a little.  
      What Is The Difference between Scratching off and Picking Off?
Scratching Off – refers to the paint coming off with little or moderate effort.  
Picking  – require more effort and the paint does not scratch off but rather a dugout.  
Who Has The Best kitchen Cabinet Paint After 13 Weeks?
It is too early to isolate what paint is the "best kitchen cabinet paint" at this point, but we certainly have some valuable conclusions.
First, shellac primer bonds better with the lacquer finish and the topcoats of paint.  For example, BreakThrough scrapped off rather easily with an oil primer, but not at all with a shellac primer.
Conversely, Emerald Urethane Gloss was the first to peel on both the oil and shellac side of the cabinet.
Secondly, the C2 paint benefited substantially with the hardener added.  Otherwise, it was able to be picked off. 
Ben Moore Aura for kitchen cabinets is the weakest of the three Ben Moore paints we tested.
In conclusion, the best kitchen cabinet paints to date are:
PPG UltraLast
Ben Moore Command
Ben Moore Advance
C2 with hardener