When Is The Best Time To Paint Your House In Columbus, Ohio?
Getting ready to hire painters? Check out our 15% discount below!
People often ask me.  When is the best time to paint the exterior of a home in Columbus?  The answer might surprise you.
The best time to paint your home is when the:
moisture content that you are painting is below 16%
temperature does not drop below 35 degrees for 24 hours
quality/premium products are being used.
Proper processes are being applied from prep to clean-up.
We follow all the above-mentioned requirements and are offering a 15% discount for exterior painting jobs over $1,200 for a very brief period.
Submit your information below and we will call you back quickly to schedule a FREE estimate with your 15% discount
Remember, just because a house looks great after being painted doesn't mean it will last for years.
Klappenberger & Son understands the processes for making the paint or staining on your house, deck, or fence last as long as possible.  We have developed best practices and tested those best practices for decades.  If you have talked to other painting contractors, most offer one-year warranties on exterior painting. 
Klappenberger & Son offers 5-year warranties on painting exterior wood surfaces and seven-year warranties on stucco and brick, vinyl, aluminum siding, and Hardy board.
Regardless of your chosen painting contractor, painting your home is not cheap.  Knowing the proper processes and paints for many different surfaces is challenging and time-consuming for the busy homeowner.
We simplify the process by offering 5-7 years of warranties; you can trust the job will last because Klappenberger & Son is the one absorbing the risk! 
At Klappenberger & Son, our trained professional painters and supervised step-by-step process ensure that each step is done correctly.  This gives you peace of mind knowing that if there is any chipping, peeling, or bubbling for the life of the warranty, we will repair the needed areas. 
In addition, don't be surprised if we call you up 3 or 4 years after we are finished and ask if we can inspect our work.
Our warranty is only available when we prime as needed and apply two finish coats of premium-grade paint. 
We Have Tested and Retested the Paints We Recommend
Klappenberger & Son has become a leader in testing paints among painting contractors. 
With over 70 popular paints tested, we have become the experts in knowing which paints are durable, cover, have the best workability, and have a smooth finish.
We Are More Than Just A Painting Company
Klappenberger & Son is a one-stop shop for home services.  Do you have a honey-do list?  Klappenberger & Son are experts in: 
Exterior and Interior Painting
Kitchen Cabinet painting and refinishing
Power washing
Removing wallpaper
Removing popcorn ceilings
Installing Shiplap siding
Crown molding
Replacing decks
Replacing rotten wood
Painting kitchen cabinets
Does Your Deck or Fence Need Some Love?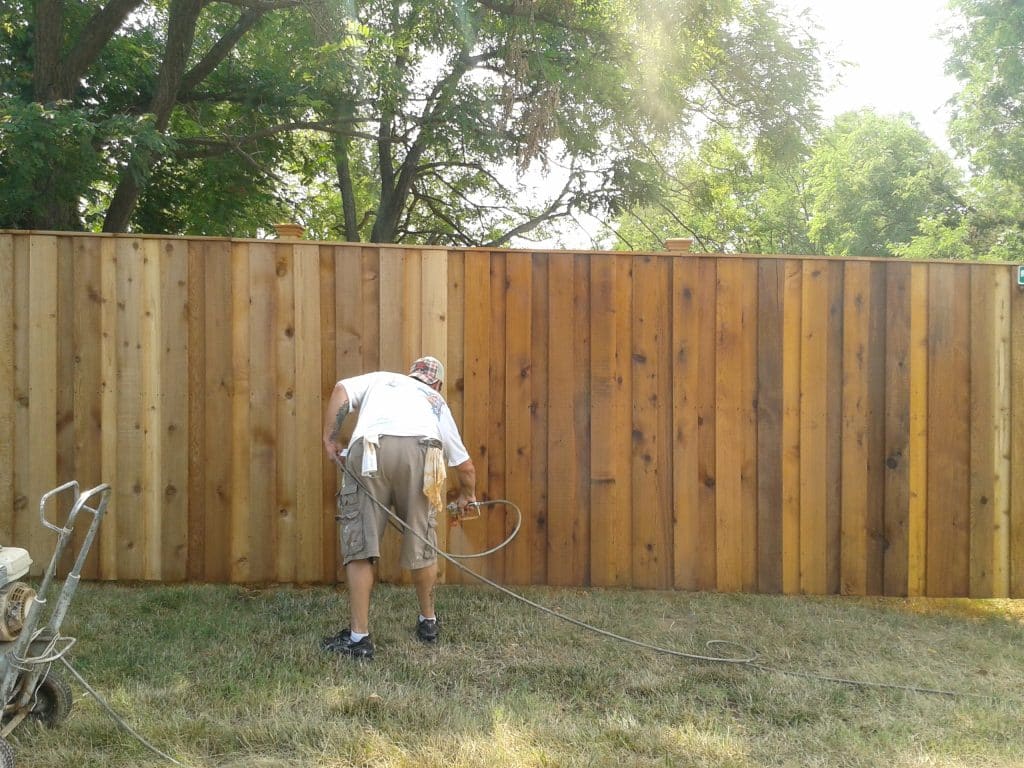 Please speak to our experts with decades of experience about the right product for your deck and fence.  At Klappenberger & Son have used products from Behr, Ben Moore, Olympic, Sherwin Williams, and Cabot's and can help you pick the right product for your specific needs.   We can recommend the right product for your deck or fence and typically give you a quote while we are there.
Don't miss out on our 15% discount!
15% might not seem like a lot, but we have only had two sales in the past 34 years, and they were both 10%.
This sale will end by July 31st. 
Call today for a free estimate and take advantage of our 15% discount!