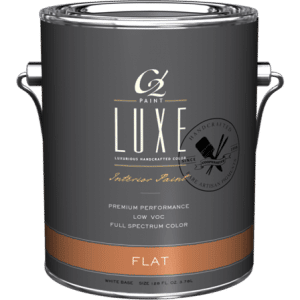 It is time for a C2 Luxe Flat Review!  C2 Has two grades of interior paint, Luxe, and Studio.  Luxe is the top-of-the-line paint that retails for $62.00. C2 Luxe comes in 6 different sheens from flat to gloss.  I will give compare C2 Luxe flat for its coverage, workability, washability, and touch-up capabilities.   I will also compare C2 Luxe Flat to other similarly priced paints.
If you are not familiar with C2, you are not alone.  The paint is manufactured in New York and is only sold in independently owned paint stores.  Their aim is to create the best paint with the most vibrant colors.  To get the most vibrant colors they don't use black.  Black absorbs light.  Do they sell black paint?  Yes.  How do they do that is a mystery.  But I have seen their tint machines and there is no black. 
In reviewing the C2Luxe paint I found that it covers as I would expect a premium grade paint to cover.  When changing colors or sheens it will need to coats.   The first coat covers, well but not enough. 
The same was true for rolling.  The first covered well, but it still needed two coats for complete coverage.
 Coverage score: 10 out of 10
Note: If the paint can cover a different color in two coats,  I always give a perfect score.
C2 Luxe Flat Review: Workability
The workability of this paint is good.  It does stick a little bit when I brush over flat paint but glides over an eggshell finish.  I was able to brush 28″ on a wall with one dip of a brush.  
Workability Score 8.5 out of 10
How do I score workability?  How far can I brush with one dip in a paint can?
18″ or less = 5
19″-21″ = 6
22″-23″= 7
24″-28″ = 8
29″-32″ = 9
Paints above 33″ = 10 
C2 Luxe Flat has excellent washability.  We applied catsup, mustard, pencil, crayon, coffee, and wine on the wall and allowed it to fully dry.   
We then cleaned it with Krud Kutter and a micro-fiber cleaning cloth.
The results were all stains were removed and there was no damage done to the wall.
Washability Score: 10 out of 10
Durability Score: 10 out of 10 
Only PPG Manor Hall Flat has comparable washability and durability.  
C2 Luxe Flat Touch-up
It is not unusual for Mid-grade flat paints to touch-up is better than premium flat paints.  It sounds strange but it's true.  So, when I touched up various areas on the wall I was delighted to see that they disappeared. 
Touch-up score: 10 out of 10
C2 Luxe Flat Review
  There is not much to say that is negative in my C2 Luxe Flat review.  
The coverage and workability of this paint are very good.  The washability, durability, and touch-up ability were perfect.   
However, I did notice that the dark colors could easily be marked up by just barely touching it.  Because the paint was so flat it marked easy.  Wiping it off with a damp cloth removed the marks.  This is most likely due to all the pigment in the paint. 
Pigment never helps paint.  The pigment can certainly hinder both washability and durability.  
The C2 Luxe Flat paint retails for $62.00.  The only paint that I would consider it's equal would be the PPG Manor Hall flat.   Manor Hall flat retails for $55.00 a gallon but might not be able to be matched to the exact colors from C2 pallets.  
More awesome blogs
C2 Luxe Flat review is done by painting contractor Klappenberger & Son. We evaluate the coverage, workability, washability, and touch-up.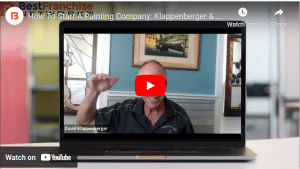 We were featured on Best Franchise Networks' Podcast – check it out!
Read More »