Kitchen Cabinet Painting Trends 2023
Kitchen cabinet painting trends are still trending with white and off-white, but neutral earth-tone colors are in style too.
If you have stained oak cabinets from the past 20-40 years,  they will probably not look too trendy right now. As long as the cabinets are structurally sound, they are candidates to be painted.
How Long Can White Cabinets Stay Trending? 
According to Reico Kitchen Cabinets, white kitchen cabinets are still popular, but the trends are starting to change.  Consumers are buying white shake style cabinets with blue accent islands.  Another common color choice for kitchen cabinets is gray and warm putty tones.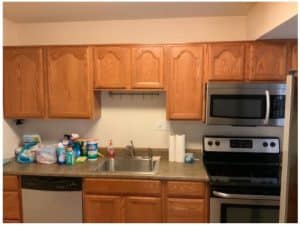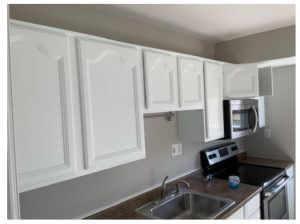 The industry is in the process of pushing more 1950 and 60's colors.  This will include a large swath of greens that can vary from earth tones to teal.
Expert kitchen designer Stacey Morningstar from Rieco.  "Straight white cabinets will give your kitchen a clean look but will most likely be a supporting character for something else in the room—for example, an attractive backsplash, or a wolf stove and stunning exhaust vent. If everything is white a neutral, then the overall effect can look a bit boring and sterile.
According to Home & Gardens, the trend moves away from straight white and more, instead of incorporating multiple colors.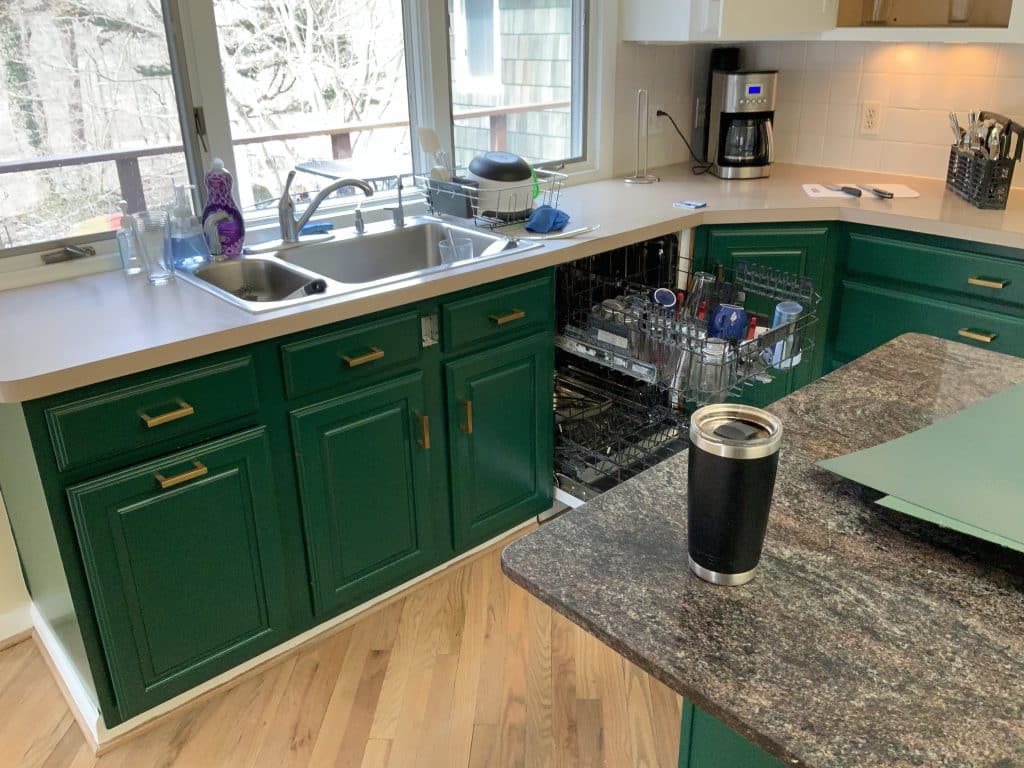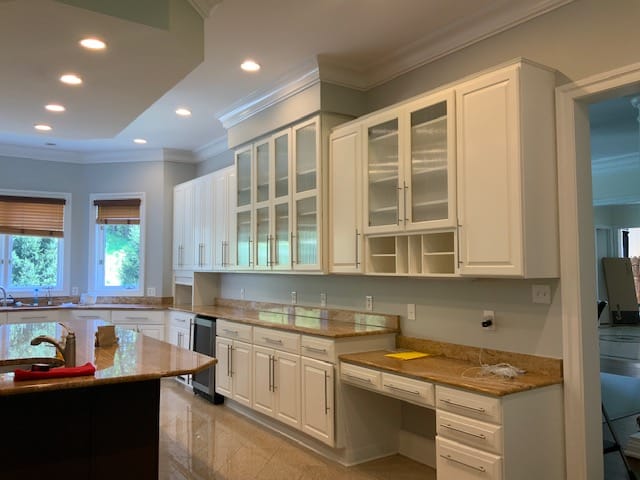 Mistakes to avoid when painting kitchen cabinets.
     The warm color floor and the cool white kitchen cabinets don't work well.
     The knobs are dated. Update knobs and handles
     The clutter on top of the kitchen cabinets bothers me.
     The kitchen island could be painted a different color to add interest.
In contrast, this kitchen checks all the boxes to coordinating a beautiful kitchen.
Blue backsplash offers interest.
Floor compliments cabinet color
A mixture of knobs and handles
Countertop works great with all colors.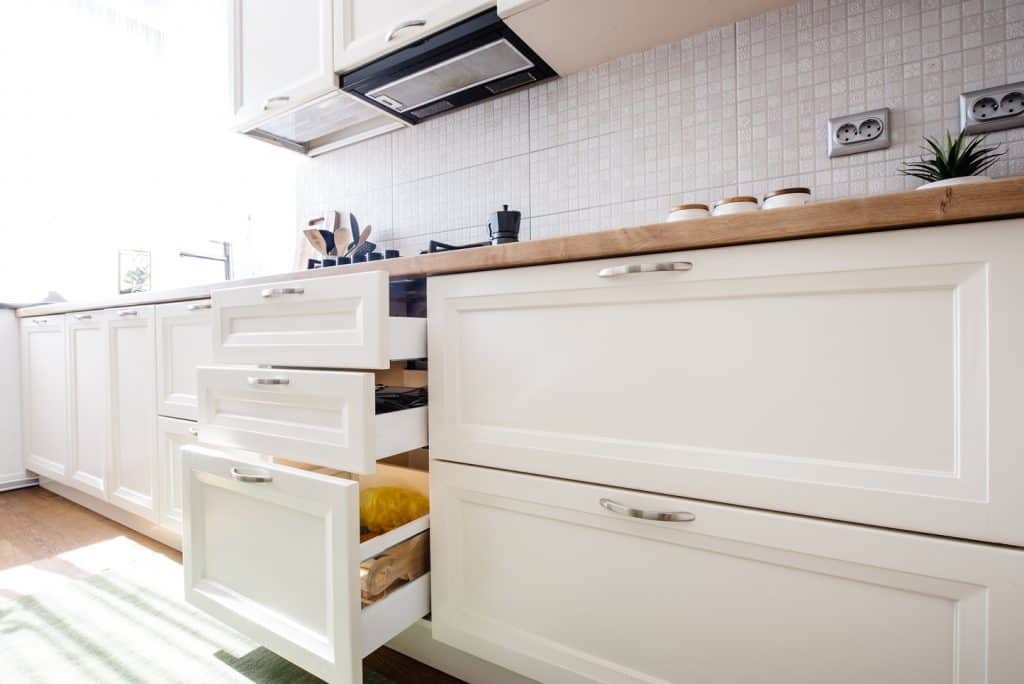 Having your kitchen cabinets painted white with nothing to grab your attention is like having a rhythm section with no lead vocals or soloist. The kitchen island takes center stage like Rod Stewert in concert.
Painting cabinets in two colors is one of my favorite ways to create a new and exciting kitchen.  Painting kitchen islands a dark espresso color has been a trend for years. 
In 2023 kitchen cabinet trends still point to dark hues but more toward vibrant colors like this navy blue.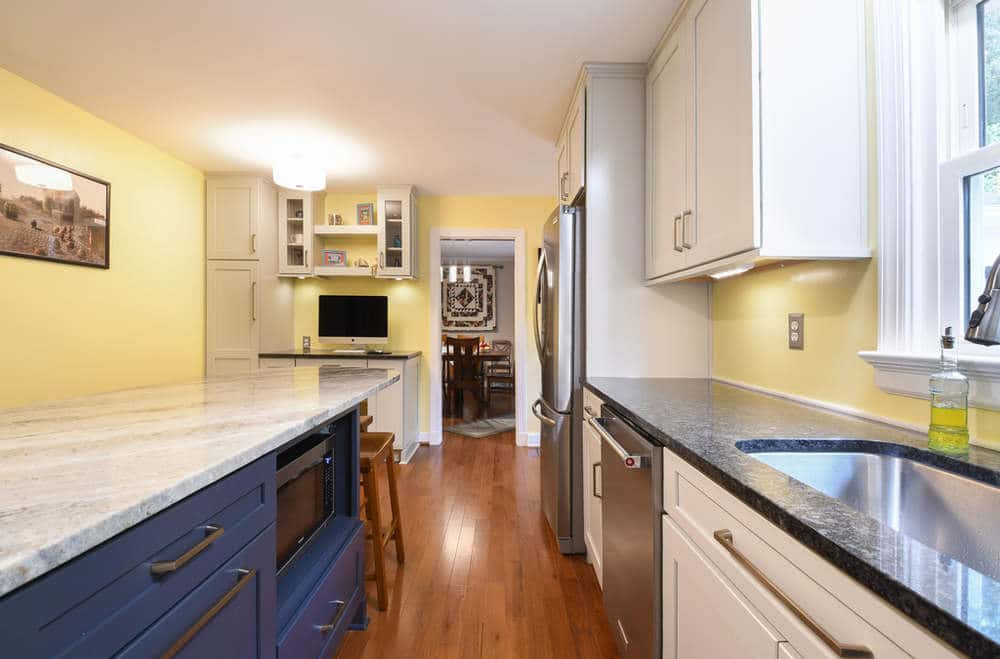 Dark Base cabinets and kitchen islands are trending very strongly.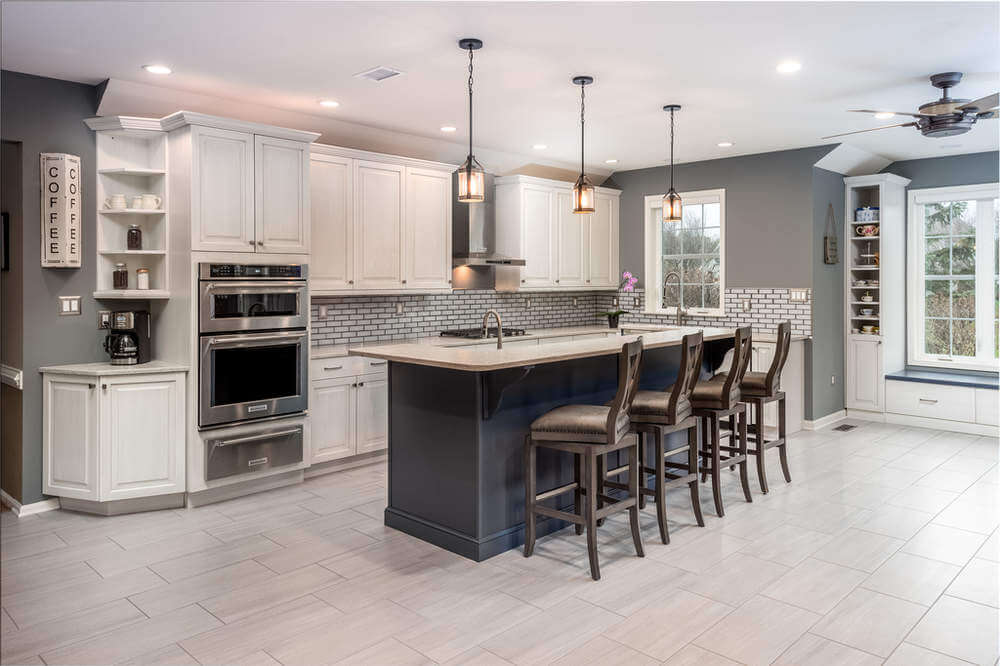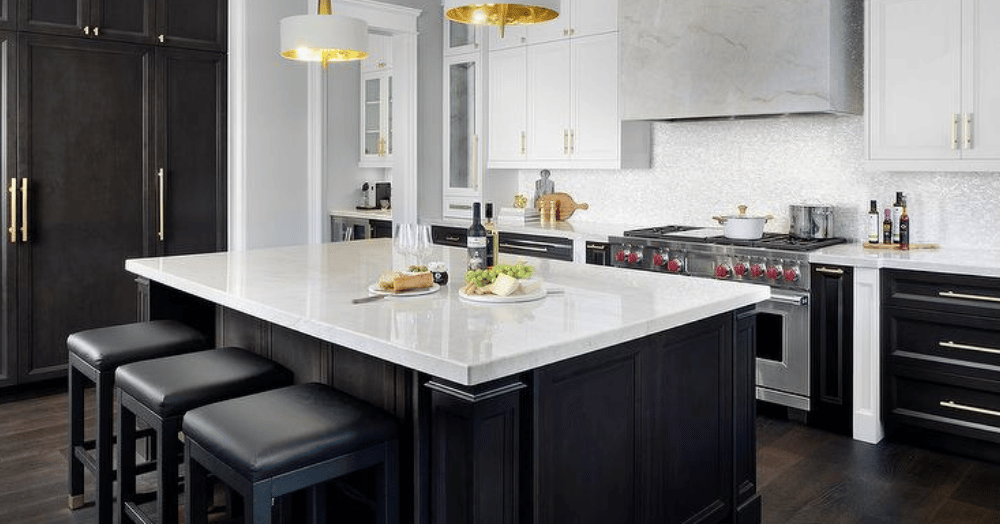 Picking the right sheen for your Kitchen Cabinets
The sheen can also inspire ideas for painting kitchen cabinets.
Typically, cabinets are painted a satin sheen, slightly less than a semi-gloss.
If you want your kitchen to pop, try an intense color and paint it in a high gloss paint like the one shown below.
The standard sheen for most kitchen cabinets is a satin finish. 
Satin finishes are very durable and washable. 
Klappenberger & Son has had great success with a cabinet-grade paint called C2.  C2 has a harder that prevents chipping and peeling.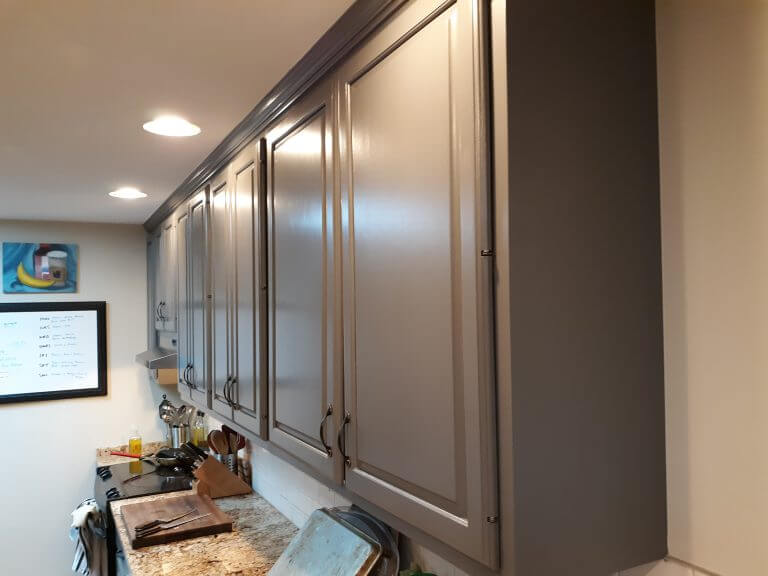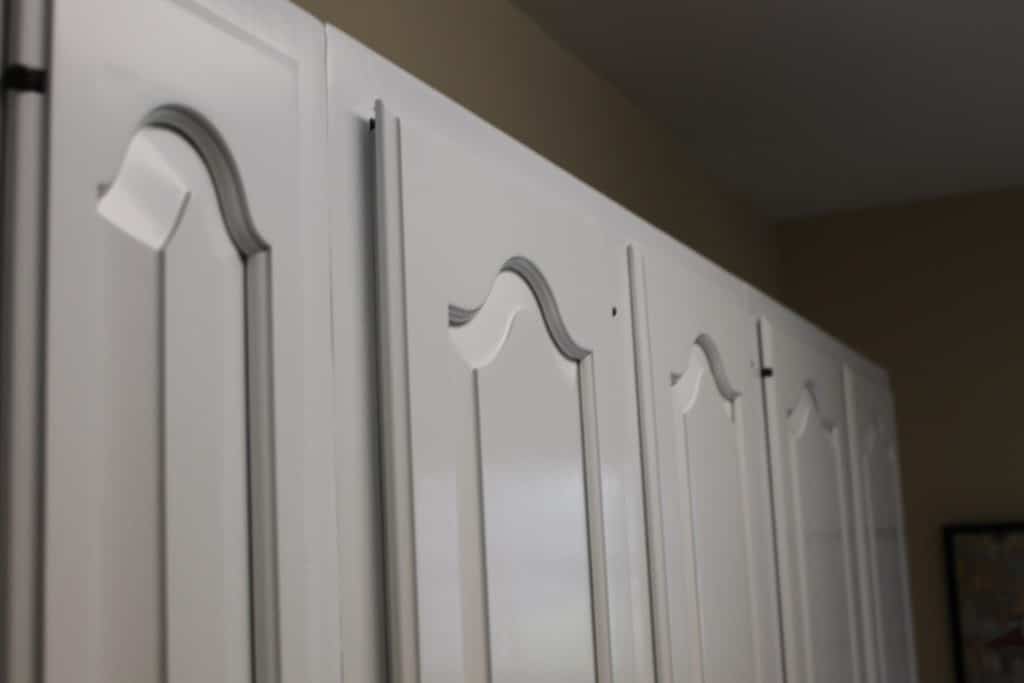 High Gloss Cabinets
A warning about applying high gloss paint.
Some gloss paint is difficult to apply.
For best results, spray the paint.
Gloss paint highlights imperfections.
To achieve the highest sheen, I suggest Fine Paints of Europe Brilliant Holland Lac.
If you do not have any spraying experience, I would suggest you hire a professional painting contractor such as Klappenberger & Son.
Klappenberger & Son use cabinet grade paint and a harder to improve the durability and washability of the paint.  Out Kitchen cabinets come with a 5-year warranty against chipping and peeling. 
Don't Forget About The Hardware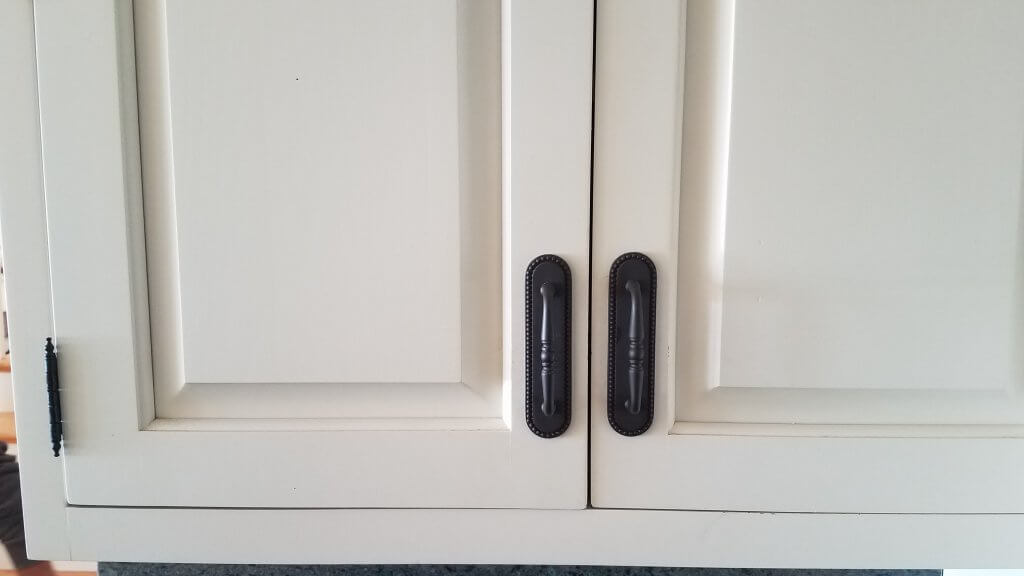 Thousands of handles and knobs can add so much character and interest to your kitchen's look.
The ideas and combinations are endless, and there is no reason to limit yourself to just one or two styles.
Adding kitchen pieces that don't match has been the norm.
It wasn't until the 1920s that kitchen cabinets began to appear. Food and utensils, etc., were stored in random pieces of furniture and shelves in the kitchen. In essence, it was a mixed match of different types of furniture, tables, and shelving. There were no monolithic kitchen cabinets until 1925, when the Franfurt cabinets were first made in Germany.
Incorporating different sizes and styles was the only option. One piece of furniture would be used for cutting and storage and another for some other practical function. This is why painting different colors and adding different hardware can create your own personal space.