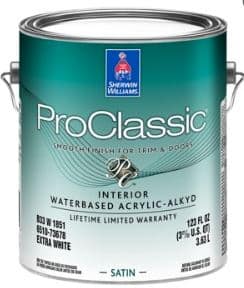 Sherwin Williams has many different grades and sheen of paints.  The multitude of different paints is to satisfy the marketplace for various purposes.    Some paints have a lower odor or even absorb smells.   
 So what is the purpose of SW ProClassic Satin Water-based Acrylic Alkyd paint?
This paint is ideal for smooth interior surfaces.  
It is an interior waterborne paint, and Sherwin Williams recommends using it for interior trim, bookcases, and cabinets.
Retail price per gal $102.00 (2023 price)
Sale Price $85.00
How Well Does SW ProClassic Acrylic Aklyd Cover?
ProClassic Acrylic Alkyd paint is a waterborne product with excellent coverage.  I got near 100% coverage with just one coat of paint over this mid-tone color.  The coverage was superior to any satin paint I have ever used.
Coverage Score 10 out of 10
Workability of SW ProClassic Satin Finish
The workability of SW ProClassic Satin is excellent!
Ease of brushing – Very easy paint to work with,   and it spreads like melted butter!
Brushing distance – I can brush between 36″-42″″ with one dip of the brush, which is superb.  
Working Time – I was able to go back and re-brush areas up to three minutes after I painted.  Few other paints have this type of longevity.  Ben Moore Command and Fine Paints of Europe Eco also have long working times.  
Workability Score 10 out of 10.
Washability and Durability of SW ProClassic Satin Finish
When grading the washability and durability of paint, I put the all paints through the exact same test.   First, I apply two coats on separate days and allow at least 14 days to cure.  Next, I apply catsup, mustard, pencil, coffee, red wine, crayon on the surface and allow at least 24 hours for it to dry.  
I then clean with a multitude of cleaners including:
Simple Green
Krud Kutter
Spray Nine
and bleach and water
 The results were very good.  All stains were removed except the slightest bit of turmeric left from the mustard.   
Furthermore, there was no damage done to the finish after multiple cleanings.  The durability of this paint was excellent.  
Washability and Durability Score 10 out of 10
How Well Does The ProClassic Waterbased Acrylic Alkyd Paint Level?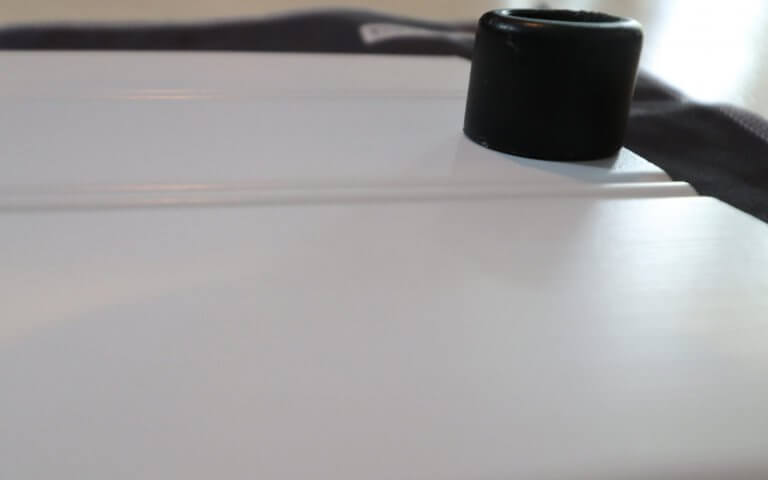 Sherwin Williams ProClassic self-levels very well.  Therefore it makes it ideal for painting any interior wood projects around the house.  ProClassic could easily be my go-to paint for bookcases, furniture, and interior trim.  
Can ProClassic Waterbased Acrylic Alkyd Paint With Stand The Punishment That Kitchen Cabinets Get?
Sherwin Williams recommends this paint for kitchen cabinets, and we have already tested its washability and durability, and it performs very well. 
Furthermore, it does a great job in coverage and self-leveling, making it ideal for painting kitchen cabinets.
However, oils from our fingers are invariable get on areas we touch on the cabinets.  Over time these oils penetrate the paint and can break the adhesion between the primer and the top coat of paint.
As the video shows, ProClassic Acrylic Alkyd could not block the oils from breaking the adhesion between the primer and the topcoats.  
In other words, the paint scratched off.
To properly determine the value, we need to consider two things.  Firstly, what is the cost?  $102.00 retail and $85.00 sale price.
Secondly, when would I use ProClassic Acrylic Alkyd? 
When coverage, washability, and durability are necessary on flat wood surfaces other than kitchen cabinets.  
This would be a great paint to use on:
bookcases
built-ins
mantles
interior trim
This paint covers very well.  It would also be a go-to choice for painting if I was changing color and I wanted to get away with the fewest amounts of coats.
In short, I love this paint.  Its workability and coverage were its strongest points.  I have no problem recommending this paint for interior projects except kitchen cabinets.
Overall Score 10 out of 10