Wallpaper Removal or Painting Wallpaper
Painting Over and/or Removing Wallpaper: 3 Rules, 6 Steps
I often think of wallpaper removal as what purgatory must be like. In purgatory, I envision a matter-of-fact man saying, "When you get the wallpaper removed in this room, I have another one ready for you." It's tedious work, and there's no real easy way to get stubborn wallpaper off. Whether you use chemicals, a steamer, or a Tiger Claw, it takes time to remove wallpaper. So, what are your best options for removing wallpaper?
Announce to all of your Facebook friends that you're having a wallpaper stripping party with free pizza. When no one shows, order your favorite small pizza.
Hire professionals such as Klappenberger & Son
Paint over it.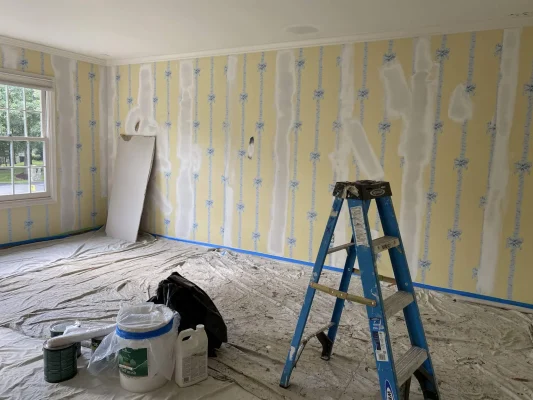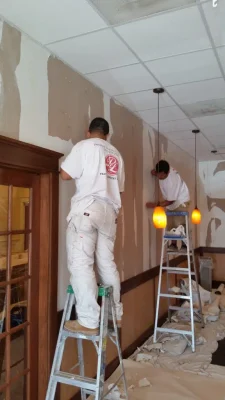 From tiny, postage stamp-sized fragments to large, simple full-sized sheets, wallpaper will come off in any size in between. There is no way to tell by looking at it. Only when you start to remove it will you get a good idea. 
I have stripped rooms where the wallpaper came off one wall with little effort, while the next was slow and difficult. Knowing the previous product under the wallpaper will give you an idea of what you are up against. Here is what I have discovered.
| | | | |
| --- | --- | --- | --- |
| The Surface Under the Wallpaper |     Very Difficult  |     Moderately Difficult |            Easy to Remove |
| Unpainted drywall  |              X |   |   |
| Two layers of wallpaper |              X |   |   |
| Flat paint on walls |              X |             X |   |
| Low sheen or Semi-gloss on walls |   |             X |                  X |
| Walls were sized |   |   |                  X |
Best Practices: Follow These 3 Rules If You Are Removing Wallpaper
Rule #1 
If the wallpaper has the slightest texture, it should be removed. My recommendation is: don't paint over it. It won't help down the road when you want to sell your house.
Rule #2
If the wallpaper is in a full bath or kitchen, your best bet is to remove all of the wallpaper. Why? Because the steam from the shower or the abuse that a kitchen takes can cause the wallpaper adhesion to break over time. If the bathroom does not have a shower, it is safe to paint over.
Rule# 3
Try removing the wallpaper first. If it comes off in postage stamp sizes, stop and think about painting over it.  Wherever you started, you will have to remove 100% of the paper and 100% of the glue, and spackle the edges for a smooth transition. Don't worry, a good spackle and sanding job will hide where you started and where you stopped; just make sure the glue is 100% off.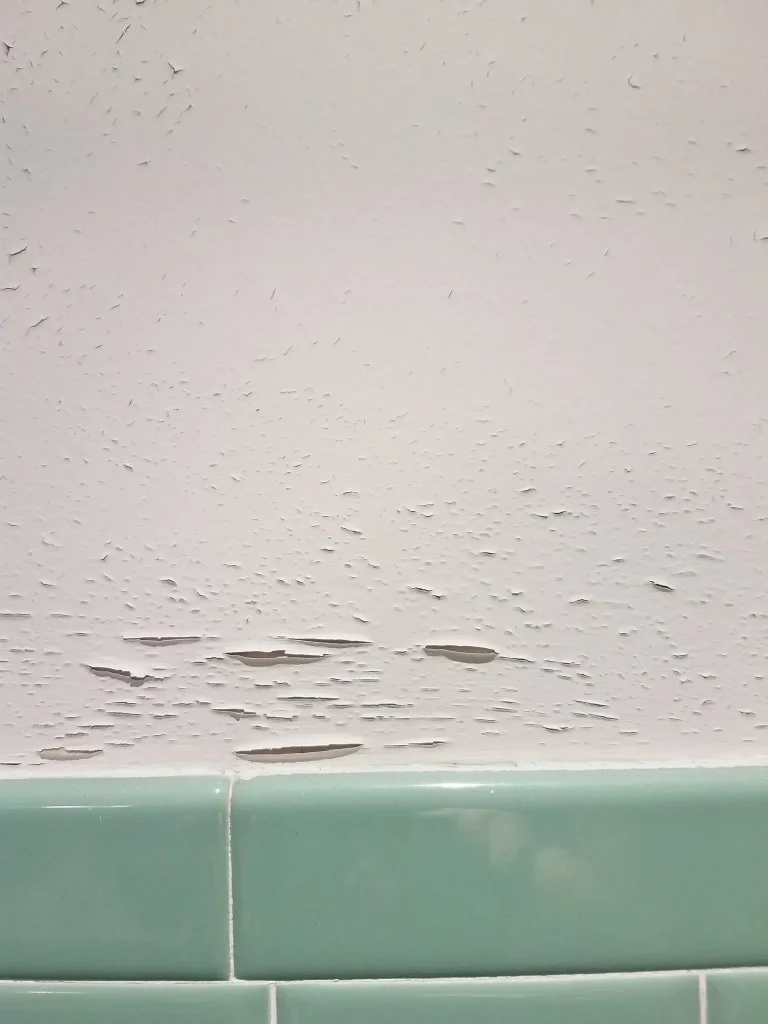 Painting Over Wallpaper
When painting over wallpaper, using oil and shellac primers are a safer bet to avoid the wallpaper peeling. Oil and shellac primers do not penetrate the surface of the wallpaper like latex primers do. They sit on top of the paper and seal it. If you dare to use a latex primer, make sure it is a primer-sealer, not a bonding primer. I've used latex sealers before. Sometimes they work, while other times they can make the wallpaper bubble in spots. Only once did I prime with a latex primer, and all the wallpaper bubbled everywhere.  In fact, it acted as a stripper, and we ended up removing all the wallpaper.   
Best Practices For Painting Over Wallpaper
Use an oil primer-sealer or a latex drywall conditioner. You may as well have the primer color-tinted to the wall color. It might save you from applying an additional coat of paint!
Spackle the seams on wallpaper and sand. A thin layer of spackle is all you need. Don't build the spackle up to resemble a community speed bump.  Apply a tight spread of spackle to bridge the seams.
If you don't like spackle dust everywhere, I recommend you buy a sanding attachment and hook it to a shop vac.  Sanding vacuum attachments can be purchased at any big-box hardware or Sherwin Williams store.
After sanding the spackle, caulk the edges of the wallpaper to the trim with a premium acrylic caulk. 
Prime spackled areas with an all-purpose primer.  The spackled areas need priming before the topcoat is applied.
I recommend painting over wallpaper with flat paint because it hides imperfections. Low Sheen and Eggshell finishes would be fine, but they show flaws more than a flat. If you choose an eggshell paint, it may be necessary to go back and spackle a few more areas again to smooth out differences.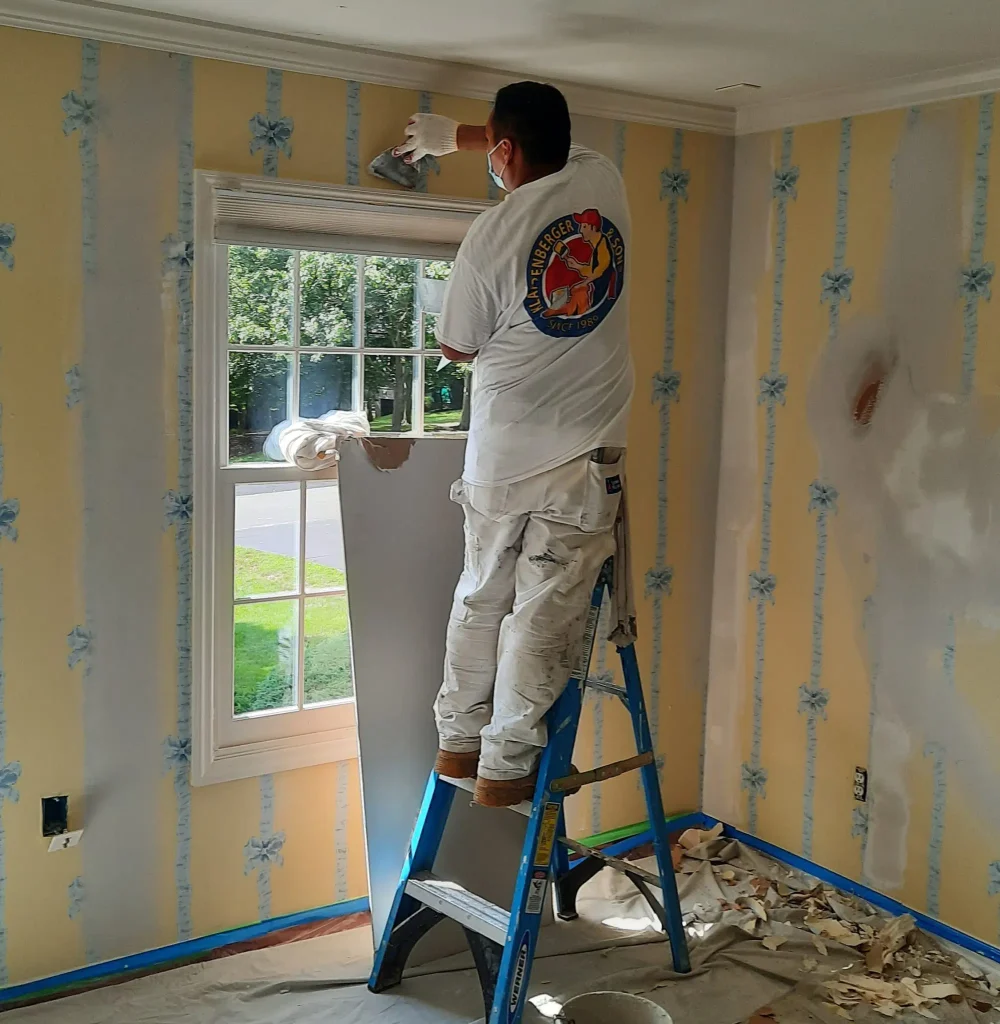 FAQs - Painting Over Wallpaper
Question:  What if the wallpaper peels down the road?
Answer: In 30 years, that has only happened once. We cut out the two peeling pieces, removed 100% of the glue, primed, spackled, and painted, and it disappeared. Remember, don't paint over wallpaper in bathrooms because the humidity from the shower weakens the adhesion of the wallpaper glue.
Question: Is it faster to paint over wallpaper than to remove it?  
Answer: It is hard to say because every room is different, but it typically reduces the time of work from 10 hours (moderate) to 3 hours!
Question: Will anyone be able to tell that we painted over wallpaper?
Answer: If the wallpaper has no texture and the spackle was correctly done, then no way.  Not a chance.
We have painted wallpaper and borders on top of the wallpaper, and you can't tell.
Question: Can wallpaper still be removed after it has been painted?
Answer: No. But let me ask you a question: Why would you? When you buy drywall, it has a sheet of paper covering the white chalky substance. 
Have you ever had a desire or need to remove that? 
Now you have drywall with two sheets of paper on it. That's a good thing!