Whether you are a DIY or a painting contractor it great information to know what SW paint covers the best.  70- 85% of the cost for a painting contractor is in their labor costs.  If a painting contractor is using paint that covers well it can reduce the number of coats and therefore the cost of the job. 
To be fair, many painting contractors including myself did not really know which paints covered the best.  We had our guesses, and our go-to paints, but did we really go as far as to have a blind study on various background colors?  I'll answer the easy ones for you.  No. 
I have to admit I've always believed that the more expensive the paint the better it would probably cover.  My experience told me that Duration covered better than SuperPaint and ProMar 200.  And this proved to be true.
However, there were two SW brands that are less expensive than Duration and cover substantially better! 
            A Blind Study To Evaluate What SW Paint Covers The Best
The judges were not blind, but they didn't know which interior paint brand they were observing.   There were seven brushed areas with an equal amount of paint used and applied.    Even the applicator of the paint, me, didn't know which paint I was applying.  
Each judge viewed alone so there wouldn't be any groupthink decisions.
Two of the judges worked for Sherwin Williams, a third was a sniper for the secret service, and the fourth was my 15-year old nephew, who took the task very seriously.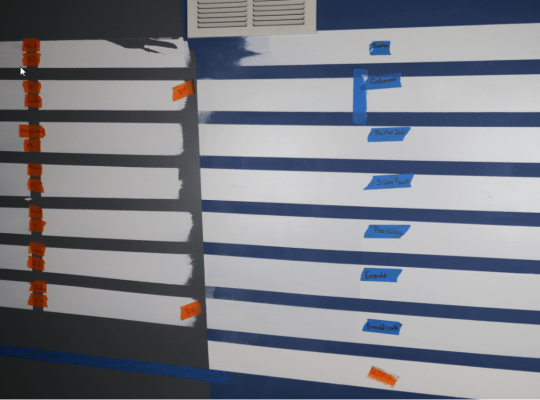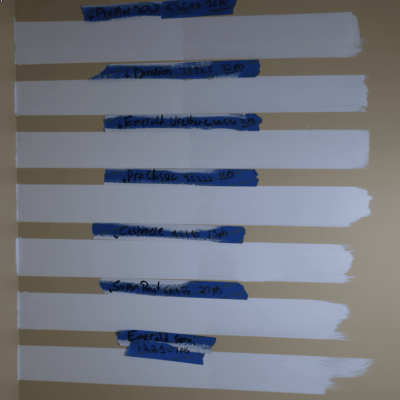 Multiple Tests To Determine What SW Paint Covers The Best
I tested the seven Sherwin Williams White Semi-gloss paints in several ways.  First, I applied the paint on three different walls.  The base coats on the walls were three different sheens and colors.
Wall #1 dark blue flat sheen
Wall #2 gray primer wall with a matte finish
Walls #3 mid tone tan color with an eggshell sheen
Note:  I understand that it is incredibly difficult to determine from the photographs which paint cover the better than another. 
                          The Seven Sherwin Williams Semi-Gloss White Paints
First, let's discuss the seven Sherwin Williams paints I tested.  In order from least expensive to most.  The prices given are what a contractor would pay and the actual retail price.
Test #1:  Covering A Mid-Tone Color With White Semi-Gloss
Of the 3 challenges, this was the easiest one to judge.  It was easiest for me to see the differences of each paint after the first coat dried.
 For example, after the first coat, Cashmere Medium Luster brush strokes disappeared.  It self-leveled as a cabinet-grade paint does.   While other paints like ProMar 200 and Emerald both had distinct brush strokes.
Again, Duration did not do well on the first pass, but it scored Second Best on the second coat. 
Test #3: Dark Blue Flat Wall & 3 Coats of White Semi-Gloss
This dark blue example took three coats of paint from each SW interior white.  All other walls received 2 coats. 
| | | | |
| --- | --- | --- | --- |
| Sherwin Williams White Semi-gloss | Paint Coverage Best to Worst | Judges Score 1-7 (fewer points = better score) | Total Score |
| Duration | 2nd place | 5,2,2,2 | 11 points |
| Cashmere | 1st place | 1,1,1,1 | 4 points |
| ProMar 200 | 7th Place | 6,7,7,6 | 26 points |
| SuperPaint | 4th place | 4,4,5,5 | 18 points |
| ProClassic | 3rd Place | 3,3,3,6 | 15 points |
| Emerald Semi- | 6th Place | 2,5,6,4 | 17 points |
| Emerald Urethane | 7th place | 7,4,4,7 | 22 points |
What SW semi-gloss paint covers the best over a dark blue wall?
All judges came to the same independent conclusion, that Cashmere had the best coverage, and Duration should get an honorable mention.
Furthermore, all judges concluded that the worst covering SW semi-gloss paint was Emerald Urethane and ProMar 200.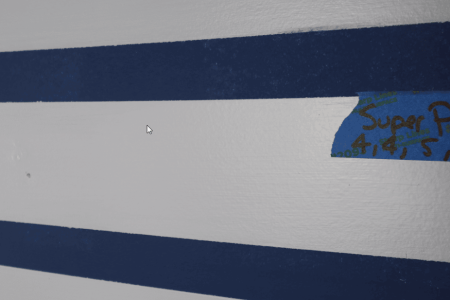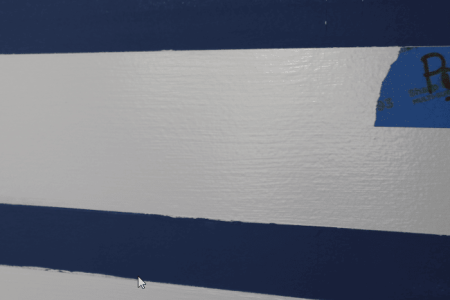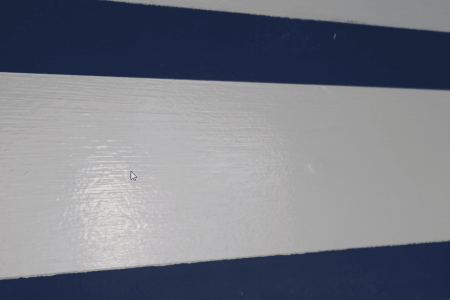 Test #4: Gray Primer Wall
| | | |
| --- | --- | --- |
| Sherwin Williams White Semi-gloss | Paint Coverage Best to Worst | Points |
| Duration | Tied for 3rd | 3,5 |
| Cashmere | First Place | 1,1 |
| ProMar 200 | 5th Place | 7,7 |
| SuperPaint | Tied for 3rd | 4,4 |
| ProClassic | 2nd Place | 2,2 |
| Emerald Semi- | Tied for 3rd | 5,3 |
| Emerald Urethane | 4th place | 6,6 |
                                           What SW Paint Covers The Best?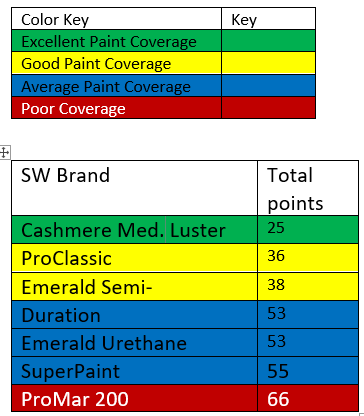 "You get what you pay for" does not apply to coverage from SW Interior semi-gloss paint.  With two exceptions out of 12 possibilities, Duration and both Emeralds finished outside of first or second place.  
However, the least expensive paint we tested, ProMar 200, failed to get out of the bottom dwellers, except it did cover over a slight off-white semi-gloss in two coats. 
If you are changing from a dark to light color, all seven paints required 3 coats.    None of the Sherwin Williams semi-gloss white paints came close to covering the dark blue wall in two coats.
However, when the colors and sheen are similar, all SW paints covered in one coat except Duration.  Again, If you are trying to get away with one coat,  the Sherwin Williams medium luster gave you the best opportunity.
Klappenberger & Son has dived deep to explore the pros and cons of several Sherwin Williams products such as: