Gone are the days when carpet-dominated homes. While carpet certainly hasn't gone away, today, LVT luxury vinyl tile is now the dominant floor going in homes in 2023.  Whether you have hardwood flooring or LVT, they create a sleek appearance and don't hold onto dust and grime-like carpet. 
 We'll help you pick the best wall colors for dark wood floors.   This article will help you determine which wall colors for dark wood floors work best.
Get a Free Quote
Your flooring may taupe, cream, or black. It may be stained with a honey, gray, or espresso stain. They may be left the natural color of the wood. Whatever the color of your hardwoods, you want to make sure you choose colors for your walls that will work well with your floors to create the atmosphere you desire in your home.
Need Help?
To help you choose the right colors, you can always contact us for a free consultation.

Do you want guests to feel awe at the elegant drama of strong contrast? Do you want them to feel relaxed in a bright, airy atmosphere?  Or do you want them to feel the warmth and coziness of dark, rich colors? Whatever effect you desire, you can achieve it. It just requires understanding how colors affect a space's feel and how certain colors work together. In this post, we'll review the basics you need to know to make an informed decision.
Whether you're designing the interior of your new home or refreshing the interior of your existing home, you want to get it right the first time rather than regret your decision after living with wall color for a week or two. To help you make the right decision, we'll look at the best wall colors for light, dark and medium-tone hardwood floors. Then, we'll talk about ways you can achieve balance with your color choices. Finally, we'll examine what colors and color combinations were trending in 2023.

Whether it's ash, birch, bamboo, white oak, or some other light wood, many people appreciate light hardwood floors for their ability to clean and bright feel. If this is what you love about your light wood floors, the best way to accentuate this feature is by keeping your walls light in color, as well. Light floors and light walls together can make a room feel more open, especially if you also have plenty of natural light coming in through windows. Here are some of the best wall paint colors to consider for your light hardwood floors:
1. White
White is a timeless wall color that is sure to brighten up any space. If you've ever looked through paint colors before, you know there are nearly infinite shades of white to choose from. While this can seem overwhelming, the advantage is that you can find the perfect shade of white for your space. Off-white shades are popular because they appear softer than a stark white. Choose a white that has either cool or warm undertones to match the wood tones in your flooring.
2. Cream
The cream has more yellow in it than white or off-white shades, which gives it a warmth and richness that white doesn't have. Because the cream is a warm color, only use it if your floors have warm undertones. If you decide to paint your walls cream, look for a shade with just enough color to appear warm without being too dark.
3. Gray
Light gray is another good neutral to consider. As with white, it can come in a plethora of shades, so make sure you choose one with the right undertones to compliment your floors. Technically, undertones can be pink, blue, green, or any other color, but the simplest way to account for undertones is to determine whether your floors have warm or cool undertones and then assess each paint color to see whether it is a warm or cool gray. If your floors themselves are gray, gray walls are not the right choice.
4. Beige, Greige, or Taupe
Shades of beige and taupe have long been popular neutral shades that offer a bit more color than white or gray and are typically darker than cream. "Greige" is the term given to the group of colors that are a combination of cool gray and warm beige. Beige, greige, and taupe are all great options if you want a richer color on your walls while staying in the neutral family.
5. Tan
Tan walls work well if you want even more color on your walls while remaining neutral. The range of tans can vary from light to dark, but they tend to stay pretty warm. Therefore, tan walls work best with hardwood floors that are warm in color. For example, honey oak floors would pair nicely with tan walls.
If you're going for the light, airy look, and you go with a shade of white or off-white for your walls, paint your trim the same color as your walls. If you opt for more color on the walls, paint trims white for a bold contrast. No matter what color you choose for your trim, you should use a semi-gloss or high-gloss finish on the trim so it can handle more wear than your walls.
If you aren't after the bright and clean look and would rather be bolder with your color choice, you can do that while still staying consistent with the undertones in your wood floors. Just make sure you match the wall and floor color undertones. If your floors have cool, ashy undertones, yellow or orange walls will look out of place, but cool blues and greens would pair well with your floors. If your floors have warm undertones, you can go for cream or yellow shades or something bolder, like a red clay color.
Wall Colors for Dark Wood Floors
Dark hardwood floors can be stained as dark as espresso or black. Dark hardwoods are especially popular now, possibly because they can have a dramatic effect. Generally, dark hardwoods make the space feel more formal or high-end. While these are positive aspects of dark hardwood floors, the negative aspect is that they tend to make space feel smaller. The dark floor and fixtures give a sophisticated contrast without being jarring.  The warmth of all the colors and walls reduces the energy, which is ideal in a bathroom.
1. Keep Walls Pale
Generally, the best wall colors for dark wood floors are light. If you want to balance your dark floors and create contrast, white is a great choice. As mentioned before, you can choose a stark, cool white or a warmer off-white or even ivory or cream. For more color, you could choose the lightest shade of a color you like. The idea is to pick a contrasting color. Otherwise, your rooms may feel too dark and closed-in.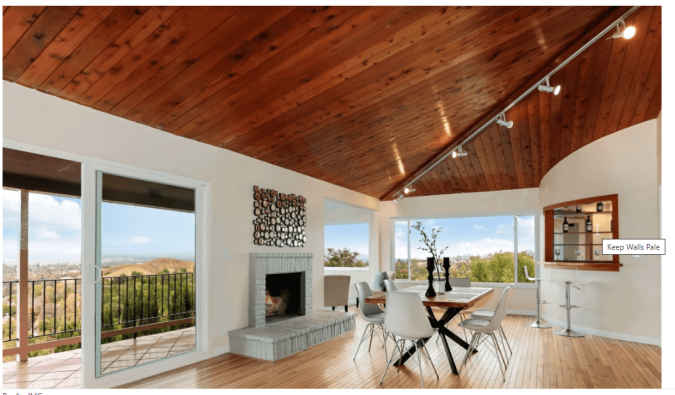 2. Split the Difference
If you have wainscoting or a chair rail around a room, a great option is to paint the wainscoting or chair rail white and paint the remaining walls a dark color. This wall color combination creates a stark contrast and a dramatic, elegant look. Since the darker walls are separated from the floor by a white section, you can get away with using a darker color.
3. Choose an Accent Wall
Another option for adding some contrast and drama, which works well if you don't have wainscoting or chair rail, is to paint three out of four walls in a room a light, neutral color, like white, and to paint the fourth wall a bolder color. This option allows you to incorporate that bold color you love without swallowing up your whole room in it and making the space appear too dark or small.

Wall Colors for Medium and Dark Wood Floors
If you wouldn't consider your floors to be dark or light, then they fall somewhere in between. Medium tone hardwoods are extremely versatile, meaning the potential wall colors are endless. The same "rules" we've already discussed still apply here, so reviewing those is a good place to start. The two main things to remember are that white and pale colors on walls create a more open, airy feel, and darker colors can create more drama but should be used sparingly.

The third rule of thumb to remember is that you should choose a color with undertones to match your floors or compliment them no matter how dark or light the shade. Remember, complementary colors are opposite each other on the color wheel. So, let's say you want to paint your walls blue, a color of enduring popularity. The best floor colors would either be hardwoods with cool, bluish undertones or warm hardwoods with orange undertones since orange is complementary to blue.
That said, you typically choose your floor colors first and then select wall colors to match. But, if you have your heart set on a specific color for your walls, it's not a bad idea to factor that in when choosing a stain for your flooring.
Since you can go light or dark with medium-toned floors, you may want to keep most rooms, such as living spaces, dining room, and kitchen, light and paint bedrooms a darker color. Making a room feel larger is usually less of a concern in bedrooms, and darker colors may make for more restful sleep.
How to Balance Colors Throughout Your Home
When you're choosing colors for your home, you have to think big picture. Your floors, walls, furniture, decor, and lighting all work together to create a color scheme and a certain effect. You want to make sure the color scheme and the effect all these elements create is what you're going for. So, let's look at how you can effectively balance colors to achieve your desired effect. If you are also doing a DIY flooring job, you are in an opportune position to experiment matching your existing paint colors and then developing your paint choices after seeing the results.

1. Open vs. Closed Floor Plan
Part of choosing the right paint color has to do with the overall floor plan of your house. If your home has an open floor plan, then you should choose a light, neutral shade for your walls that works well with the furniture and decor in every room so you can cover almost all your walls in the same color. You can pull out certain colors you want to feature in each space through the use of pops of color in your furniture or decor.
For example, you may have light, gray walls and espresso floors throughout your home, but your living room may feature pops of bright, sunny yellow in an area rug and throw pillows on the sofa. Your kitchen may not have a trace of yellow insight and instead highlight vibrant greens in the backsplash, stools at the island, and fresh herbs in a planter.

If the rooms in your home are more distinctly separated from each other, then you have the liberty to choose different wall colors for each room, but it's still typically best to stay within the same family. This helps to create a cohesiveness that ties each room together. You may want to use light neutral colors on most walls but choose an accent wall in some rooms to highlight with a bolder color that suits that particular room. And again, you can use furniture, rugs, or other decors to help you incorporate colors you love.
2. Lightness vs. Darkness
Regardless of your home's layout, balancing colors is important when it comes to light and dark colors. For example, if your floors are dark and you're set on having dark-colored walls, then you need a light element to bring some balance and contrast.
A light-colored area rug can be an excellent way of doing this. As we mentioned previously, another good way is with white trim, especially if you have wainscoting or a chair rail. If you have a brick fireplace, consider painting the brick white or whitewashing it to help break up the dark walls.  Perhaps your kitchen cabinets are white; then you can get away with a darker color on the walls in your kitchen.
If you go with darker colors, make sure you have plenty of lighting from light fixtures or natural light to keep the room from feeling too dark.
By the same token, if your walls and floors are both lights, then it's a good idea to pull in some darker elements for a bit of balance. Remember that you don't need an equal amount of dark elements in a room as light. One or two dark elements can go a long way.
For example, a dining room with light floors and white walls could handle a table with a dark stain or a wrought iron light fixture. If the room is small, you may want a light-colored table, but you could still have dark legs or chairs that provide a pop of color. Small details like a vase of rich, red tulips on the table or deep navy napkins at each place setting can also add a lot to a room that could otherwise look washed out.
What Wall Colors for Dark Wood Floors Combinations Are Trending in 2023
When you're choosing wall colors for dark wood floors, you want to make sure you choose a fashion-forward color that won't look outdated or off-trend in a couple of years. So, what colors promise to be big this year?

1. Cool Hardwoods
Regarding hardwoods, the 2023 color forecast is "nature's neutrals." These colors range from as dark as almost black to light as off-white. What most shades in this trendy palette have in common are cool undertones. That means cool wall colors would work well with them. Gray, which has gained popularity within the neutral color family in recent years, is a popular choice and will continue to be for some time.
2. Bold Nature-Inspired Wall Colors
The 2023 colors of the year will also derive some inspiration from nature. The highlighted colors are bolder except for a neutral gray or "greige" color. They include coral, blue, and clay. This is consistent with an emerging trend of featuring an edgier, more dramatic palette in the home. That said, neutrals aren't going anywhere. They are tried and true and will continue to be popular, though they may have to share a bit of the limelight with these bolder colors.
3. Neutrals With a Pop of Color
Many online interior design platforms predict that a big trend for 2023 will be a color palette that is mostly neutral with just an occasional pop of color. This may mean that the popular coral color for 2023 may only appear on an accent wall in some cases, with the other walls painted white or a pale greige. In many cases, decor and furniture will provide these pops of contrasting color. Jewel-toned velvet furniture is in this year, and these pieces will give a great accent when surrounded by neutral floors and walls.

Paying attention to trends is important if you want your home to embrace current design preferences, but remember that the most important thing is that your home is a personal sanctuary that reflects the colors and styles you love. So, the best paint colors are ones that make you feel right at home. Some interior designers recommend looking in your closet to remind yourself of the colors you love. Don't overthink it too much.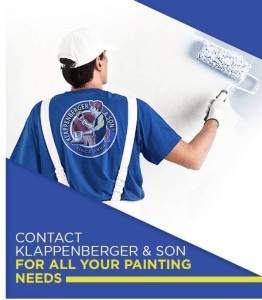 Contact Klappenberger & Son for All Your Painting and Handyman Needs
If you need painting services and live near:
Consider calling on the expert services of Klappenberger & Son. For 30 years, Klappenberger & Son has been a leader in both exterior and interior painting in Maryland.
Get a Free Quote
Our customers' many positive reviews demonstrate our attention to detail and commitment to customer satisfaction every time. On top of that, nearly three-quarters of our customers are repeat customers or referrals. People who have worked with us before know that they can expect quality work from trained professionals and helpful, honest customer service.
In addition to our painting services, we also offer handyman services, so you can count on us to take care of a whole host of home improvement needs. Whatever your home improvement needs, contact Klappenberger & Son today to request a free quote. We can help bring your vision for your home to life.