Every year design experts and paint manufacturers come out with their paint colors for 2023.  Some colors picked by the experts will be outlier colors, and others might be starting a trend. 
This article is designed to help you find:
Trending colors that most of the experts are suggesting.
Creative custom colors for either the interior or exterior.
You don't have to pick bold colors to make a dramatic impact.  By their very nature, Earth tones can be rich but have a more muted feel.  Yet they change the mood of the room substantially.    
Lighter shades of color typically don't always have the same effect, but colors still create a mood.  
Besides the bright Pantone Color of the Year, Viva Magenta, most of 2023 could be described as muted. 
Pantone 2023 Paint Color Of Year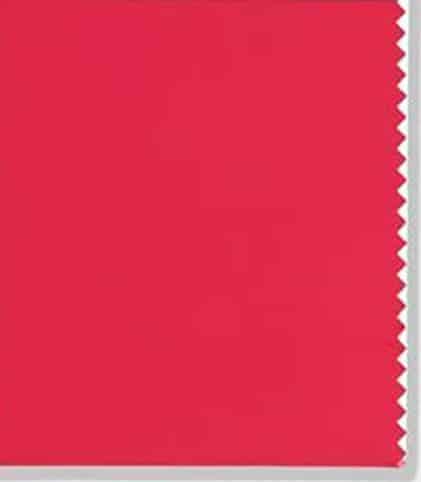 The Color of the Year for 2023 from Pantone is  Viva Magenta, which they describe as powerful and empowering. "Viva Magenta is brave and fearless, and a pulsating color whose exuberance promotes a joyous and optimistic celebration."
I describe it as a color I would see in the mistint section of a paint store.
FYI – if you try this color, apply a gray primer.  The gray primer will reduce the amounts of coats dramatically.  
Also, keep in mind this color, if exposed to UV rays, will fade faster than most colors.
A suggested place for use:
The front door of a cottage home.
Girls red wagon
PPG Paint Colors For 2023
PPG choose this color because of the mood it creates. 
PPG website says it choose these colors because they are versatile and simple. 
"Consumers seek to simplify in this post-COVID era, as the past two years have shed new light on the importance of serenity and little moments. Vining Ivy (PPG1148-6) is an energizing yet grounding blue-green used in any space. Its versatility takes the guesswork out of design, giving consumers more time to indulge in the things that matter most to them."
Ben Moore Paint Color of 2023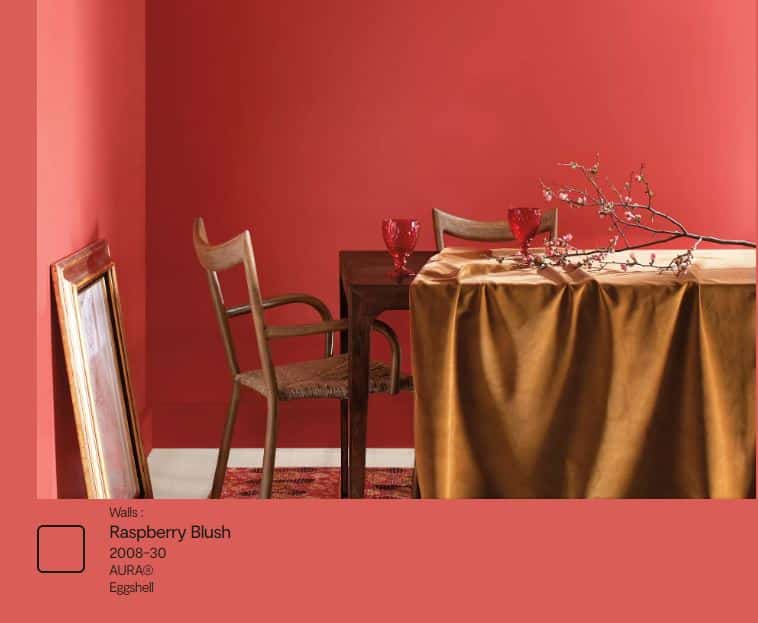 When you thought we'd be leaving the bright reds, Ben Moore quickly brought us back with Rasberry Blush.  This color is softer, but I felt even BM wasn't sold on the color.  After all, they didn't even hang the painting back up! 
Ben Moore describes the color as follows: 
"Never a backdrop, Raspberry Blush is the definition of charismatic color. This unapologetic shade of red-orange had us thinking: bold, bolder, boldest. This sentiment flows through the rest of the palette as we immerse ourselves in hues that make a statement. Inspired by an artist's desire to communicate through color, shape, and sound, Color Trends 2023 was built to envelop you in vivacious color."
Sherwin Williams Paint Color For 2023
Sherwin Williams chooses Redend Point for its versatility and calmness.
"Redend Point SW 9081 is a nourishing and intriguing hue, an inviting neutral inspired by our deep care for our communities, connections, and crafts. It is subtle, warm and restorative, suitable in commercial or residential spaces where mind and soul can relax and be refreshed."
 This color reminds me of the shade of lipstick I used to buy for my mom. 
It's called Redend Point SW 9081.  It should be called Deadend because it doesn't go with much. 
Suggestion:  use it in a guest bedroom if you want to shorten the time your guest stays.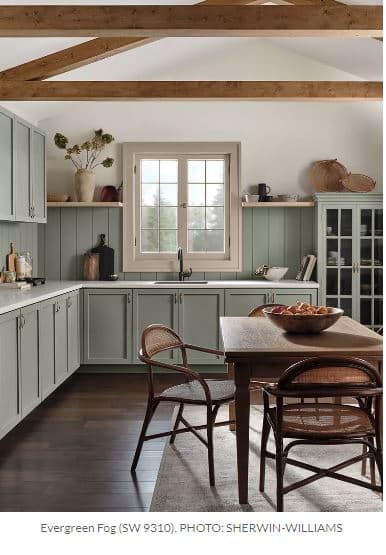 Soft Timeless Greens  
Neutral greens such as Sherwin Williams' 2022 Color of the Year, Evergreen Fog (SW 9310) have a peacefulness that brings calm.  Mixed with the wood beams it brings the outdoors in.  Notice how all four colors have a soft natural feel.  
The direction in 2023 is a shade more mold.
Other Top Performing Paint colors for 2023
Agreeable Gray has been one of Sherwin Williams's most popular colors, and for a good reason.  It goes with most floors and lets the items in the room have center stage. 
We have used this color in homes and offices with terrific results.  Agreeable Gray is a good choice if you plan on selling your home and need to get some painting done.
SW describes the picture as follows:
"Our best-selling paint color is the perfect complement to just about anything. With a beige undertone, this gray exudes a subtle warmth."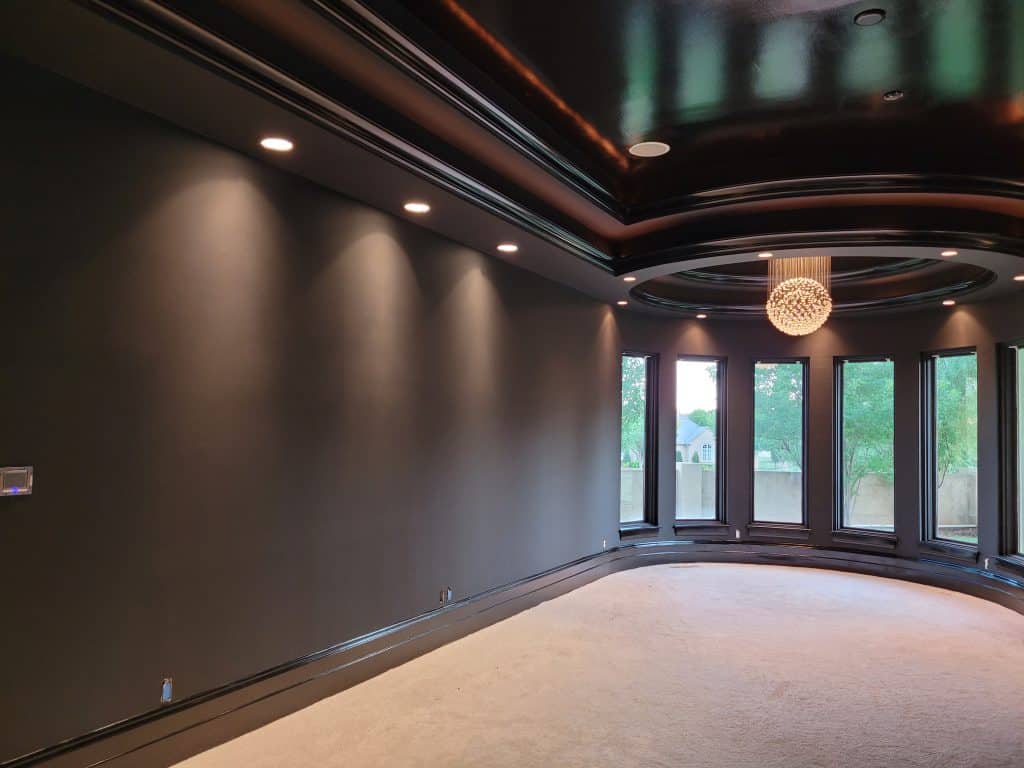 Tricorn Black is another popular color used in music rooms, entertainment rooms, and offices.  It is very dramatic and has a rich, sophisticated vibe.  In my experience, we have seen a lot of this color in 2022 and have no reason it won't still be a popular paint in 2023.
Behr and Sherwin Williams have similar colors for 2023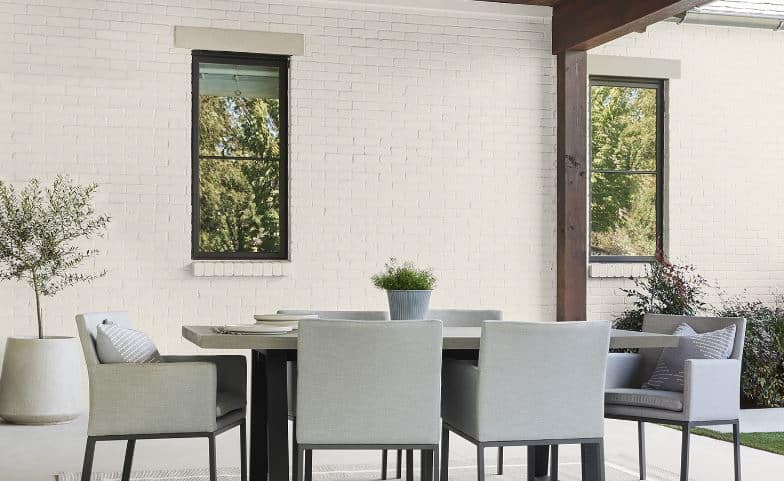 Cracked Pepper and Blank Canvas are similar to Tri-corn Black and Agreeable Gray.  Blank Canvas looks slightly aged yet modern without the sterileness of a brilliant white.  It could be a perfect color for exterior brick as well.
Suggestion: incorporate shades of black into furniture and/or windows for maximum effect.
Better Homes & Gardens 2023
What are the odds of both SW and BH&G picking such similar colors?  
Better Homes and Gardens describes Canyon Ridge  as "infusing energy and comfort into any space."
It can only be purchased at Walmart.
Adding a vibrant shade of blue to the walls, such as Blue Plate by Sherwin Williams compliments the more moderate wall color.
Canyon Ridge captures elements that you might see during the twilight sky.  A mixture of muted orange and pink gives a near-neutral flavor.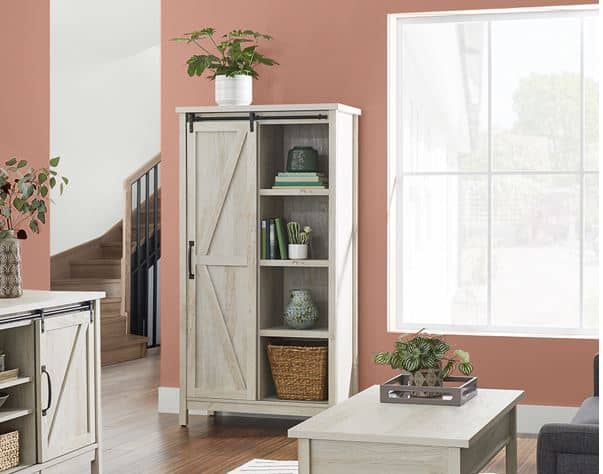 Pittsburg Paints Top Painting Colors for 2023
Muted Earth Tones Are Trending in 2023
Continuing the trend with muted earth tones allows a combination of advantages.  First, it allows us to bring colors from the outside in.  The colors give emotions of comfort and stability.  They are timeless and mix well with a cozy cottage feel or a metro look. 
The three colors below are from the HGTV Sherwin Williams 2023 color chart.