Painting over Wallpaper? Pro's and Cons
.
What About Painting over wallpaper that is textured?
Painting over wallpaper won't hide the texture no matter how subtle it is.  Unfortunately, it will have to be removed unless you don't mind the texture.  My recommendation is – don't paint over it.  It won't help down the road when you want to sell.
Bathroom & Kitchen Wallpaper
If the wallpaper is in a full bath or kitchen your best bet is to remove all the wallpaper.  Why?  Because the steam from the shower or the abuse that a kitchen takes can cause the wallpaper adhesion to break over time.  If the bathroom does not have a shower, it is safer to paint over.
Give Wall Paper Removal A Try
Try removing the wallpaper first.  If it comes off in postage stamp sizes, stop and think about painting over it.  Where ever you started you will have to remove 100% of the paper and 100% of the glue, and then spackle the edges for a smooth transition.  Don't worry, a good spackle and sanding job will hide where you started and where you stopped just make sure the glue is 100% off.
When You Need To Remove Wall Paper Before Painting
If the wallpaper bubbles at all you need to remove it. This generally happens in bathrooms and kitchens due to the high moisture content in the room. If you paint over the bubbling wallpaper the paint will peel and the entire appearance will be unappealing. Making sure your room is prepared for paint is the key factor that determines if the wallpaper can remain.
If you want to make sure your walls look beautiful and professionally painted with or without wallpaper, contact us for a free quote today!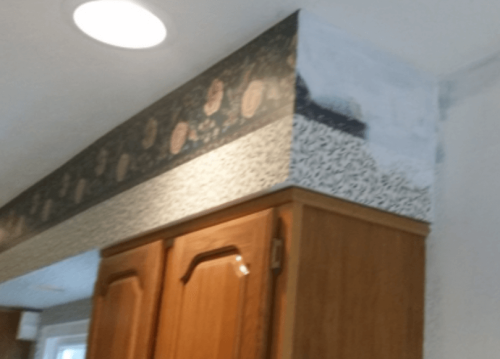 Tricks In Painting Over Wallpaper
When painting over wallpaper in your home there are certain tricks to combat problems before they arise and ensure the final appearance of the wall is beautiful. These aren't perfect fixes, but they are tricks of the trade.
Choosing the Right Paint
If your wallpaper is darker with designs you will definitely want to pick a slightly darker shade. If you want to paint it a lighter color you will have to place a primer and multiple layers to make sure the wallpaper design does not show through. You can always test the layering on an area of wall that is going to be covered to find out how many layers it will take. We also have our own recommendations of quality paint sheens and how to determine which is best for you. If you are matching the paint to hardwood floors we can help you with that interior design color choice.
Sanding The Wallpaper Seams
Where the wallpaper overlaps there is a thin line down the wall. This isn't terrible looking with wallpaper, but when the paint goes over the wallpaper it can have a terrible crease in the paint or a raised bump on the wall. Take fine sandpaper and go over the seam brushing from the top layer of the wallpaper towards the lower piece of wallpaper. This is important because you can accidentally tear the wallpaper sanding in the opposite direction. Do not do this too much or press too hard. This is simply making the top layer of wallpaper thinner to hide the overlap. Be sure to remove any dust before painting over it.
The Difficulty of Removing Wallpaper
Wallpaper can come off from small postage stamp sizes to big easy wonderful sheets, and anywhere in between. There is no way to tell by looking at the wallpaper. Only by removing it will you get a good idea.  However, the amount of time can be vastly different from not just one room to the next but one wall in the same room.
How difficult will your wallpaper be to remove: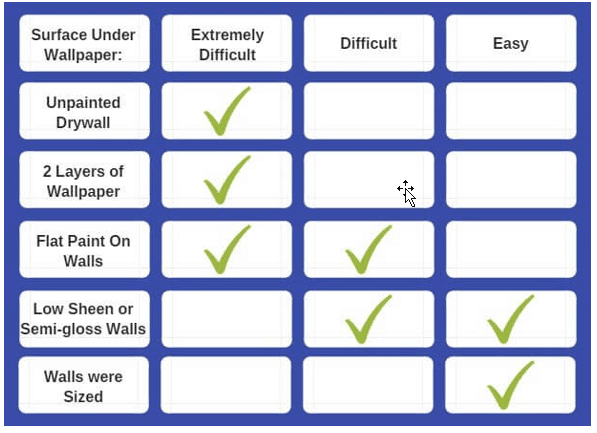 Painting Over Wallpaper: 
When painting over wallpaper, oil and shellac primers are a safer bet to avoid the wallpaper from peeling.  Oil and shellac primers do not penetrate the surface of the wallpaper like latex primers do.  They sit on top of the paper and seal it.  If you dare to use a latex primer make sure it is a primer sealer, not a bonding primer.  I've used latex sealer before and sometimes they work and sometimes they can make the wallpaper bubble in spots.  Only once did I prime with a latex primer and all the wallpaper bubbled everywhere.  In fact, it acted like a stripper and we ended up removing all the wallpaper.
Here are the steps in the proper order for painting over wallpaper.
Use an oil or shellac primer sealer. You might as well have the primer color-tinted to the wall color.  It might save you from applying an additional coat of paint!
Spackle seams on wallpaper and sand. A thin layer of spackle is all you need. Don't build the spackle up to resemble a community speed bump.   Apply a tight spread of spackle to just bridge the seams.
If you don't like spackle dust everywhere I recommend you buying a sanding attachment and hooking it to a shop vac.  They can be purchased at any of the big box stores or Sherwin Williams store
After the spackle is sanded, caulk the edges of the wallpaper to the trim with a premium acrylic caulk that is at least rated for 55 years. Let the caulk sit for the required amount of time before painting. If you paint too early the caulk is likely to crack
Prime spackle areas with the same primer used. The spackled areas need to be primed before the topcoat is applied
I recommend painting over wallpaper with flat paint because it hides imperfections. Low Sheen and Eggshell finishes would be fine as well, but they show imperfections more than a flat.  This may just mean that you must go back and spackle a few more areas again to smooth out differences.  The advantage of low sheens and eggshell paints over flats is that they are more washable.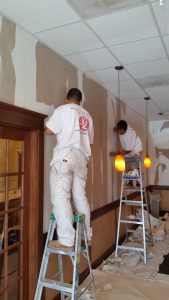 Q & A on Wallpaper Removal
Questions:  What if the wallpaper peels down the road?
Answer: in 30 years that has only happened once, and we cut out the two pieces, removed 100% of the glue, primed, spackled, and painted, and it disappeared.  As I mentioned earlier, don't paint over wallpaper in bathrooms and kitchens.
Question: How much time will it save to paint over wallpaper?
Answer:  Hard to say for sure because every room is different but typically it reduces time from 10 hours (moderate) to 3 hours of work!
Question:  Will anyone be able to tell that we painted over wallpaper?
Answer:  If the wallpaper has no texture and the spackle was done properly.  No way.  Not a chance.
We have painted wallpaper borders on top of wallpaper and you can't tell.
Question: Can I apply a low sheen or semi-gloss paint instead of flat?
Answer: Yes.  Just make sure you either hire a professional drywall or painting company to do the spackling.  Because of the sheen, these paints have it makes the imperfections easier to see.
Question:  What if I remove the wallpaper and it takes the drywall paper off and I am left with scraps of that brown paper?
Answer: There is a different primer that needs to be applied to it and it is called a drywall conditioner.  It is clear and will prevent the remaining paper from bubbling.  Therefore, if you damage the drywall or find it to be molding underneath you will need to replace the drywall because the paint will not remain on the wall due to high moisture content.
Question:  Can I use one of those paint and primers in one?
Answer:  Not for the first coat of primer but you could for the second coat where you are just priming over that spackle spots.
How To Effectively Remove Wallpaper
There are just a few ways to remove wallpaper and if the wallpaper comes off in big easy pieces you can skip this part and go straight down to removing wallpaper glue.
Methods:
Tiger Claw – it does penetrate the wallpaper and allows and makes the stripper or breakdown the adhesive faster but boy is it a lot of work.  Rolling the Tiger claw all over the walls is a lot of hard work and the marks its wheels leave in the wall will need to be spackled.  I don't like it.
The Steamer – I don't like it either.  Why? Slow….. slow……. my arms are getting tired …… slow…… strip a small patch (yeah) ………… slow………. boring………slow……..strip a bit more….. my arms are getting tired………..  did someone say pizza?
Diff Gel – It works and can be rolled on.  You need to apply multiple applications which is fine but you end up using quite a bit of product and the cost adds up.  But this is a good method.
Hot water with Diff Concentrate – this is my choice and works about the same as the Gel but it cost less.  You will need a pump sprayer.  You will also want to heat up the water as hot as possible.  The hot water really opens up the pores of the
Make sure you protect the floor from the overspray and apply over and over keeping the walls moist for about 25-30 minutes.  The longer they stay wet the easier it is to remove.  You are not going to damage the walls or cause mold and mildew damage from applying too much product.  Keep the walls wet!  If the wallpaper is still coming off in small bits keep it wet longer.