Is Scuff X Eggshell A Pro's Review?
Products like Scuff X and precatalyst acrylic epoxy paints are the most overlooked paints by painting contractors and DIYers.  These paints are priced in the upper middle range but far below their premium brands.  And the dirty little secret is there is very little difference.   
Ben Moore Scuff X Eggshell is engineered  to handle high traffic areas such as:
Schools
Hospitals
Conference rooms
Other busy areas that scuff easily
Kitchen Cabinets (Satin Finish)
Doors
For home use, Scuff X Eggshell would be ideal for hallways, mudrooms,  kids rooms.  
Scuff X has anti microbial additives that inhibit mold. This makes it an ideal paint for bathrooms as well.
Personally, I would recommend using Scuff X Semi-gloss on risers, which are very prone to scuff marks from shoes. 
Coverage of BM Scuff X Eggshell
The coverage of Scuff X acrylic eggshell was very good. The paint covered easily in two coats. This dining room was white prior to painting it with a mid tone red. It easily covered in two coats.
Ben Moore paints use Gennex technology which has two advantages. First, the colors are fade resistant. Secondly, it produces colors that other paint manufactures may not be able to match.
Coverage Grade: 10 out of 10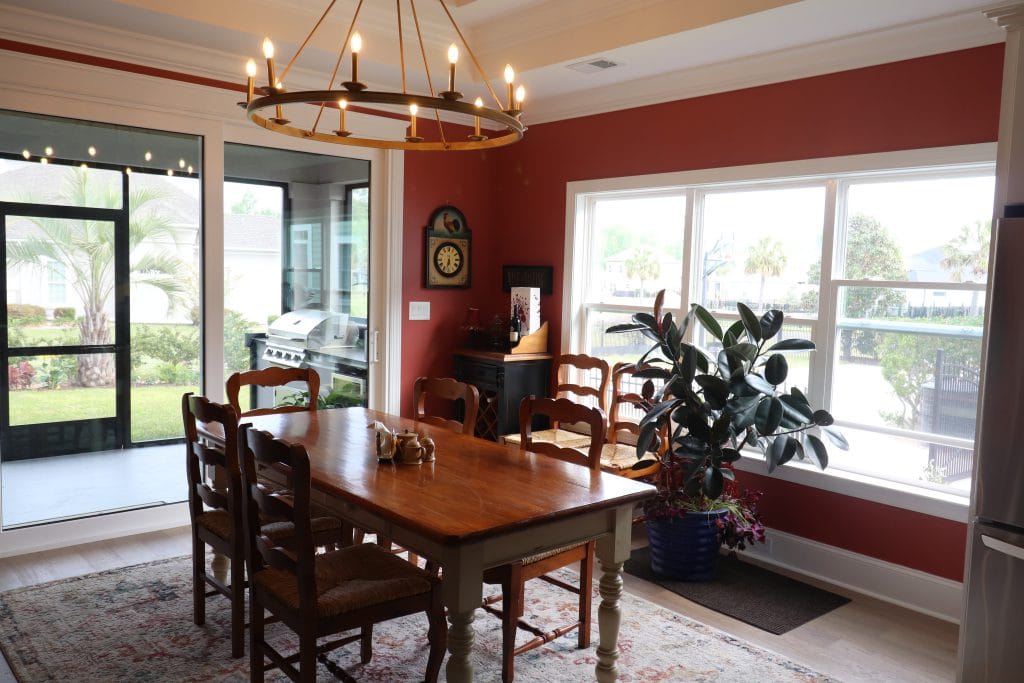 Self Priming:
Scuff X does not claim to be self priming, and it is not. If you spackle, make sure you prime first.
Workability
For most people, painting is not at the top of their list of fun things to do. Therefore, having a paint that is easy to deal with should go into the decision of which paint to choose.
The easier a paint is to apply, the more productive the painter will be.
I had no problem brushing 28-32 inches with one generous dip of the brush. Anything less than 24-28 inches, I would have given it a lower grade. In addition to it being cooperative to brush, it also rolled very nicely. Using a 1/2″ nap roller, the paint rolled easily, and I had no issues with paint dripping off the roller or splattering.
Washability of Scuff X Eggshell
Six different stains were applied on the wall to test for washability and durability.
Crayon
Pencil
Catsup
Mustard
Red wine
Coffee
All products were removed easily, except for the crayon. The crayon eventually came off, but it required quite a bit of effort.
The Durability of Scuff X Eggshell
Not only was the Scuff X able to handle the Krud Kutter when removing the stains, but when the wall dried, there was no evidence of cleaning. With many paints, burnishing of the walls can occur. This eggshell paint showed no burnishing or damage from the cleaning.
Touch-up
Rarely do eggshell paints touch- up well. Instead of blending in, eggshell paints get more reflective (shinier) with each additional coat.
Therefore, if a paint does not touch-up, then it would be necessary to paint the entire wall as opposed to a small area. 
Scuff X eggshell also got shinier in the areas where it received a 3rd coat.   
Finish
Ben Moore Scuff X has a very smooth finish. It feels like it has a hard shell coating over the top of it, and that is probably what makes it scuff resistant. 
Ben Moore Scuff X Eggshell Conclusion
I found one additional nice feature about this eggshell paint. It successfully primed the spackled spots. Even if I shined a light against the walls, I could see no difference in the sheen of the walls where I spackled compared to where I didn't. This paint is straightforward to use, covers well, and has excellent durability and coverage. It retails for $52.00, but can be found as low as $33.00.
Coverage       10
Workability  10
Washability  10
Durability     10
Touch-up      7
Self Priming – no 
Overall score 47 out of 50
Eggshell Epoxy PPG
Additional Pro's Review by David Klappenberger include:
PPG Paints
Sherwin Williams Paints
Ben Moore Paints