Pitt Glaze WB1 Eggshell: Best Interior Paint Ever?!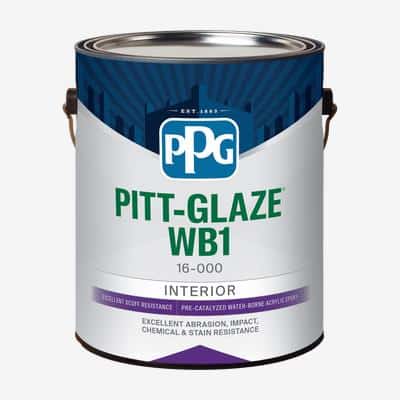 I realize that saying that Pitt Glaze WB1 is the best eggshell paint ever is a bold statement.  But it's true.  I have evaluated several premium and mid-grade eggshells, and nothing compares.  I have not evaluated every mid-premium grade eggshell paint on earth.
So how do I PPG Pitt Glaze WB! 1  is the best interior low sheen paint ever? 
Well, it's like getting a hole in one on a par 4.  It just doesn't get any better.
To be the best interior eggshell paint ever, it has to get perfect scores in every category.
It is:
Low VOC
Low Splatter
Water Clean-up
Can it be matched to any color?
Yes! And this is just the tip of the iceberg.
Pitt Glaze WB1 Eggshell Has Exceptional Coverage
Typically when I brush the first coat with a good covering color, I expect to have the paint cover the previous color by around 75%.  With the Pitt Glaze WB1, it was closer to 95%-100%.
The rolling did not fair as well, it covered about 80% (non-scientific numbers), but it easily covered in two coats.  Because paint needs to have a certain mill thickness to be warrantied, the only way to get there is by applying two coats of paint.  So, if it covers in two coats, it gets a perfect score.
Coverage Grade: 10 out of 10
Workability Of PPG Pitt Glaze WB1
This is very easy to work with.  I could brush 36″ with one dip from the can.  I consider anything above 28″ is considered excellent.  DIY projects can be challenging enough; we don't need paint that doesn't spread and cooperate.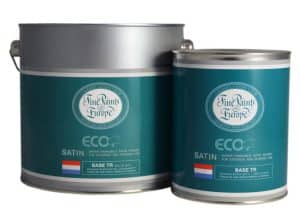 This paint's workability exceeds all paints in its ability to spread except for Fine Paints of Europe Latex paint, which I got to spread 72″!
Workability Grade: 10 out of 10
Pitt Glaze WB1 Eggshell Touch-Up
The most challenging obstacle for an eggshell paint to overcome is its ability to touch-up and not increase the sheen.  Eggshell paints are notoriously bad about touching up.  I am not familiar with an eggshell sheen paint that touches up.  I have always found it necessary to paint large sections or the entire wall instead of localized spots where the paint was damaged.
This epoxy  Eggshell breaks the mold.  Once I applied two coats of paint, I rolled miscellaneous spots a third coat.  When the paint dried, the areas disappeared.   Obviously, this is a major time saver.
Touch-Up Grade: 10 Out of 10
Washability of Pitt Glaze WB1 Eggshell
The washability of the Pitt Glaze WB1 Eggshell did very well.  We applied:
catsup
mustard
pencil
crayon
red wine
coffee
and allowed the stains to dry for 24 hours.  
We then sprayed the wall with;
Krud Kutter
Spray Nine
Simple Green
Orange Cleaner
Bleach and water solution
All of the stains came off after a couple of minutes using a micro-fiber cloth.
Washability Grade: 10 out of 10
The durability of this interior Eggshell was equally as good.  The paint has a hard shell finish, which did not get altered in any way.  There was no burnishing, paint softening, or change in color detectable.  
Durability Grade: 10 out of 10
Is Pitt Glaze WB1 Eggshell Self-Priming?
Having a paint with an eggshell sheen be able to self-prime is no guarantee.  However, if you are going to be the best interior paint, you probably should be self-priming.  And the Pitt Glaze WB1 Eggshell is self-priming.  Having the ability to be self-priming saves both labor and material costs.  When the spackled areas receive a third coat, and the rest of the walls receive two coats, it is impossible to identify where the spackle spots occurred.  
Self-Priming Grade: 10 out of 10
$ Value of the Pitt Glaze WB1 Eggshell $
The Pitt Glaze WB1 Eggshell from PPG scores 10's across the board, but what does it cost.  Premium paints typically start at $60.00 and cost as much as $100.00 for luxury paints such as Farrow & Ball.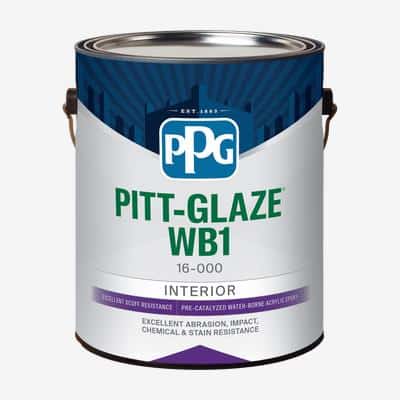 The cost of PPG's Pitt Glaze retails for $50.00, wholesales for $40.00, and contractors who buy it in regularly can get it for even less. This paint outperforms all other eggshells and cost less make this an 11 out of 10.  Yes, one extra! Like getting a hole in one on a par 4!
Additional Pro's Review by David Klappenberger include:
PPG Paints
Sherwin Williams Paints
Ben Moore Paints
.