Your #1 Miami Painting Contractor is Klappenberger & Son
Klappenberger & Son is your one-stop-shop for anyone searching for a reliable Miami Painting Contractor.
                                    A Full-Service Miami Painting Contractor
We have been in business since 1989 and have served 30,000 customers!
So, what does that mean to be a full-service Miami Painting Contractor? 
First, it means we are a one-stop-shop for any interior and exterior painting and handyman projects.   Secondly, it means we can save you time and money.  
Saving time –  calling carpenters, painters, and electricians to do small jobs is a hassle.  Trades are busy, and finding three different contractors and scheduling each at the appropriate time is one of the least fun things I can think of. 
Saving money – paying three separate contractors will be more expensive than hiring Klappenberger & Son to do the project.  We can bring all the materials needed in one trip and most likely have one person or crew do the entire job.  NICE! 
Life is hard enough; calling Klappenberger & Son makes life easier.
Regardless if you have a small project or a large mansion that needs TLC, we offer Superior Customer Service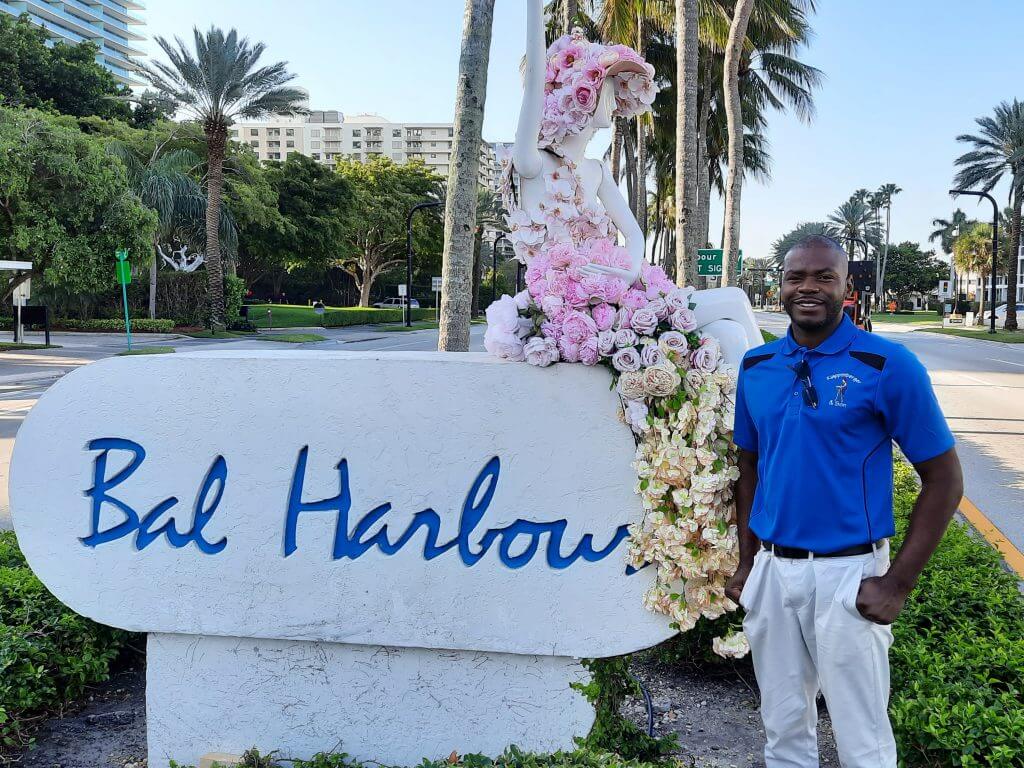 Serving Southern Florida, including
North Miami 
Miami Beach
Key Biscayne
Surfside, Miami Beach
South Miami
Miami
Brickell
Coconut Grove
Exterior Painting Warranties
We understand the climate conditions in Southern Florida.  Our painters use the proper materials that resist fading from the sun's UV.  Also, add anti-mildew agents to the paint that retard the growth of mildew through the rainy season.
Offering Exterior / Interior Painting Warranties in Miami Metro Area?
We offer three different painting warranties — first, a 7-year warranty against exterior chipping and peeling.  Secondly, a 10-year interior painting warranty against chipping and peeling.  And finally, a 5-year kitchen cabinet warranty against chipping, peeling,  or scratches. 
All warranties include labor and materials.  Warranties are only valid when two coats of paint are applied using specific paints. 
Warranties equal peace of mind.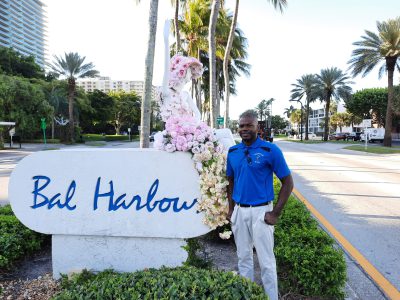 Klappenberger & Son of Miami

19380 Collins Ave Unit 609
Sunny Isles Beach, FL 33160
Few things can change the appearance of a house faster than a professional exterior painting job. Arriving home from work and seeing a fresh coat or brand new paint colors is a joy.  
Choosing the right colors to accent the architectural features of your home is something we can assist you with.  We have large samples of 2022 trending paint colors that can give your house the pop it deserves.
It is the little things such as having a vibrant color on the front door make the communities of Miami so interesting.
When you hire Klappenberger & Son, you are getting painters with a minimum of five years' experience.  As Klappenberger & Son's owner, you can be sure that I will be visible at the job site.  I set the painters up and review the work to make sure we are all on the same page.  I also make frequent visits and do a complete walk-through when the job upon completed.  My goal is for you to be delighted.
Customer Reviews for Our Painting Franchises
Want to know what it's like to work with us on your professional painting project?  Just ask our happy clients!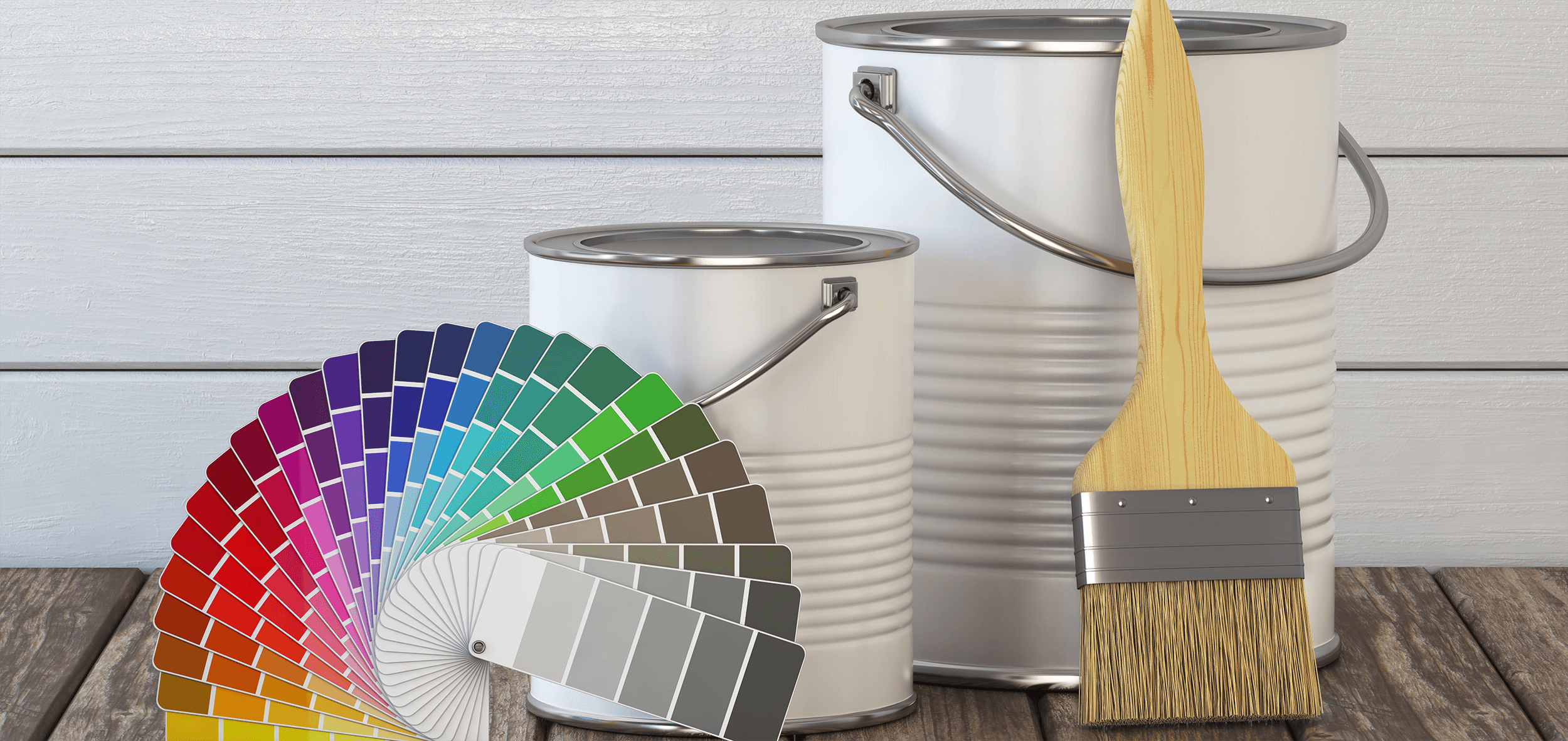 John Carpenter
Google Reviewer
I couldn't be happier with the personal response from their front office and the professional and experienced job done by the painters. If you're considering painting in your home I'd suggest you give them a try. I was totally pleased with their work.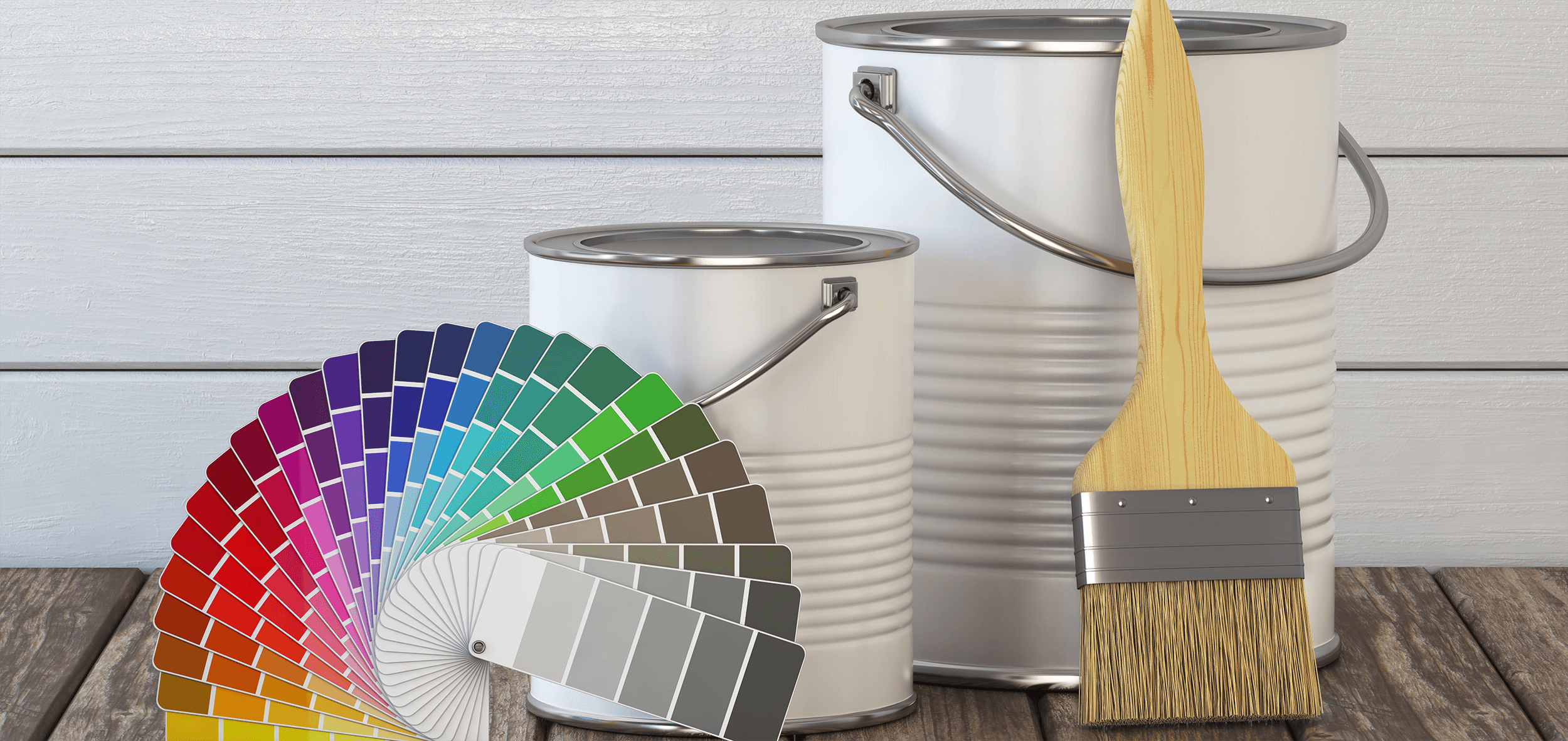 Rachel Grice
Google Reviewer
Rasheed provided an estimate and the crew got started quickly. Every day they were on time. I was very impressed with the final paint job and the work ethic of the crew. I feel they went above and beyond my expectations and would hire again. The crews adhered strictly to covid guidelines and wore masks the entire time. Arturo was a pleasure to work with- very reasonable and customer-oriented.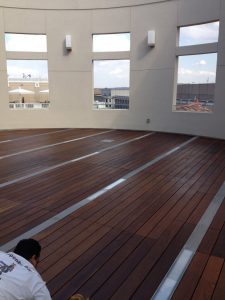 Decks take a real beating with the sun and rain.  Waiting until the moisture content of the wood as at the proper level is paramount.  We use moisture meters before painting any exterior wood surfaces. 
New products on the market are doing very well in Southern Florida.  Products like Sanson and Penofin, make Ipe look like a coffee table. 
The Olympic Wood Preservative is an excellent product for sealing decks and fences made of cedar and pressure-treated wood.
Contact us for a free consultation to have your deck and fence sealed and protected!
Proper deck maintenance should be done every 2-3 years.  This typically includes fence and deck cleaning and sealing.  
Everyone knows the mold and grim proliferate on homes and are an eyesore for you and the neighbors.  Power washing is an inexpensive way to keep your house looking fresh and clean and the HOA's from leaving unwanted notices. 
Our philosophy is not to use high pressure when cleaning your home.  But instead, rely on letting the chemicals do the work.  Low pressure reduces the chance for damage and increases the likelihood you will be thrilled with our power washing service.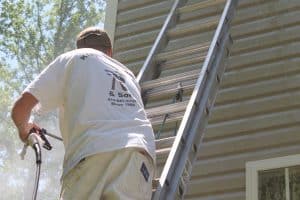 We understand it is so important for the interior of your home to look great.  But over time, things start to fall apart.  At Klappenberger & Son, we are here to help. 
We respect your home and go out of our way to control spackle dust when we sand.  To eliminate this problem, we  ALWAYS use vacuum attachments when we sand spackle in an occupied home. 
In addition, we always vacuum rooms when we are finished and return the furniture to its original location.
If you need any additional handyman services done, we can do that as well.
I can assist you if you would like help finding the perfect color.  We will apply samples on walls to ensure you get the color that says YES!
Here is additional information about our interior painting or requesting a free estimate.
The Prep is Just as Important as the Paint!
Klappenberger & Son began in 1989.  We have tried so many paints that we decided to evaluate and grade the most commonly used.  Check out our YouTube Library reviewing over 60 different interior paints!
Flat
Matte
Eggshell
Satin
Semi-gloss
Gloss
And cabinet-grade paints as well.   Now, you can choose which paints have the best:
Coverage
Washability
Durability
Self- Leveling
Workability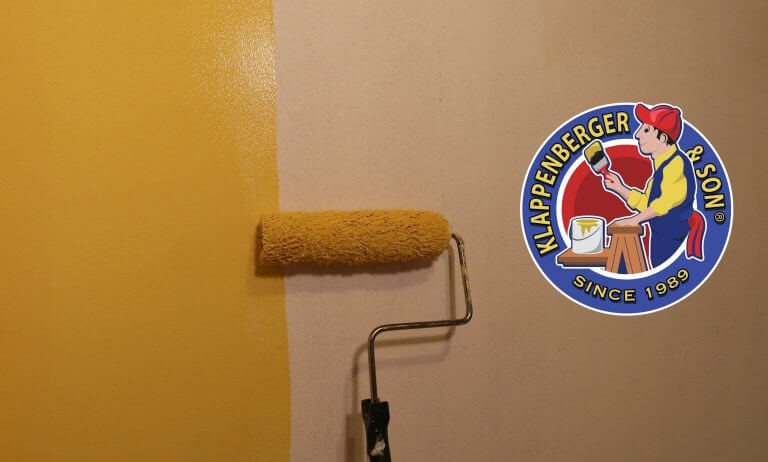 Miami Painting Contractor: Painting Kitchen Cabinets
Replacing Kitchen cabinets is very expensive.  Painting kitchen cabinets is about 70-90% less than replacing.  Wow, does that leave a lot of money left over for new hardware? 
We have painted hundreds of kitchen cabinets and have learned the best techniques and products.  We use cabinet-grade paint and give a 5-year warranty against chipping or peeling.
If you prefer to replace the hardware, which we recommend, there is no upcharge if the holes match.  Either way, we are here to give you the kitchen you deserve. 
More Than Just Miami Painting Contractor, We Also Install Backsplashes
Ask to see samples of our factory finish boards.  Our Cabinet Painting comes with a five-year warranty against chipping and peeling.  We are not aware of any other company that offers a warranty on painting kitchen cabinets.
When you have both kitchen cabinets painted and a backsplash installed, it will feel like most of the kitchen is brand new for a fraction of the remodeling cost.  These are great options if you are selling the house or on a budget.  Either way,  the change is dramatic, and the cost would be a small fraction of a total remodel.
Miami Handyman Contractor
We pride ourselves on being a one-stop-shop for your Miami painting and handyman company. 
Our technicians can take care of your honey-do list and painting needs. Most importantly, this one-stop-shop approach saves you time from scheduling additional appointments. 
For example, Mr. Tucker in Coral Gables wanted us to:
First, clean and paint the deck.
Secondly, replace several doors.
Finally, replace a few bathroom fixture lights.
Therefore, having one reliable company painting and handyman contractor just made life a little bit easier. 
For a full list of our scope of work, visit our Handyman Page!
Interior Commercial: Choose Us as Your Miami Painting Contractor
We know that there are many Miami Painting Companies to choose from who would love to paint your space.  Here are a few things we offer that separate us from our competition.
First, understand the interior commercial and interior painting jobs can be time-sensitive. Businesses need to be open for operation.
We offer flexible scheduling options so as not to interfere with your business schedule.
Secondly, all businesses have budgets, and it's our job to fit within yours.
Finally, if we paint an occupied office, it is our job to leave the space vacuum clean and ready for business.
Our experience includes painting hospitals, schools, restaurants, and daycares, to name a few.
We also are experts at recommending the best painting products that fit your budget.  We can suggest mid-grade paints that are scuff resistant and can be touched up.  These fantastic bargain paints allow a longer time between painting and reduced costs!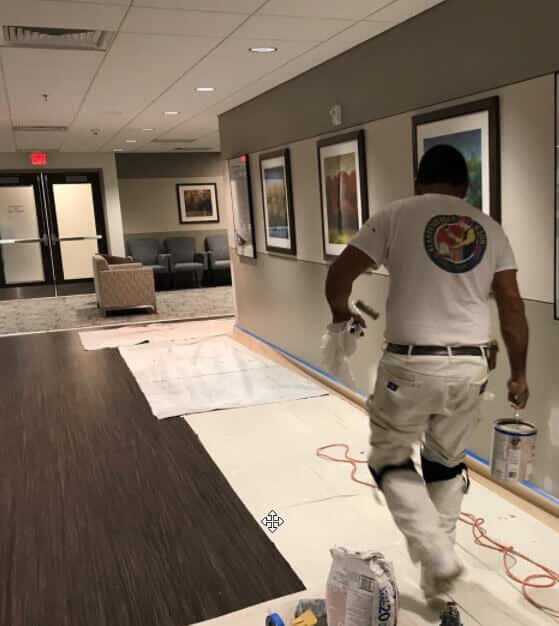 Exterior Painting in Miami-Dade
Klappenberger & Son is a full-service exterior painting contractor that can power wash and paint most exterior structures.
Concrete and stucco finishes are our specialty.  We use elastomeric products that adhere to and have additional UV protection for hot and humid Miami conditions.
Our work comes with a variety of different warranties to suit your needs. 
For example, we have warranties that start at 7 years and go as high as 15 years.  The 15-year warranty even covers fading!  
Free Quotes and Consultations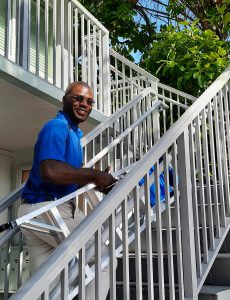 Whether you need residential or commercial painting in Miami, Sunny Isles, or anywhere else in the Miami Metro area, we have you covered.  Klappenberger & Son is a full-service painting and handyman business ready to develop a business relationship with you as your Miami Painting Contractor! 
 Contact us today, and we will see you soon!